Slow Cooker Sesame Chicken INGREDIENTS and Video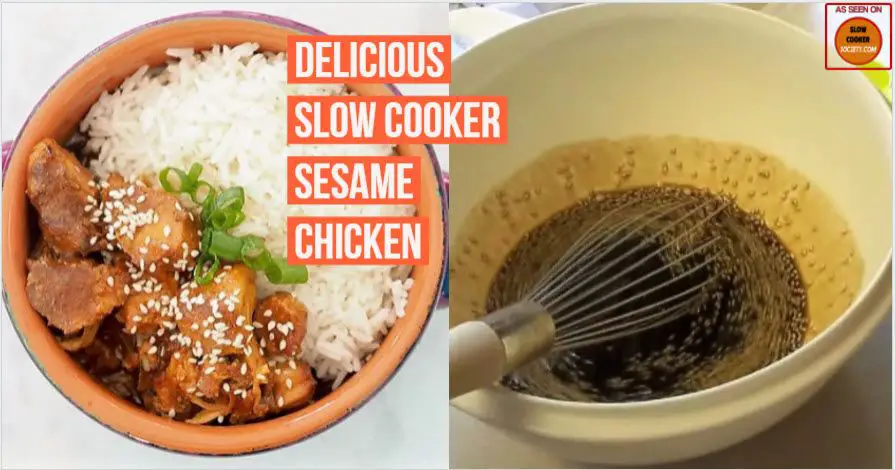 I told you, it couldn't be any easier…
Let's have a look at the ingredients list now…

How To Make The Perfect Slow Cooker Sesame Chicken
Take it easy... Here's how to make a classic Chinese like restaurants recipe in the comfort of your home.
Author:
Slow Cooker Society
Ingredients
2 1bs. skinless boneless chicken thighs or breasts
½ c. low sodium soy sauce
⅓ c. packed brown sugar
¼ tsp. garlic powder
¼ tsp. ground ginger
1 Tbsp. ketchup
1 Tbsp. toasted sesame seeds
Instructions
Place chicken thighs in the slow cooker.
Whisk together remaining ingredients in a bowl
Pour over chicken.
Cover and cook on low 6 to 8 hours or on high 3 or 4.
Serve on rice and with your preferred side dishes.
Nutrition Information

Serving size: 

3 - 4 serves

Who says Asian food has to be hard? This Slow Cooker Sesame Chicken is as quick and easy as it gets. This meal is great for busy school nights, when you're too tired to deal with a fried or baked chicken, or when your hands-on cooking skills are not up to par.
Tastes like the real thing. The flavors are complex, with toasted sesame, savory Asian seasonings (ginger), soy sauce and a bit of ketchup. It's all done in the crockpot for you, with little supervision on your part.

Mmmm… I know a few people who will ask for this one again…

Do you like it with honey? See the Chicken Honey Sesame Recipe too…

Here's the Step-by-Step Video:

Enjoy and don't forget to share 🙂

Source Youtube Cooking and Crafting.

Similar recipes in videos: