Look at This Yummy Crock Pot Steak Soup with Pasta…
This pasta steak soup only requires a few ingredients. We usually do it with beef, but you can use other meats; it's very good with venison too… Start by browning the meat for a few minutes and then drop everything in the slow cooker. A few minutes before serving, you'll add your noodles.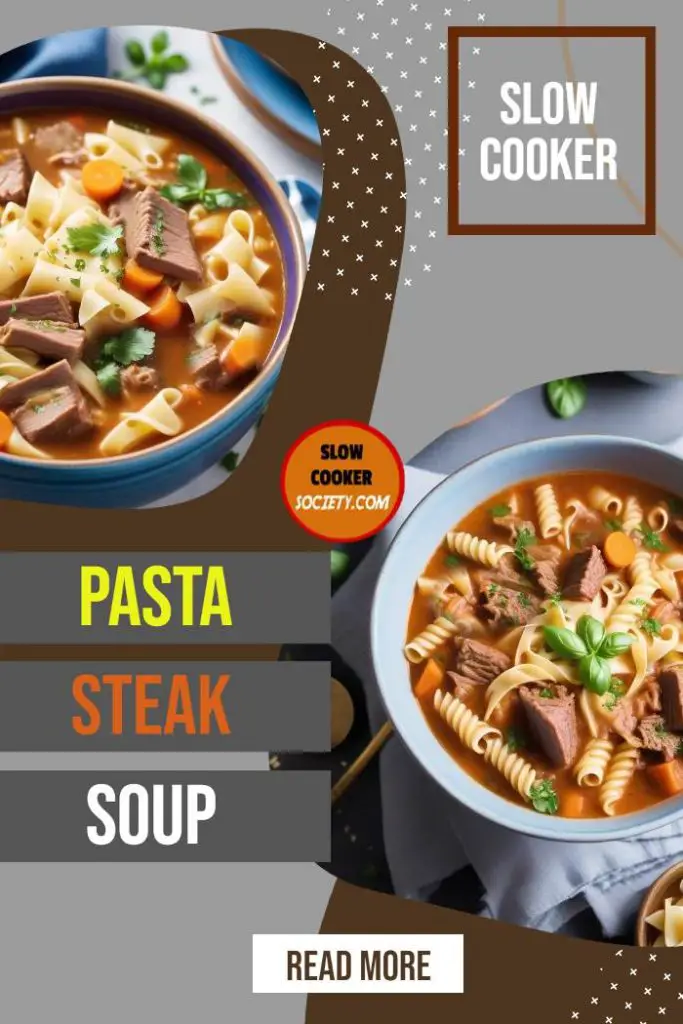 See how simple it is:

Mmmm... Slow Cooker Pasta Steak Soup Recipe
A delicious crock pot steak soup with noodles. You can choose what meat you want to use. Beef or Venison are great...
Author:
Slow Cooker Society
Instructions
Combine roast, flour, salt and pepper in a large ziplock bag.
Seal and shake to coat beef.

Heat oil in a large skillet over medium-high heat.
Remove beef from ziplock bag, discard any excess flour mixture.
Sauté beef until browned, about 5 minutes.

Place meat into slow cooker.

Add onion soup mix, beef broth,

tomato paste and Worcestershire sauce.

Cover and cook on LOW for 8 hours, until beef is tender. (Adapt cooking time if you use venison, depending on which piece you choose some are soft and other aren't)

Open and add noodles to slow cooker and cover again
.
Cook on LOW for 15-30 more minutes, until noodles are tender.

Check out the step-by-step video:

 

There are several reasons why you might want to make and eat a slow cooker pasta steak soup recipe:
Delicious taste: A slow cooker pasta steak soup is a hearty, flavorful meal that is sure to please. The rich broth and vegetables complement the tender chunks of steak and pasta, creating a delicious and satisfying dish.
Easy to prepare: A slow cooker makes this recipe very easy. Simply combine the ingredients, set the cooker, and let it work for you. This makes it an ideal recipe for busy days when you don't have much time to spend in the kitchen.
Nutritious ingredients: This recipe typically includes a variety of nutritious ingredients, such as lean beef, vegetables, and whole-grain pasta. This means it can be a healthy meal choice that provides a good balance of protein, fiber, and other important nutrients.
Versatile: This recipe is also quite versatile, meaning you can easily adapt it to your preferences. For example, you could add different vegetables, use a different type of pasta, or adjust the seasonings to suit your taste.
Overall, a slow cooker pasta steak soup is a tasty, easy, and nutritious meal that is well worth trying.
Hope you like this recipe. If so, don't forget to share…
Via Plain Chicken {Slow Cooker} Steak Soup