Slow Cooker Chili INGREDIENTS List
INGREDIENTS:
1 Tbsp olive oil
2 lbs lean ground beef
1 large yellow onion, finely chopped
3 cloves of garlic, finely minced
2 (14.5) oz cans diced tomatoes with green chilies*
3 (8 oz) cans tomato sauce
1/2 cup water or beef broth
2 Tbsp chili powder
2 1/2 tsp ground cumin
2 tsp paprika
2 tsp cocoa powder
1 tsp granulated sugar
1/2 tsp ground coriander
Salt and freshly ground black pepper, to taste
1 (15 oz) can dark red kidney beans, drained and rinsed
1 (15 oz) can light red kidney beans, drained and rinsed
Serve topped with:
Cheddar and Monterey Jack cheese, sour cream, chopped red or green onions, cilantro, roasted peppers, or hot sauce
Optionally serve with:
fresh cornbread or biscuits, baked russet potatoes, saltine crackers or tortilla chips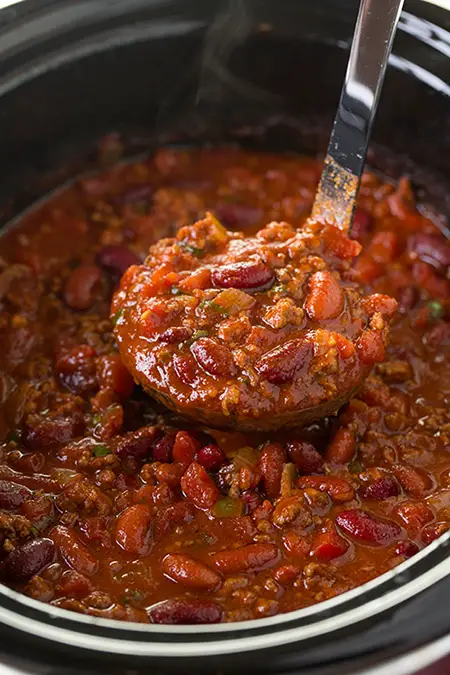 This will likely become a recipe you won't want to lose!. Simplicity – check, unbelievably satisfying – check, easy cleanup – check check check.
You're going to want to try this.
Click the "Next" Button Below for Crock-Pot Slow Cooker Chili DIRECTIONS