Crock Pot Low Carb Sour Cream Chicken Enchiladas
A very nice low carb Sour Cream Chicken Enchiladas made in the slow cooker. If you like them more "crispy" you can optionally brown them a bit in a hot oven for about ten to fifteen minutes.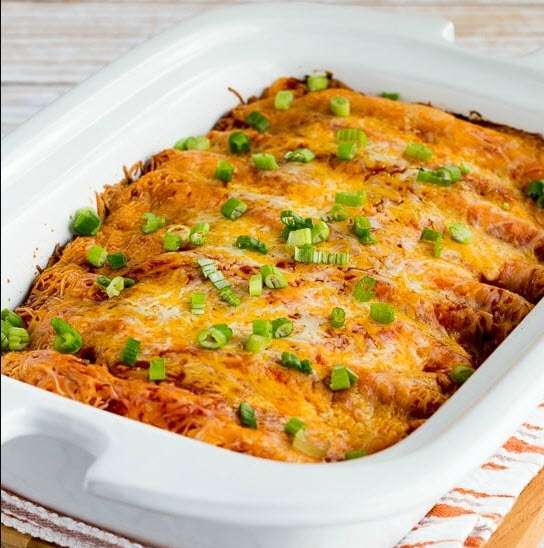 Sour Cream Slow Cooker Chicken Enchiladas
These Low Carb Slow Cooker Enchilada filled with sour cream are simply amazing...
Author:
Slow Cooker Society
Ingredients
½ cup salsa (I used Pace Picante Sauce Medium; look for low-sugar salsa)
2 cans (15 oz. each) red enchilada sauce (Look for the sauce with the lowest carbs; you can also use a 28 oz. can if you find that. Mexican brands usually have the best flavor.)
5-6 cups shredded cooked chicken (about 2 pounds)
1 cup sour cream, light or regular
1½ cups + 1½ cups finely grated cheese blend
10 low-carb flour tortillas
thinly sliced green onions, for garnish
extra sour cream, for serving
Instructions
Put the ½ cup salsa and 28-30 ounces of red enchilada sauce in a small saucepan and cook over low heat until the sauce is reduced to 2½ cups, about 25-30 minutes. (Stir it a few times so it doesn't stick on the bottom.) While the sauce reduces, shred the chicken apart and measure out the sour cream and cheese.
When the sauce mixture has reduced, put the shredded chicken into a bowl and gently mix in 1 cup sauce, 1 cup sour cream, and 1½ cups grated cheese. Lay the 10 tortillas out on the counter (on cutting boards or paper towels) and divide the filling mixture among the 10 tortillas.
Spray the Crock-Pot Casserole Crock Slow Cooker with non-stick spray and spread about ¼ cup of the sauce over the bottom of the slow cooker. Roll up each enchilada as tightly as you can and lay them side-by-side in the slow cooker. (You'll have to squish them together to get all 10 enchiladas in, but it will work.) Spread the rest of the sauce over the top of the rolled enchiladas and top them with the other 1½ cups of grated cheese.
Cook on high for 2½ – 3 hours, or until enchiladas are bubbling and the cheese is nicely melted. (If a lot of moisture gathers on the lid of the casserole crock, I remove the lid halfway and dump that liquid in the sink.) If you're using the Casserole Crock you might want to brown the top of the finished enchiladas in a 400F/200C oven for 10-15 minutes but that step is completely optional. (Crock-Pot does not recommend broiling for the Casserole Crock insert.)
Serve hot, garnished with green onions and with additional sour cream to add at the table if desired.
Extra enchiladas can be frozen, then simply reheat them in the microwave for about a minute, then sprinkle on some cheese and heat for a minute more.
Source: Kalyn's Kitchen LOW-CARB SLOW COOKER SOUR CREAM CHICKEN ENCHILADAS
Enjoy and SHARE!
Tips To Freeze Your Casseroles
It's good to split a regular 9 x13 casserole into two 9 or 8-inch pie plates or a square casserole. This permits to make one casserole last 2 meals during the month. I favor pie plates for this casserole since round tortillas work better in a round dish. Use a square if you don't have a round one.
Air as well as heat, are the freezer dish enemies. Prior to freezing, be certain your casserole goes to kitchen temperature, and you have actually sealed the dish utilizing plastic wrap to decrease the amount of air in the dish. Add a lid or an aluminum foil.
Always tag with recipe name, date made, and any kind of unique instructions to not forget what the dish is all about. I simply use a permanent marker to write on the foil.
Remember to bring a recipe to room temperature prior to freezing or baking.
Your freezer meals will be kept in a perfect state for 1 to 3 months in the freezer.
Defrost casseroles in the fridge a day before cooking and take them out on the counter for thirty minutes before baking.
Similar recipes in videos: