Crock Pot Hamburger Hashbrown Casserole | Take it easy!
When you don't want to blow the grocery budget and cook for a long time, this slow cooker hamburger casserole makes the perfect fit.
Easy and delicious, you can even use other meat than beef if you want or mix different ones together.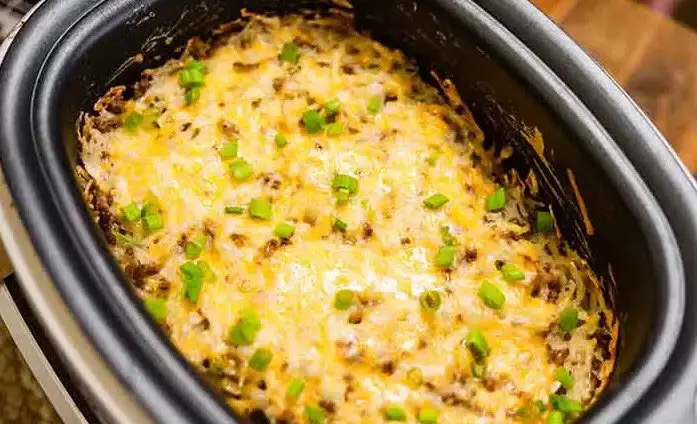 Check out the Ingredients List:

Slow Cooker Hamburger Hashbrown Casserole
So easy, delicious and creamy, this slow cooker hamburger casserole will please the entire family over and over again.
Author:
Slow Cooker Society
Ingredients
2 lbs ground beef browned and drained
½ onion chopped
(1) 32 oz package of Shredded Hash Brown Potatoes thawed
2 cans cream of mushroom soup
1 cup milk
2 cups Shredded Colby and Monterey Jack Cheese
1 tsp pepper
Instructions
Brown the ground beef and drain.
Mix the beef, onion, hash browns, milk, cream of mushroom soups, pepper, and 1 cup of cheese in a bowl.
Add these ingredients to the crockpot.
Cover and cook on high for 3 hours, or low for 6 hours.
Top with the leftover cheese mixtures for the last 5 minutes of the cooking time.
Serve and Enjoy!
Hope you like it, don't forget to share and like. Crock Pot Hamburger Hashbrown Casserole Recipe is so simple to make and creamy and delicious. Make this easy meal for dinner your family will love.
Source: Eating on a Dime, Crockpot Hamburger Hashbrown casserole

Related recipes: