Mouthwatering Slow Cooker Chicken Paprikash Recipe
If you're looking for a delicious and easy-to-make dinner recipe, look no further than Slow Cooker Chicken Paprikash! This Eastern-European inspired dish is flavorful and is made with simple ingredients.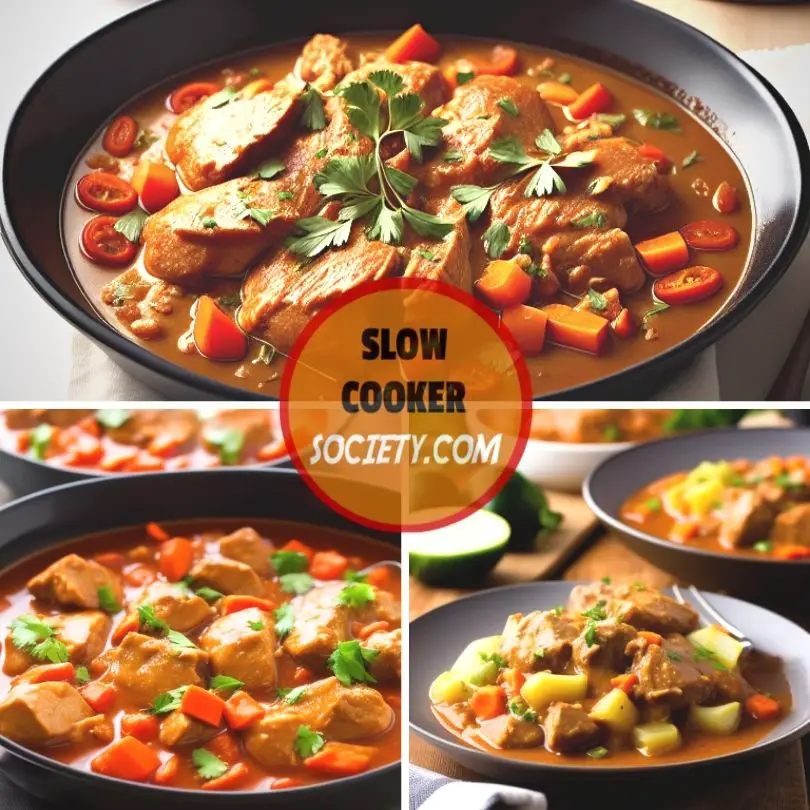 With tender chicken, a creamy paprika sauce, and hearty egg noodles or even potatoes, it's the perfect meal to warm you up on a chilly evening. So grab your slow cooker, and let's get cooking!

Delicious Slow Cooker Chicken Paprikash Recipe
Delicious Slow Cooker Chicken Paprikash with tender chicken and rich paprika sauce. Perfect for a cozy night or feeding a crowd.
Author:
Slow Cooker Society
Ingredients
1.5 lbs boneless, skinless chicken thighs
2 tbsp olive oil
1 large onion, chopped
2 cloves garlic, minced
2 tbsp sweet paprika
1 tsp smoked paprika
1 tsp salt
¼ tsp black pepper
1 red bell pepper, chopped
1 yellow bell pepper, chopped
1 can diced tomatoes (14 oz)
1 cup chicken broth
1 tbsp cornstarch
¼ cup sour cream
Optional: chopped fresh parsley or chives for garnish, cooked egg noodles, rice potatoes for serving (note that we added some potatoes in the pot to get nice pictures)
Instructions
Heat the olive oil in a large skillet over medium-high heat. Add the chicken thighs and cook for 5-7 minutes per side or until browned. Transfer the chicken to the slow cooker.
In the same skillet, add the chopped onion and cook for 3-4 minutes or until softened. Add the garlic, sweet paprika, smoked paprika, salt, and black pepper, and cook for 1-2 minutes, or until fragrant.
Add the onion mixture to the slow cooker and the chopped red and yellow bell peppers, diced tomatoes, and chicken broth. Stir to combine.
Cover and cook on low for 6-8 hours or on high for 3-4 hours or until the chicken is tender.
Whisk together the cornstarch and 2 tbsp of water in a small bowl. Stir the mixture into the slow cooker and cook on high for another 10-15 minutes or until the sauce is thick.
Stir in the sour cream until well combined. Serve hot, garnished with chopped fresh parsley or chives, if desired, and with cooked egg noodles, rice, or even potatoes if you wish.
Notes
Alternative Ingredients:
Instead of chicken thighs, you can use bone-in chicken pieces or boneless, skinless chicken breasts.
Instead of sweet and smoked paprika, you can use hot paprika or a combination of sweet and hot paprika.
Instead of canned diced tomatoes, you can use fresh diced tomatoes or tomato sauce.
Instead of chicken broth, you can use vegetable broth or water.
Instead of sour cream, you can use Greek yogurt or heavy cream.
Nutrition Information
Serving size: 
4 plates
Calories: 
350
Slow Cooker Chicken Paprikash is a delicious and hearty meal perfect for a cozy night or feeding a crowd. With its tender chicken and rich paprika sauce, this dish is sure to become a new favorite in your recipe repertoire. And the best part? It's straightforward to make in your slow cooker, so you can spend less time in the kitchen and more time enjoying your delicious meal.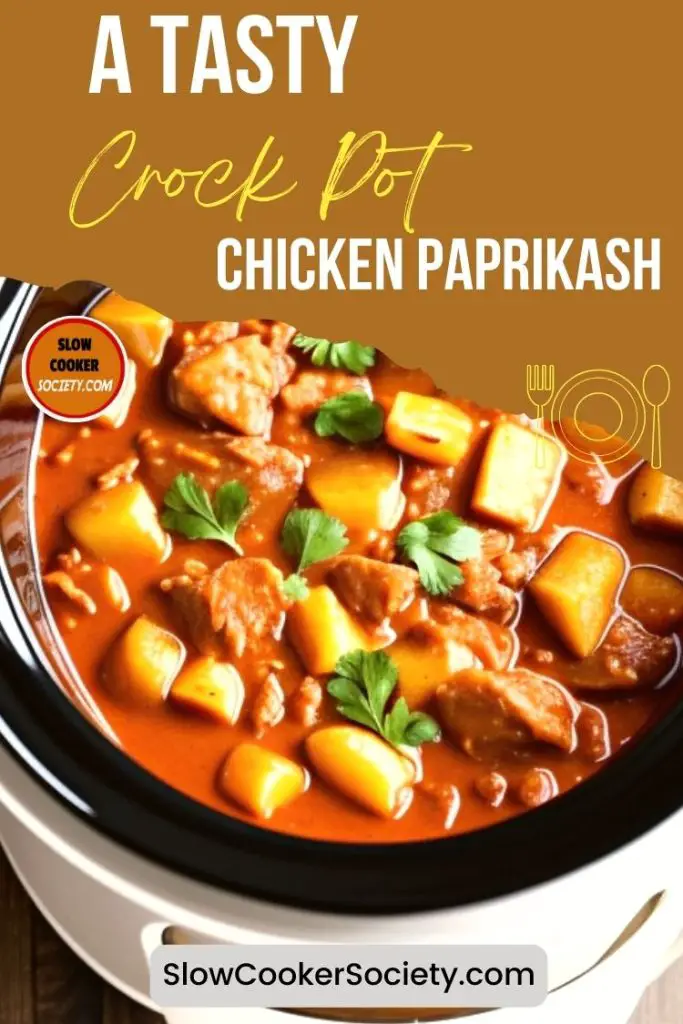 Give this recipe a try and savor the flavors of Hungary in the comfort of your own home!
Make sure to like and share if you enjoyed this recipe.
More Chicken Recipes:
Sensational Slow Cooker Chicken Breast Recipe