Easy Crock Pot Boneless Chicken Breasts on Veggies.
Today we are delivering a wonderful dinner, so simple to assemble, it literally only needs about ten minutes of preparation work and it is absolutely sensational.
First things first, we're going to make our marinade mix in a small jug.

Sensational Slow Cooker Chicken Breast Recipe
This Chicken recipe is infinitely variable, you can change the herbs and spices into it make it whatever flavor you like change up the veggies you don't have to use potatoes and carrots you could easily use pretty much any vegetable
Author:
Slow Cooker Society
Ingredients
1kg of Chicken Breast Fillets
600g of Small Red Potatoes (quartered)
250g of Dutch / Baby Carrots (trimmed and peeled)
¼ Cup of Olive Oil
⅓ Cup of Freshly Squeezed Lemon Juice
1 Teaspoon of Dried Oregano
1 Teaspoon of Onion Powder
2 Teaspoons of Crushed Garlic
1 Teaspoon of Salt
Some Freshly Cracked Black Pepper
Instructions
Marinade:
We're going to make our marinade mix in a small jug.
We have a quarter of a cup of olive oil, just normal everyday oil, nothing expensive or fancy and to that we're going to add a third of a cup of freshly squeezed lemon juice, that's real lemon juice out of lemons not out of a bottle and to do that.
Add a teaspoon of Oregon
A teaspoon of onion powder this is just dried ground up onions
Two cloves of crushed garlic about 2 teaspoons worth
A tea spoon of salt and a little freshly cracked black pepper and you just need to give that a quick stir together and that is ready to use.

Chicken and Veggies
So we're ready to start filling the slow cooker
We've got about one kilo or about two pounds of chicken breasts boneless skinless
We add some potatoes these are just some little red potatoes and carrots
We just trimmed and peeled the baby carrots so all that's left to do is pour the marinade mixture over everything starting with the chicken and then over the potatoes and the carrots.
Just make sure it's all over everything, they're beautiful.
All that's left to do now is to put the lid on and switch your slow cooker on.
If you're using the HIGH setting it will be 4 hours if you're putting on the LOW setting it will be 8 hours.
Notes
Make sure you don't take the lid off while it's cooking because we want as much of that steam in there as possible to make sure those vegetables and the chicken are cooked properly.

Here's the step by step video:
This recipe is infinitely variable; you can change the herbs and spices into it to make it whatever flavor you like, and change up the veggies. You don't have to use potatoes and carrots you could easily use pretty much any vegetable, you could use green beans you could use broccoli, etc…
Don't forget to share this wonderful recipe!
Source Youtube, The One Pot Chef
Recipes for chicken breasts in the crockpot | Frequently Asked Questions (FAQ):
How to cook chicken breasts in the crockpot?
Chicken breasts are one of the easiest meats to prepare in the crockpot. Place the chicken breasts into the crockpot and add whatever ingredients you want to flavor the dish. 
How long to cook chicken breasts in the crockpot?
It depends on the size of your meat. Cook on low for 4 – 6 hours or high for 2 1/2 – 3 hours.  Even more, like in the recipe above, using big chicken breasts. Take the chicken breasts out from the crock pot and shred them before serving if you like pulled meat.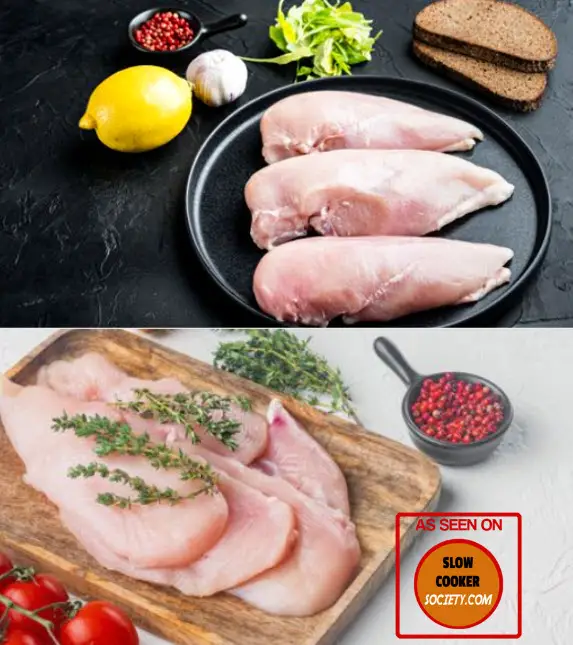 Do I need less time for crockpot recipes with less chicken breasts?
Yes, you do. However, it is somewhat related to size, as already stated. Chicken breasts cook faster when they're smaller. So if you're cooking a recipe that calls for four boneless, skinless chicken breast halves, you'll want to cut those into two pieces each. That way, you'll end up with four servings instead of eight.
Can you use frozen chicken in the slow cooker? 
You certainly can! Make sure to check the internal meat temperature before eating any type of poultry.
How long to cook frozen chicken in the Crock Pot?
Allow 6 hours to ensure that it is properly cooked through to the core of the thickest piece. If you try to shred them with forks and it's difficult, it's not done yet.
In a slow cooker, how do I cook frozen chicken? 
Slowly on the LOW heat is the way to go.
More recipes like this one:
Want more chicken recipe? Read this:
4 Delicious Chicken Breast Recipes You Can Make in Your Crockpot
Looking for easy and delicious chicken breast recipes that you can make in your crockpot? Look no further! These 10 recipes are perfect for busy weeknights or lazy weekends, and will make dinner a breeze. From classic chicken and dumplings to flavorful chicken fajitas, there's something for everyone on this list. So grab your crockpot and get cooking!
This classic comfort food is made even easier with the help of your crockpot. Simply add chicken breasts, vegetables, and seasonings to your slow cooker, and let it simmer all day. Then, just before serving, add in some pre-made dumplings for a hearty and delicious meal. It's the perfect dish for a cozy night in or a family dinner.
This mouth-watering BBQ chicken is slow-cooked to perfection in a crockpot, making it tender, juicy, and full of flavor. The perfect meal for busy weeknights or lazy weekends, this BBQ chicken is sure to become a family favorite.
– Made with quality chicken
– Slow-cooked for maximum flavor and tenderness
– Delicious BBQ sauce
– Easy to make in a crockpot
Benefits:
– Saves time and effort in the kitchen
– Provides a healthy and delicious all-in-one meal option
– Perfect for meal prep or feeding a crowd
– Can be served in a variety of ways, from sandwiches to salads to rice bowls.
With our Slow Cooker Chicken Fajitas, you can enjoy the delicious taste of fajitas without all the hassle. Simply add the ingredients to your slow cooker in the morning and come home to a mouth-watering meal that's ready to eat. Our recipe features tender chicken, bell peppers, onions, and a blend of spices that will have your taste buds dancing.
– Easy to prepare
– Slow cooked for maximum flavor
– Made with fresh ingredients
Benefits:
– Save time and effort with our easy slow cooker recipe
– Enjoy a delicious and healthy meal without the hassle
– Perfect for busy weeknights or lazy weekends
This slow cooker teriyaki chicken recipe is the perfect combination of sweet and savory. The chicken is marinated in a homemade teriyaki sauce and slow cooked to perfection, resulting in tender and juicy meat that falls off the bone. Serve over rice or with your favorite vegetables for a delicious and easy meal.
– Made with homemade teriyaki sauce
– Slow cooked for maximum flavor and tenderness
Benefits:
– Healthy and flavorful meal option
– Can be customized with your favorite vegetables or served over rice for a complete meal