Here's How To Make an Amazing Sausage & Peppers Slow Cooker Casserole
This easy recipe combines Sausage (Italian) with Peppers and of course Onions… which make it so tasty… You can serve it in a variety of different ways… could be over rice, in sandwiches or with pasta and a salad 🙂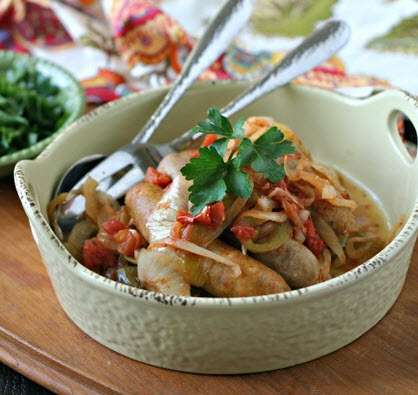 Crock Pot Italian Sausage and Peppers Recipe
Mmmm... Italian Sausage & Peppers easy slow cooker Casserole... Yummy!
Author:
Slow Cooker Society
Ingredients
5 to 6 medium cloves garlic, finely chopped
2 large yellow onions, halved and thinly sliced
4 green bell peppers, halved from top to bottom, cleaned and thinly sliced
1 Tablespoon kosher salt
1 teaspoon Italian Seasoning
¼ teaspoon dried oregano
½ teaspoon crushed red pepper flakes
1 28-ounce can unsalted crushed tomatoes
¼ cup cold water
1 bay leaf
1¾ to 2 pounds uncooked Italian Sausage Links (Mild or Spicy)
chopped Italian parsley for serving (optional)
Instructions
Finely chop garlic. I used my food processor with the chopping blade to save time.
If you are using a food processor, swap the chopping blade for the slicing disc.
Slice bell peppers in half from top to bottom. Remove the ribs and any seeds.
Proceed to thinly slice or use the food processor to slice exactly like the onions.
Add the sliced bell peppers to the slow cooker along with the salt, Italian Seasoning, dried oregano, crushed red pepper flakes, ¼ cup cold water and can of crushed tomatoes. Toss until well coated and liquid is evenly distributed.
Remove about half of the peppers and onion mixture to a bowl. Bury the uncooked sausages in the middle and return the peppers and onions back to the slow cooker to cover the sausage. Add the bay leaf. Cover, set to low and cook for 6 hours. The onions and peppers will give off a lot of water as they cook which will make the sauce liquid and spoon-able so don't stress that there isn't enough liquid. Top with some chopped parsley, serve hot and Enjoy!
Wow… feeling hungry? Also if you want you can mix peppers of different colors, the dish looks even more nice…
Source: Everyday Maven Slow Cooker Sausage and Peppers
Enjoy and SHARE!