Cheesy Crock Pot Potato Soup – Add Even More Cheese if You Want. Ideal for Cold Weather
Oh yes, we DO love those hot cheesy soups during the coooooooold winter, or fresh evenings.
Once again very, very easy to prepare.

Get your ingredients ready, and let's make this tasty soup together. Oh, if you really like cheese, simply add more to your plate when serving!
Let's get started:
Place Reynolds™ Slow Cooker Liners inside a 5- to 6 1/2 -qt slow cooker bowl. Make sure that the liner fits snugly against the bottom and sides of the bowl and pull the top of the liner over the rim of the bowl.
In a lined slow cooker, mix potatoes, onion, celery, broth, and water.
Cover; cook on Low heat setting 6 to 8 hours.
Then, in a small bowl, mix the flour into milk; stir into the potato mixture. Increase heat setting to High. Cover; cook 20 to 30 minutes, or until mixture thickens. Stir in cheese until melted. Garnish individual servings with bacon and green onions. Sprinkle with pepper if desired.
You may also server directly from the lined slow cooker. Once your slow cooker cools, remove the liner and throw it away for easy clean-up, but personally, I don't use them.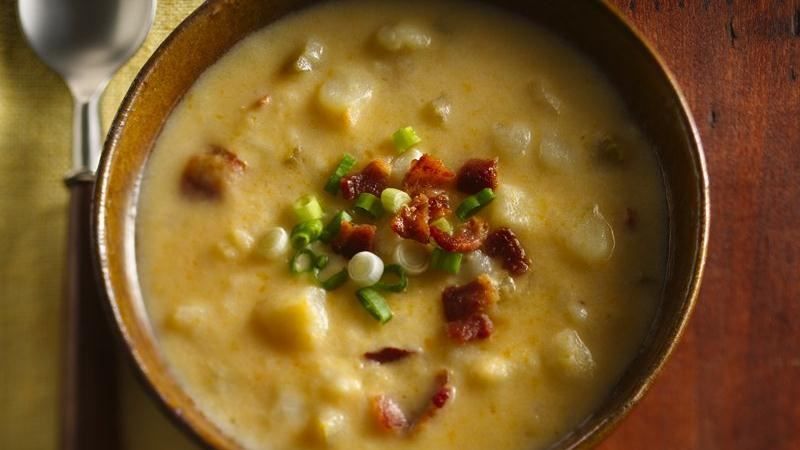 INGREDIENTS LIST:

Reynolds™ Slow Cooker Liners
1 bag (32 oz) frozen southern-style diced hash brown potatoes, thawed
1/2 cup frozen chopped onion (from 12-oz bag), thawed
1 medium stalk celery, diced (1/2 cup)
1 carton (32-oz) Progresso™ chicken broth
1 cup water
3 tablespoons Gold Medal™ all-purpose flour
1 cup milk
1 bag (8 oz) shredded American-Cheddar cheese blend (2 cups)
1/4 cup real bacon pieces (from 2.8-oz package)
4 medium green onions, sliced (1/4 cup)
For a best result, Southern-style hash brown potatoes are diced instead of shredded.
Hope you enjoyed, please share if so.
via Betty Crocker Slow Cooker Cheesy Potato Soup