Creamy Slow Cooker Potato Leek Soup Recipe.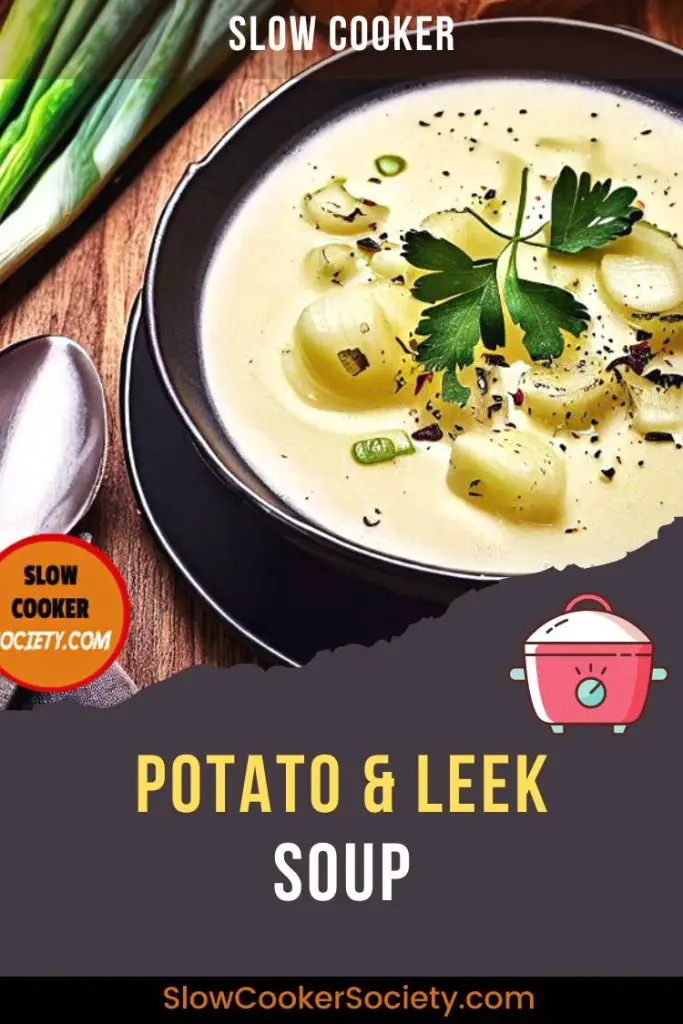 Slow cooker potato leek soup is a comforting and delicious dish perfect for those fresh evenings when you need something warm and hearty to fill you up. This soup is not only tasty, but it is also super simple to make in a slow cooker, making it a perfect choice for hectic weeknights or quiet weekends.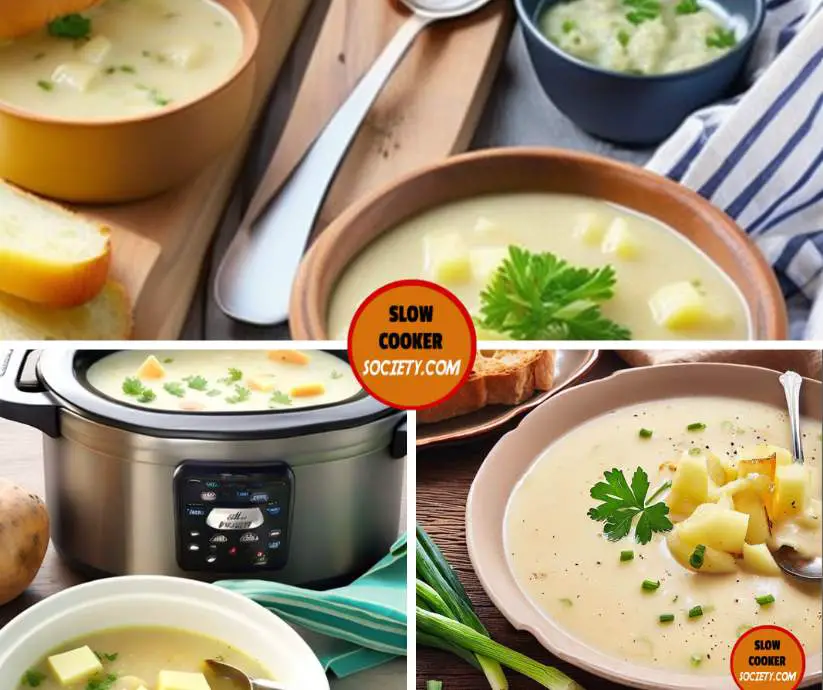 The primary ingredient in this soup is leeks, which have a mild onion flavor, which pairs perfectly with potatoes and other vegetables. This soup is also packed with nutrients, including vitamins, fibers, and minerals, making it a healthy option for anyone looking to increase their vegetable intake.

Creamy Slow Cooker Potato Leek Soup Recipe
This Slow Cooker Potato Leek Soup is the ultimate evening warmer! Creamy, comforting, and healthy, it's the perfect meal for a cozy night in.
Author:
Slow Cooker Society
Cuisine:
American / European
Ingredients
6 cups chicken or vegetable broth
3 large leeks, chopped
3 large potatoes, peeled and chopped
2 garlic cloves, minced
1 tsp dried thyme
1 tsp salt
¼ tsp black pepper
1 cup heavy cream
1 tbsp olive oil
2 tbsp unsalted butter
Chopped fresh parsley or chives, for serving
Instructions
In a large skillet, heat the olive oil and butter over medium heat.
Add the chopped leeks and cook until softened, about 5-7 minutes.
Cook for another minute after adding the minced garlic..
In the slow cooker, combine the cooked leeks and garlic, chopped potatoes, chicken or vegetable broth, dried thyme, salt, and black pepper.
Cover and cook on low for 6-8 hours or on high for 3-4 hours, until the potatoes are tender.
Turn off the slow cooker and use an immersion blender to purée the soup, or transfer it to a blender and puree until smooth..
Adjust the seasoning to taste after adding the heavy cream.
Serve immediately, garnished with fresh parsley or chives, or coriander.
Notes
Alternative Ingredients:
Instead of chicken or vegetable broth, you can use water with a bouillon cube or stock concentrate.
Half-and-half can be used in place of heavy cream, whole milk, or evaporated milk.
Instead of dried thyme, you can use dried oregano, basil, or rosemary.
Instead of leeks, you can use onions or shallots.
Sweet potatoes or cauliflower can be substituted for potatoes.
Nutrition Information
Serving size: 
4 serves
Calories: 
300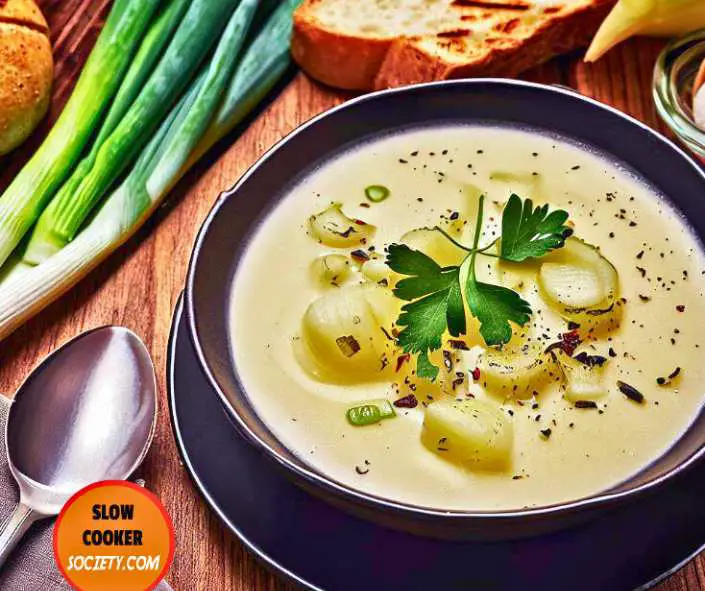 Whether you're looking for a quick and easy meal or something to warm you up on a cold day, slow cooker leek soup is a perfect choice. So, grab your slow cooker and prepare a delicious and comforting bowl of soup that your whole family will love.
We hope you love this simple and tasty soup, don't forget to share!
More potato soups recipes: