What a Comforting Slow Cooker Chicken Rice Soup
This slow cooker chicken and rice soup recipe is perfect for anyone who loves a hearty, comforting bowl of soup. The combination of tender chicken, flavorful rice, and vegetables in a savory broth is sure to satisfy your cravings all year round. Plus, the best part is that you can let your slow cooker do all the work, making it a hassle-free meal that's easy to prepare. So why not cozy up with a bowl of this delicious soup for an easy evening dinner?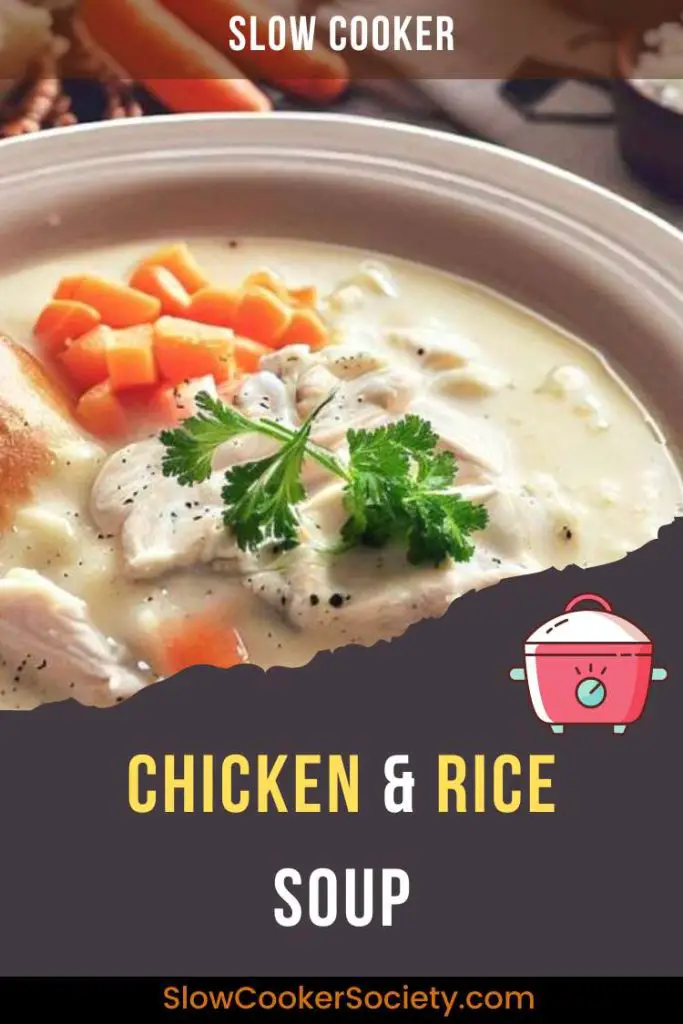 Cooking the rice separately and adding it later can be a good option if you want to have more control over the texture of the rice. However, cooking the rice in the slow cooker along with the chicken and other ingredients allows the rice to absorb all the delicious flavors and nutrients from the broth, resulting in a richer and more flavorful dish. It also saves time and effort, as you don't need to cook the rice separately and then add it to the slow cooker. Ultimately, it depends on personal preference and the desired outcome of the dish.

Easy Cooker Chicken Rice Soup. So Delicious!
Looking for an easy and healthy dinner idea? Try this Slow Cooker Rice and Chicken Soup recipe! Perfect for meal prep or a cozy night in.
Author:
Slow Cooker Society
Cuisine:
American/European
Ingredients
1 lb boneless, skinless chicken breasts, cut into small pieces
1 cup white rice
4 cups chicken broth
1 cup water
1 onion, chopped
2 carrots, peeled and sliced
2 celery stalks, sliced
2 garlic cloves, minced
1 tsp dried thyme
1 tsp dried rosemary
Salt and pepper to taste
Optional toppings: chopped parsley, lemon wedges
Instructions
Add the chicken, rice, chicken broth, water, onion, carrots, celery, garlic, thyme, rosemary, salt, and pepper to the slow cooker.
(You can brown the chicken in a skillet for a few minutes if you wish)
Stir everything together to combine.
Cook on low for 6-8 hours or on high for 3-4 hours, or until the chicken is cooked through and the rice is tender.
Either cut the chicken in small pieces or shred it with 2 forks.
Serve hot, garnished with chopped parsley and lemon wedges, if desired.
Alternative Ingredients:
Instead of white rice, you can use brown rice or quinoa.
Instead of chicken breasts, you can use chicken thighs or bone-in chicken.
Instead of chicken broth, you can use vegetable broth or water.
Instead of thyme and rosemary, you can use Italian seasoning or dried basil.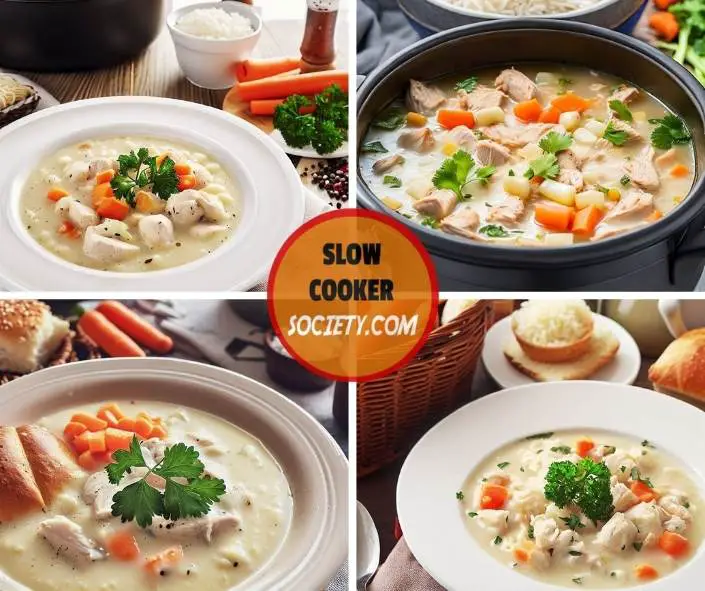 This Slow Cooker Rice and Chicken Soup is the ultimate comfort food that will warm you up from the inside out. Loaded with tender chicken, rice, and veggies, it's the perfect meal to enjoy on a chilly day or anytime during the year.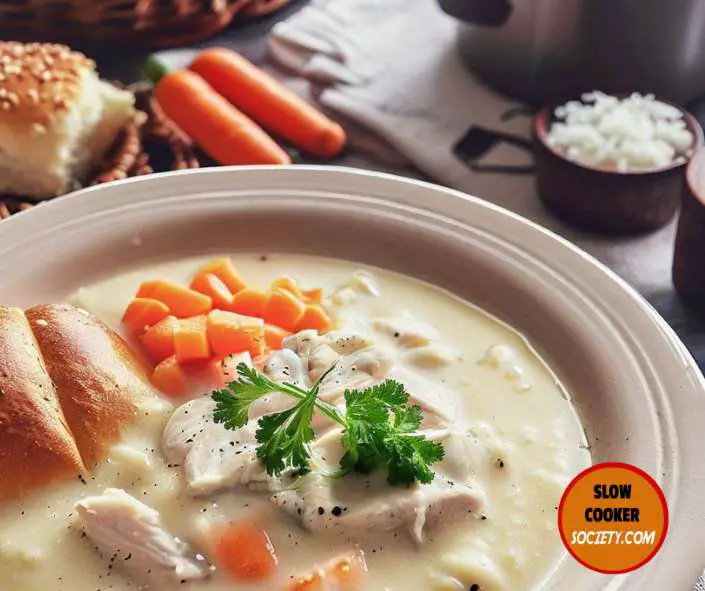 Serve it with some crusty bread, and you've got a complete meal. Imagine this soup in a beautiful bowl, bathed in natural lighting, with a sprinkle of chopped parsley on top. The colors and flavors combine to create a beautiful and savory dish.
Slow Cooker Rice and Chicken Soup is the perfect meal to make when you
Don't forget to like and share
More Soup Recipes: