Slow Cooker Arizona Chuck Wagon Beans and Chili Mac.
Yeah, when we need strengths, what we need is a heavy dish that will stay a few hours in the stomach and keeping us warm when wandering outside. Trust me, beans will do the trick 🙂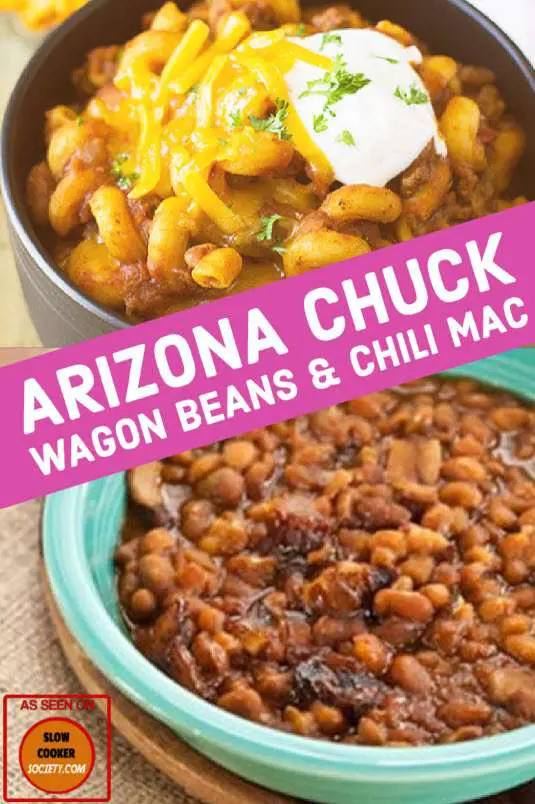 So, let's get started with the Arizona Chuck Wagon Beans: (Chili Mac recipe is further down)

Simple and Great during Cold Days.

THE Arizona Chuck Wagon Beans Slow Cooker Recipe
What a delicious and easy recipe. This Crock Pot Arizona Chuck Wagon Beans will fill your stomach and put a great smile on your face...
Author:
Slow Cooker Society
Instructions
Rinse your beans well. Combine them with water in a large kettle.
Bring to boiling, cover and cook for 2 minutes.
Remove from heat and let stand for one hour
Then pour into the crockpot.
Brown salted pork in a large skillet
Move the pork with a slotted spoon to the crockpot
Sauté onion, garlic and green pepper in pan drippings,
Then move with a slotted spoon to slow cooker.
Brown your beef, a few pieces at a time in pan drippings.
Put them into the crock pot with slotted spoon
Add salt, oregano, red pepper, cumin and tomato sauce.
Pour more water if necessary, to bring liquid level above beans.
Pretty easy…
Now let's make the Chili Mac:


Slow Cooker Chili Mac

 

This Crock Pot Chili Mac is an easy comforting dish made right in your crock pot!!

Author:

First seen on Countryside Cravings

Ingredients
1 pound very lean ground beef
1 small onion, chopped
4 cloves garlic, minced
1 (30 oz) can chili beans in chili sauce or 2 (15-16 oz) cans chili beans in chili sauce
1 (28 oz) can crushed tomatoes
1 (15 oz) can diced tomatoes
2 cups beef broth
1 tablespoon chili powder
½ teaspoon cumin
salt and pepper to taste
8 oz elbow macaroni, uncooked
Desired toppings: cheddar, sour cream, green onions, corn chips....

Instructions
Place ground beef in the bottom of your slow cooker and break into smaller chunks. Stir in remaining ingredients except for the pasta.
Cover and cook for 4-6 hours on HIGH or 8-10 hours on LOW.
In the last 15 minutes of cooking stir in the uncooked pasta and cover.
Stir and test to see if pasta is to your liking. However, even with the slow cooker off the pasta will continue to cook just from the heat of the chili and crock itself so unless your pasta is really chewy or crunchy
We strongly suggest only cooking it for the last 15 minutes of cook time.
Serve immediately with desired toppings.
Kitchen is full of great smell…
Don't forget to share 🙂
Via Countryside Cravings Slow Cooker Chili Mac

Save