Crock-Pot Super Tender and Tasty Roasted Chicken.
I agree; it's pretty uncommon. We usually don't throw an entire chicken in the Crock-Pot, though if the pot is big enough, like in a 5-quart slow cooker, you should definitely try this chicken recipe. The outcome will be a super tender and tasty roasted chicken. The skin is very good, but it doesn't get super crispy in the slow cooker.

An alternative if is the Crock-Pot Creamy Ranch Chicken if the pot is too small and you need to cut the chicken.
Let's start:
As an optional step, add foil balls to the bottom of the slow cooker, it works without. The benefit is that it is easier to remove from the slow cooker in one piece if the bottom of the chicken hasn't been simmering away in the juices all day. It's really delicious either way, but creating a foil ball rack in the slow cooker makes it more like a traditional roasted chicken you can carve.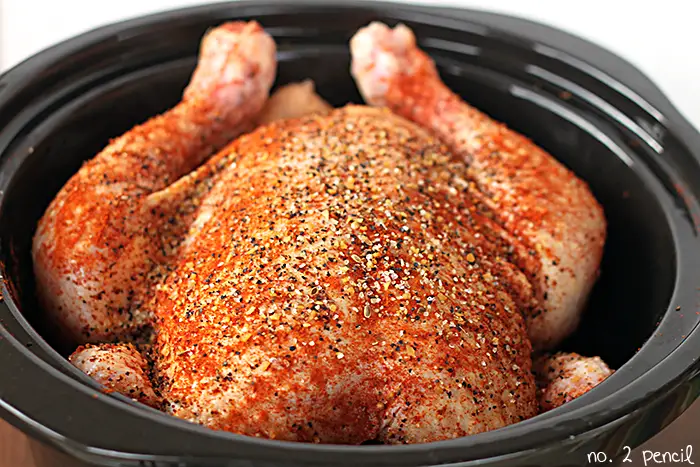 Remove any insides and rinse the chicken well. Pat dry with paper towels. Season the entire chicken, inside and out, with salt, pepper, paprika, and all-purpose steak seasoning.
Click the "Page 2" Button below for the REST of the Recipe and INGREDIENTS LIST: