Crock Pot Mushroom Risotto with Peas INGREDIENTS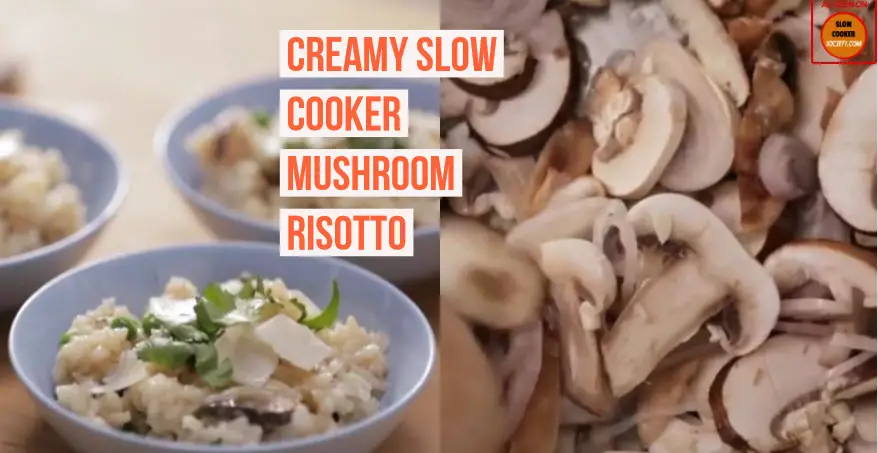 This recipe is ideal for beginners and also for more experienced cook who don't have much time to spend preparing an exquisite dinner 🙂

Creamy Slow Cooker Mushroom Risotto with Peas
Amazing Risotto with Mushrooms and Peas, made in the Crock-Pot.
Author:
Slow Cooker Society
Ingredients
3 tablespoons butter
3 cups sliced assorted fresh mushrooms, such as button, cremini, and/or shiitake (8 ounces)
⅓ cup sliced shallots or chopped onion
2 cloves garlic, minced
1¾ cups uncooked Arborio rice
4 cups chicken broth
¾ cup dry white wine
½ teaspoon cracked black pepper
⅔ cup frozen peas, thawed
Asiago cheese shards (optional)
Fresh Italian (flat-leaf) parsley leaves (optional)
Instructions
In a large skillet, heat butter over medium heat until melted.
Add mushrooms, shallots, and garlic.
Cook for 5 to 7 minutes or until mushrooms are lightly browned, and liquid is evaporated, stirring occasionally.
Stir in rice; cook and stir for 1 minute more.
Transfer rice mixture to a 3½- or 4-quart slow cooker. Stir in broth, wine, and pepper.
Cover and cook on LOW setting about 2¾ hours or on HIGH setting about 1¼ hours or until rice is tender. If possible, remove crockery liner from cooker if used.
Stir in peas. If desired, top with cheese and/or parsley.
Notes
Tip for EASY CLEANUP:

Line your slow cooker with a disposable slow cooker liner. Add ingredients as directed in recipe. Once your dish is finished cooking, spoon the food out of your slow cooker. Once the food is out of your slow cooker liner, simply dispose of the liner. Note: Do not lift or transport liner with food inside.
Check out the step-by-step quick video:
Don't forget to share if you liked this recipe 🙂
Via BHG Mushroom Risotto with Peas