Slow Cooker Broccoli Cheese Soup – How to Make Broccoli and 3 Cheese Soup.
This Slow Cooker Broccoli and Cheese Soup is quick and easy to make. Made in the crockpot with fresh ingredients, this dish will become a regular in your dinner rotation!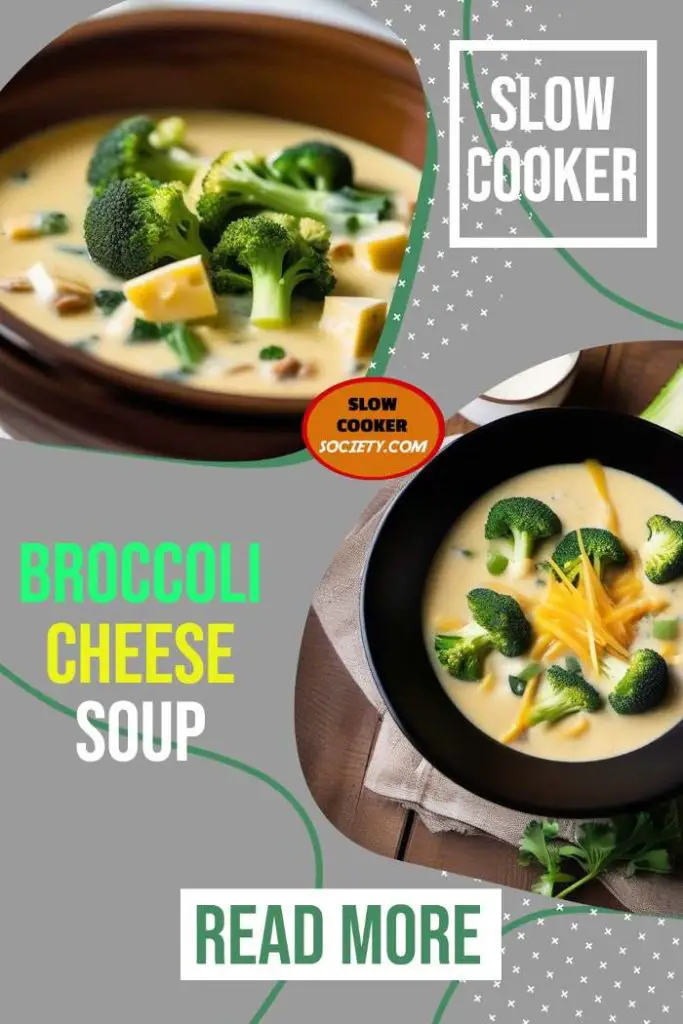 Soup fans of broccoli and Parmesan-Cheddar-Velveeta cheeses, rejoice! I'm back with a quick and easy Slow Cooker Broccoli Cheese Soup recipe that takes less than 15 minutes to prepare. It is one of the best crock pot recipes for keeping you warm on a fantastic evening on the patio.
Make sure to view the Step-by-Step video further down.
But for now, here's the ingredients list and Directions:

Broccoli and 3 Cheese Slow Cooker Soup
This 3 cheese and Broccoli soup made in the slow cooker is simply the best! I could eat it all the time.
Author:
Slow Cooker Society
Recipe type:
Main, Side dish
Ingredients
8 ounces of Velveeta cheese cut into cubes
2 Tablespoons of butter
½ onion diced
4 cups of chicken broth
12 ounces of evaporated milk
½ teaspoon of pepper
2 cups of Broccoli Florets
1 cup of Parmesan cheese shredded
¼ teaspoon of salt
1½ cups of cheddar cheese shredded
Instructions
Melt butter in a pan over medium-high heat.
Cook the onion in butter until it is soft.
In the slow cooker, mix the onions, milk, chicken broth, broccoli, pepper, and salt until well combined.
Cook on low for 4 hours, covered.
Slowly add the cheese cubes to the slow cooker and stir until melted.
Stir in the cheddar and Parmesan until melted. To avoid curdling, switch off the slow cooker immediately.
Nothing says comfort quite like a steaming bowl of broccoli and cheese soup. Finally, a dish combines the comfort foods you love into one delicious and complete evening soup.
The smooth broth complements the broccoli florets' crunch and the gooey cheesy bite from the shredded Cheddar, Velveeta, and Parmesan cheese. This soup is guaranteed to make you feel right at home for a quick and satisfying dinner that the entire family can enjoy.
Check out the Step by step Video:
Make sure to like and share this recipe if you loved it.
Via Six Sister Stuff Slow Cooker 3 Cheese and Broccoli Soup
You may also like the Crock Pot Broccoli & Cheese Soup – The Perfect Combination or the Slow Cooker Broccoli & Cheese Soup (using cream cheese)
Similar recipes in Video: