This Conversion Chart Will Help You Make Nearly Any Recipe In Your Crock Pot.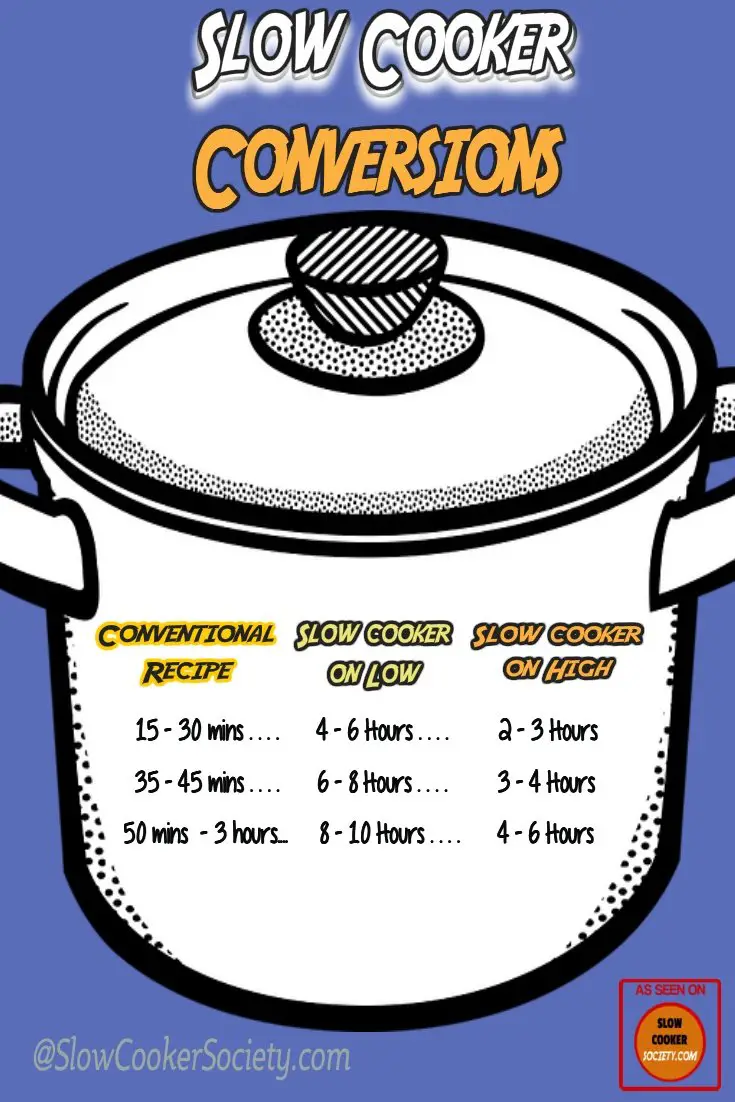 There are definitely tons of Slow Cooker Recipes available on internet and social media supports, though you won't always find the one you are looking for…
I made some research and discovered a wonderful explanation on how to convert your favorite stove top meals, as well as useful tips by "Jillee". I thought I should share them.
Most traditional recipes can be converted to use in your Slow Cooker.

There are a few simple guidelines to keep in mind when going from stove top to crock pot:
Reduce the amount of liquid the recipe calls for by about half. The slow cooking process will produce more liquid that won't get boiled away.
If the recipe does not include liquid or sauce of any kind, you should add 1/2 cup of water because moisture is needed to produce steam for the slow cooker to reach the appropriate cooking temperatures.
Browning the meat before adding to the slow cooker will enhance the flavor of the dish.
If the recipe calls for vegetables, be sure to cut them into consistent size pieces and layer on the bottom of the slow cooker.
More delicate vegetables, such as tomatoes, peppers, peas, and summer squash should be added towards the end of the cooking time.
Recipes for soup and stew containing milk, cheese, or other dairy products, should have these ingredients added in the last 30 to 60 minutes of cooking time.
To avoid rice and pasta from becoming sticky, cook them on the stove-top and add in at the end of the cooking time just long enough to be heated through.
At the end of cooking, if there seems to be too much liquid, remove the lid and turn the pot up to high, allowing some of the water to cook out.
If you'd like to thicken or enrich the sauce, stir in cream, sour cream, shredded cheese, or a mixture of cornstarch and cold water.
Brighten up flavors with salt and pepper, lemon juice, or vinegar, and maybe a handful of fresh chopped parsley, basil, or cilantro.
Pretty easy, now it's your turn! You may also like the more detailed version of "Low to High Times".
Via Onegoodthing Crockpot conversion chart for your favorite oven-baked recipes.
Have fun and don't forget to share!
Save
Save
Save
Save
Save