What's Better than Meatballs?…
Simple….  Meatballs in a delicious tomato soup base with loads of nice vegetables!
Drop everything in the slow cooker, mix a bit and here you go!
Directions:
Add diced tomatoes, tomato sauce, vegetable broth, carrots, onion, green beans, basil, oregano, and thyme into the slow cooker and mix well.
Then put in kidney beans, garbanzo beans and Beyond Meat meatballs and stir well.
Cook on LOW for 6 to 8 hours
Few minutes before serving cook your macaronis and pour them into the soup, stir in tomato soup.
Finally, garnish with some Parmesan cheese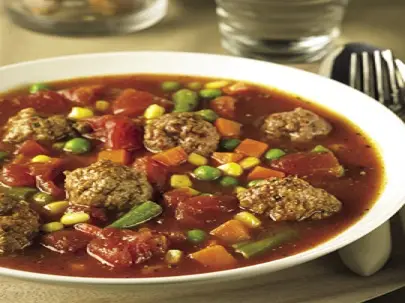 INGREDIENTS List:
½ cup onion, chopped
2 cups green beans, frozen
4 cups vegetable broth
1½ cups carrots, sliced
3 cans 14.5oz of diced tomatoes
8oz can tomato sauce
1 tsp basil
1tsp oregano
1 tsp thyme
1 15oz can kidney beans, drained and rinsed
1 15oz can garbanzo beans, drained and rinsed
8oz elbow macaroni
10¾ oz can tomato soup
2 packages of meat meatballs (pork or beef as you wish)
Hope you like this quick recipe, don't forget to share 🙂
Enjoy!