Easy Crock Pot Minestrone Soup, Ideal For Evenings.
Why would you want to eat low-taste ready soups when it's so easy to cook a super tasty minestrone soup in your slow cooker? A soup packed with all sorts of vegetables, a healthy soup that will keep you warm and full for hours in the evenings, great in summer too…
Wanna try? Sure, let's have a look!
Preparation time:  10 minutes.
How about dropping our preferred ingredients (say, veggies, beans, and pasta) into a Crock Pot and call it dinner? This minestrone soup is probably going to be the easiest thing you're ever going to cook. And the best part? You didn't even need to turn on the stove!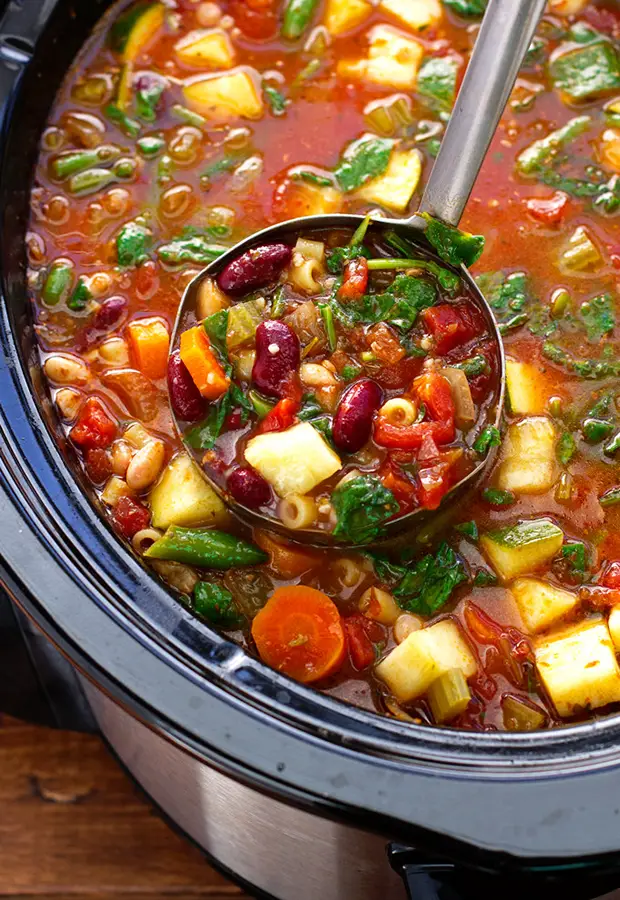 The coolest thing with slow cooker recipes is that your pot takes on the dinner responsibilities for the evening. It means that you'll only spend few minutes for the preparation and get additional time for other tasks you prefer, or simply to have some rest.
Just come back a few hours later for such a result, Yummy!
But you know what? To get that special taste, there's a "secret". I'll give you a hint. It's in the 2nd picture above. And it's a red blob. No, not the diced tomatoes, the other red blob!
Click the "Page 2" Button below for the Slow Cooker Minestrone "SPECIAL INGREDIENT"