Crock Pot Pork Roast INGREDIENTS
Really mouth-watering… it is definitely one of my family's favorite…

Slow Cooker Pork Loin Roast Honey Butter Sauce
This Crock Pot Loin Roast is amazing! Recipe works for pork shoulder, scotch fillet and even tenderloin.... And the honey butter is.... Mmmmm.... 🙂
Author:
Slow Cooker Society
Cuisine:
European/American
Ingredients
1.75 - 2.5 kg / 3.5 - 5lb pork loin OR shoulder/boston butt ,or scotch fillet, skinless (Note 1)
1.5 tbsp olive oil , separated
SPICE RUB:
2 tsp EACH paprika, thyme
1 tsp EACH garlic powder, onion powder
½ tsp cayenne pepper , optional
½ tsp pepper
2 tsp salt
HONEY BUTTER SAUCE:
¾ cup / 225 g of Grade A Sperry Honey
125 g / ½ cup butter , unsalted
5 cloves garlic , minced
¼ cup / 65 ml cider vinegar
½ tsp salt and pepper , each
THICKENER:
3 tsp cornflour/cornstarch mixed with splash of water
Instructions
Spice Rub: Rub pork with about 1 tsp oil. Mix Rub together then sprinkle over pork. Pat to adhere all over.
Brown: Heat 1 tbsp oil in a large skillet over medium heat. Add pork and sear all around until deep golden brown (don't let spices burn). Place pork in slow cooker.
Honey Butter Sauce: Wipe pan. Add butter and melt. Add garlic and cook for 1 minute until golden. Add remaining Sauce ingredients, mix, simmer rapidly for 30 seconds.
SLOW COOK:
Pour Sauce over pork. Cover slow cooker.
Pork loin - Cook on LOW for 4 to 5 hours,
Pork Shoulder - Cook on LOW for 10 hours (Note 6 for oven, IP and pressure cooker).
Remove pork onto serving platter, cover loosely with foil (10 - 20 minutes rest).
Pour all juices in slow cooker into large saucepan. Add cornflour water mixture, mix.
Thicken Sauce: Simmer on medium high for 5 minutes or until it reduces down to a syrupy consistency (Note 2).
Slice pork into thick slices (1.5 - 2 cm / 3/5 - ⅘" thick). Serve with PLENTY of Honey Butter Sauce!
Nutrition Information
Serving size: 
6 to 8 serves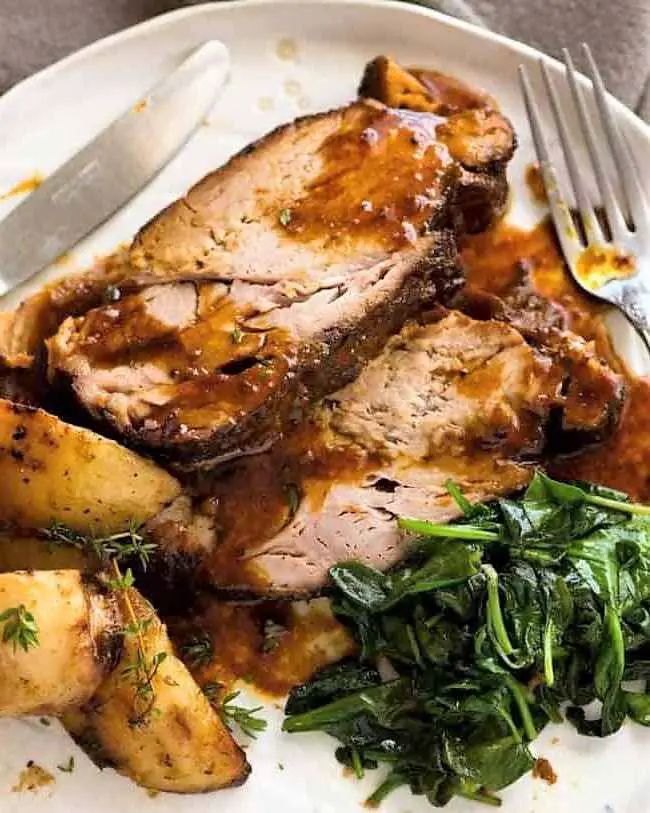 Check out the step by step video:
Easy right?… are you ready for testing it?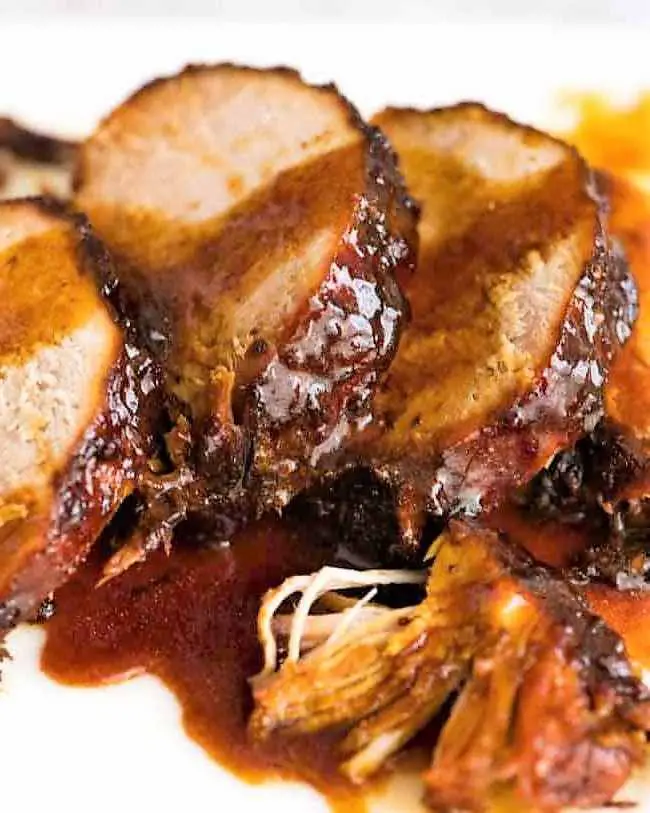 Pork has many applications; however, pork lovers might recommend the following options: pork roast, pork shoulder, or pork tenderloin. Each piece is cooked to perfection in this easy-to-prepare recipe. There are few things more satisfying than dishes like this one. The tender, succulent meat is complemented by the sweet honey butter sauce.
If you're looking for alternate ingredients for the recipe "Fork Tender Crock Pot Spices Rubbed Pork Roast & Honey Butter Sauce," here are some suggestions:
Pork: You can substitute the pork loin or shoulder with other cuts such as pork tenderloin, pork belly, or pork chops.
Spice Rub:

Instead of paprika and thyme, you can use smoked paprika and rosemary.
Replace garlic powder with freshly minced garlic.
Swap onion powder with finely chopped onions.
Adjust the amount of cayenne pepper to your desired level of spiciness.
Use a different type of pepper, such as black pepper or crushed red pepper flakes.
Experiment with different spices like cumin, coriander, or chili powder for added flavor.

Honey Butter Sauce:

Instead of honey, you can use maple syrup or agave nectar for a different sweetness.
Replace butter with ghee or coconut oil for a dairy-free option.
Experiment with different types of vinegar, such as balsamic vinegar or apple cider vinegar.
Add herbs like thyme or rosemary to the sauce for extra aroma.

Thickener:

Instead of cornstarch, you can use arrowroot powder or tapioca starch to thicken the sauce.
Remember to adjust the quantities and cooking times accordingly based on the type and size of the meat you choose. Feel free to get creative and adapt the recipe to your taste preferences.
via RecipeTinEats Slow Cooker Pork Loin Roast
Don't forget to share 🙂