This Dish has a Good Taste of France, a Dream!
I remember our vacations in France, the country of Love with capital "L" and exquisite food. We had the opportunity visit Dijon in Bourgogne (Burgundy in English), a region that is famous for its wine and of course food. I can still smell that wonderful Burgundy Beef we ate in a lovely restaurant.
Yeah, time is flying, it's been a while now… The good news is that we can cook a Burgundy Beef easily in our Crock-Pot.
Interested?
Look at those magnificent French beefs (beeves):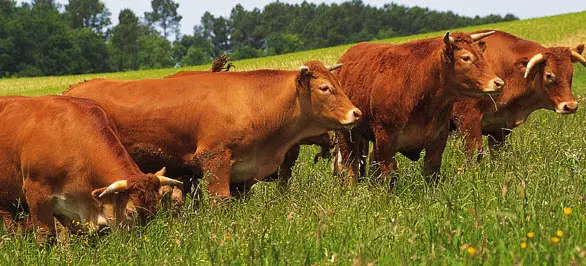 Now the recipe:
Place beef in a large bowl; sprinkle with flour, tossing well to coat.
Place beef mixture, carrot, onions, mushrooms, and garlic in the slow cooker.
Combine beef broth, wine, tomato paste, salt, rosemary, thyme (optional), and black pepper. Stir into beef mixture.
Cover and cook on LOW for 8 hours.
Cook noodles according to package directions. Serve beef burgundy over noodles; sprinkle with thyme (optional).
Ingredients List:
2 lb. beef, stew meat, lean
6 T. flour, all-purpose (about 1 3/4 ounces)
2 c. carrots, slices carrot (1 inch thick)
16 oz. onions, pearl, frozen, thawed
8 oz. mushrooms, packaged, stems removed
2 garlic cloves, minced
3/4 c. beef broth, fat-free, lower-sodium
1/2 c. red wine, dry
1/4 c. tomato paste
1 1/2 tsp. salt
1/2 tsp. rosemary, dried
1/4 tsp. thyme, dried
1/2 tsp. black pepper, freshly ground
8 oz. egg noodles, uncooked (or noodles of your choice)
1/4 c. thyme, chopped fresh
Some bacon to top it
Did you enjoy our quick trip to France? So, don't forget to share :-)Via get crocked Slow Cooker Beef Burgundy with Egg Noodles
Related Videos: