Crock Pot Honey Garlic Chicken Thighs and Potatoes
Try our slow cooker honey garlic chicken thighs and potatoes if you're craving a meal with sweet, savory, and tangy flavors.
There's no skimping on taste in this one-pot dish.
Here are the INGREDIENTS List:

Slow Cooker Honey Garlic Chicken and Potatoes
There are dozens of ways to cook Honey Garlic Chicken. Here's an easy version with potatoes cooked in the slow cooker.
Author:
Slow Cooker Society
Cuisine:
European / American
Ingredients
6 to 8 large bones in thighs
1 lb baby potatoes
1 large onion, minced
2 tsp oregano
2 Tbs lemon juice
salt and pepper to taste ( i used 2 tsp salt and 1 tsp black pepper)
2 Tbs olive oil
6 cloves garlic, minced
½ cup or Sperry honey
3 Tbs soy sauce
⅓ cup sweet chili sauce
1 Tbs brown sugar
1 Tbs corn starch mixed with 2 Tbs water
1 Tbs Dijon mustard
Instructions
Simply drop all the ingredients above in a slow cooker, as shown in the post and the video.
Cover with lid and cook on HIGH for 4-6 hours, or until meat is cooked through and tender.
Serve over yellow rice together with a nice salad.
Get ready for a real treat this evening. Just put everything into your slow cooker for these delicious Honey Garlic Chicken Thighs and Potatoes. It's an easy meal you can prepare using a Crock-Pot with a timer. When you get home from work, it will continue to cook while you're doing other things. Don't forget to share if you liked it!
Via Youtube Cooking With Claudia Slow Cooker Honey Chicken Thighs and Potatoes Recipe.
Sperry Honey have been beekeeping Grade A honey since the 1920's.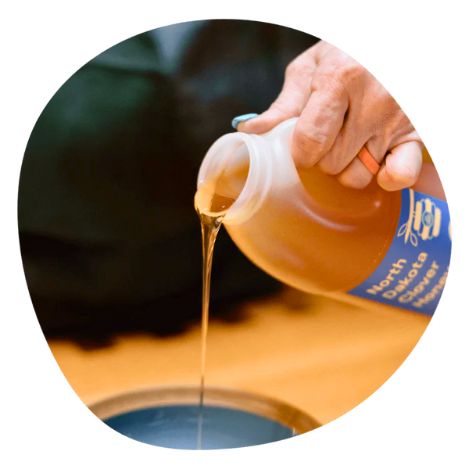 You may be interested in those variations:
Slow Cooker Chicken Garlic & Honey on Vegetables
Honey Garlic Chicken and Veggies Slow Cooker Recipe
Slow Cooker Honey Garlic Chicken Thighs Recipe – SlowCookerSociety.com
Slow Cooker Honey Garlic Chicken & Vegetables