What an Easy Crock-Pot Honey Garlic Chicken and Vegetables Recipe.
This is definitely one of the easiest recipes we can do… Check out the video; the printable ingredients list is further down.
Hi, today we're going to show you an easy slow cooker recipe; we're making honey, garlic, chicken, and veggies in the slow cooker. It's easy to put together. You put everything in a slow cooker, and you have some yummy dinner ready to devour in just a couple of hours. So let's get started all right. We start with three large chicken breasts, and we're going to season them with some garlic salt.
Let's put Italian seasoning on the chicken and make sure you season both sides of the chicken. We only used just about a teaspoon of garlic, and Italian seasoning, so once your chicken has been seasoned, you want to set them aside for later. Then we're going to work on the vegetables using some red baby potatoes, some carrots, green beans, a Large onion, and some parsley. Now we snip the ends of our green beans, then transfer them into my slow cooker.
The same with our carrots, then transfer them into my slow cooker. For the baby potatoes, we'll have bigger pieces. Drop potatoes into your slow cooker and go ahead, mincing your onion and adding to the rest of your veggies. Next, season the veggies with some salt and black pepper, then drizzle a bit of olive oil over them and toss everything together: Time to place the seasoned chicken over the veggies. Then we will make the honey garlic sauce for the chicken and veggies. We mince some garlic and toss it into a bowl. We have some dried oregano, dried basil in red, pepper, and flake drop in the bowl.
Add some soy sauce, some honey, and ketchup. All ingredients and measurements are in the description box below.
Mix everything together; then you'll pour the sauce all over your chicken and veggies. Next, place the lid on and let it slowly cook for eight hours.
After eight hours, it will look so tasty, and your house will smell so good. The sauce is a bit watery. You can leave it as it is, but if you like a thicker sauce, remove the chicken and veggies from the sauce and place them onto a separate plate.
Thicken the sauce with cornstarch mixed with a bit of water; once that goes into the sauce, you're going to mix it in and let it cook for about five minutes until the sauce thickens.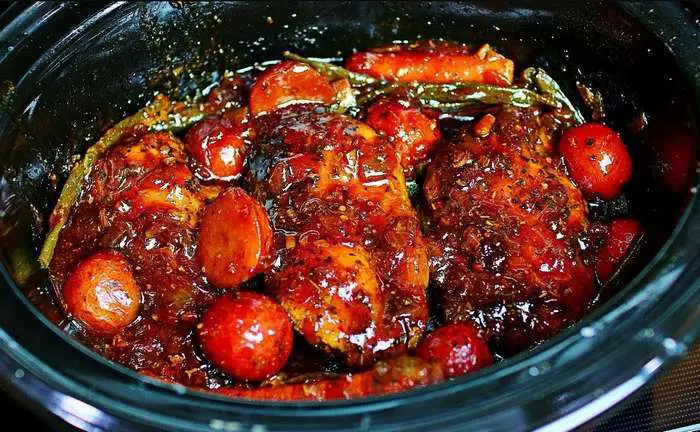 Just like this, you're going to pour the thickened sauce all over your chicken and veggies. It now looks fantastic, and it smells even better, it was very easy to put together. You don't have to do very much at all. The chicken is very tender, it falls right off, and the veggies are nice and soft.
It is such an easy, delicious weeknight dinner.
Now it's your turn!
Here's the ingredients list:
Honey Garlic Chicken and Veggies Slow Cooker Recipe
This slow cooker Honey Garlic Chicken and Veggies will be one of your new favorites!
Author:
Slow Cooker Society
Ingredients
3 large chicken breasts
1 tsp garlic salt
1 tsp Italian seasoning
14 baby potatoes
25 green beans stalks
6 long medium carrots
1 large onion
salt and pepper to taste (go easy on the salt)
2 Tbs olive oil
Instructions
For the sauce:
cloves garlic
tsp oregano
tsp basil
/4 tsp red pepper flakes
/4 cup soy sauce
/2 cup honey
/4 cup ketchup
parsley to garnish
Nutrition Information

Serving size: 

3 - 5 serves

Enjoy and share!
Recipe seen on Youtube, Cooking with Claudia channel.