Easy & Delicious Slow Cooker Chicken Cordon Bleu Casserole Recipe.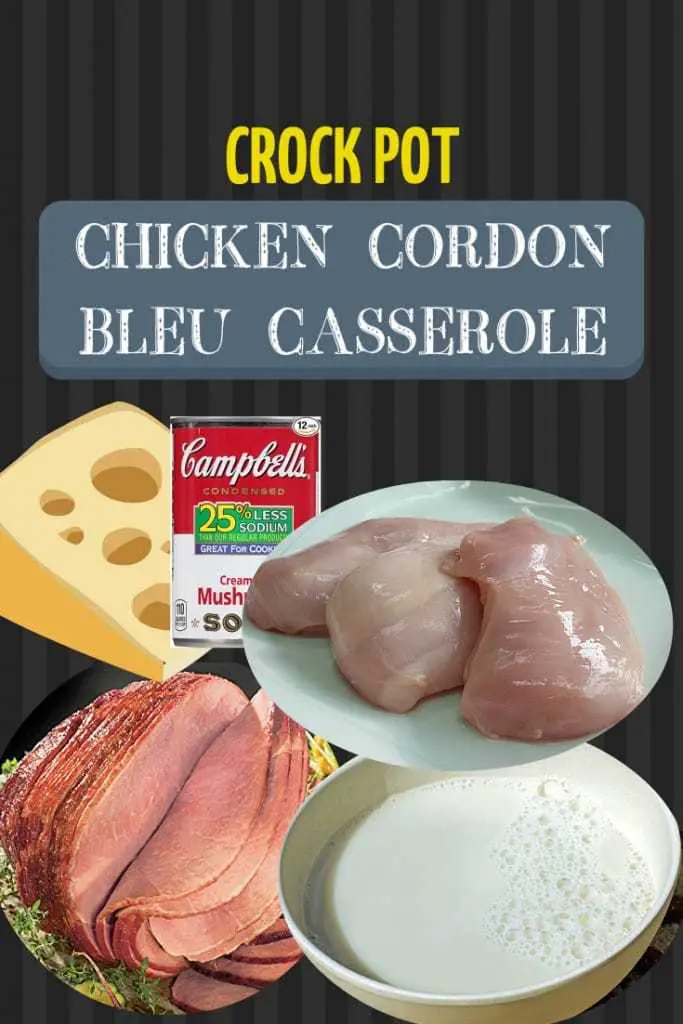 A cordon bleu or schnitzel cordon bleu is a dish of meat wrapped around cheese (or with cheese filling), then breaded and pan-fried or deep-fried.
It's a wonderful meal that my mother used to cook when I was a child… (well she still does 🙂 )
A popular way of preparing chicken cordon bleu is to butterfly cut a chicken breast, place a thin slice of ham inside, along with a thin slice of a soft, easily melted cheese such as Swiss. Really delicious, though preparing them is time consuming…
Let's make them in the slow cooker instead!

Chicken Cordon Bleu Casserole in the Crock Pot
A delicious French classic, chicken cordon bleu is made of chicken breasts stuffed with ham and Swiss cheese. This time in the slow cooker...
Author:
Slow Cooker Society
Ingredients
4 to 6 chicken breasts (pounded out thin)

4 to 6 pieces of ham

4 to 6 slices of Swiss cheese

1 can cream of mushroom soup (can use any cream soup).br]
¼ cup milk

Instructions
Put ham and cheese on chicken.
Roll up and secure with a toothpick.
Place chicken in crock pot. so it looks like a triangle /_\
Layer the rest on top.
Mix soup and milk.
Pour over top of chicken.
Cover and cook on low for 4 hours or until chicken is no longer pink.
Serve over noodles with the sauce it makes.
Notes

Alternatively you may use turkey meat if you wish...

It's ready! Simply Delicious!
You are found of chicken and cheese? Take a look at the Cream Cheese Chicken Taquitos!

Related Searches and ideas:

baked chicken cordon bleu,
chicken cordon bleu casserole,
crockpot chicken cordon bleu,
chicken cordon bleu sauce,
chicken cordon bleu sandwich,
easy chicken cordon bleu sauce,
chicken cordon bleu wiki,
chicken cordon bleu fried,
healthy chicken cordon bleu.

Hope you like this recipe, if so don't forget to share and follow us on Facebook here.

Save

Save

Save

Save