Slow Cooker BBQ Turkey Meatballs – Crockpot Ground Turkey Recipes
Many of you keep asking for Turkey dishes that may be prepared in a slow cooker. And thus, I listened. Crockpot ground turkey BBQ meatballs are a great option for feeding a large group of people, including picky eaters and young children.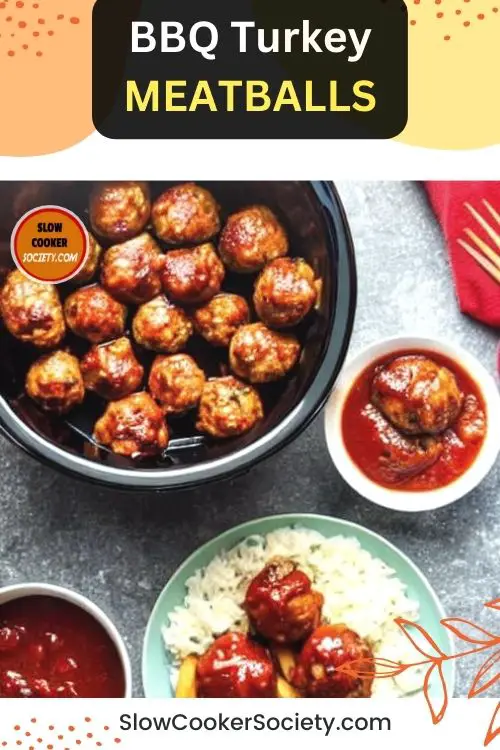 And they have so much flavor… they are a delicious addition to pasta, sandwiches, or even appetizers. They can be used in place of beef or pork meatballs in spaghetti dishes, as appetizers, and in many other ways. They are easy to make, healthy, and can be frozen.
Okay, time to get the recipe:
Slow Cooker BBQ Turkey Meatballs - A Great Alternative to Pork and Beef
Slow Cooker Turkey Meatballs have so much flavor… they are a delicious addition to pasta, sandwiches or even appetizers...
Author:
Slow Cooker Society
Ingredients
1 large Eggland's Best egg
1 pound 97-98% lean ground turkey
1 pound 92-93% lean ground turkey
⅔ cup gluten-free Panko (quick or whole oats work too!)
3 cloves garlic, minced (about 1 Tablespoon minced)
2 teaspoons dried oregano
½ teaspoons salt
1 teaspoon smoked paprika
1 teaspoon fresh ground black pepper
1 large sweet onion, sliced
¾ cups BBQ sauce3
½ cup store-bought or Italian dressing
1 Tablespoon olive oil
Instructions
Beat the egg in a large mixing bowl. Add the ground turkey, Panko, garlic, oregano, salt, paprika, and pepper. Mix everything up just so the ingredients are combined – avoid overmixing. Roll into desired size balls – mine were slightly larger than a golf ball. Place all rolled meatballs on a large baking sheet.

Place onion slices in the bottom of the slow cooker, then top with half of the BBQ sauce and half of the Italian dressing (the rest will go on top).

Coat a large skillet with the olive oil and bring to medium-high heat. Lightly brown the meatballs in batches for about 1 minute on each side. (Do not skip this step! So much flavor helps set the meatballs, so they do not fall apart.) Layer the meatballs into the slow cooker as you're browning each batch. Once all browned meatballs have been added to the slow cooker, pour the remaining BBQ sauce and Italian dressing on top.

Cover and cook on low for 6-8 hours or on high for 4 hours. Serve warm with sauce and onions.

You can enjoy it alone or with mashed potatoes and veggies, salad, sweet potato fries, onion rings, rolls, and melted mozzarella for sandwiches, or even with toothpicks as a party appetizer. Store leftovers covered tightly in the refrigerator for up to 1 week.
Nutrition Information

Serving size: 

5 - 6 serves




Tip: Make ahead/freeze:

Meatballs can be made through the browning process and stored in the fridge for up to 1 day or frozen for up to 2 months. Add to slow cooker and cook as directed. OR you can fully prepare 1 day in advance, refrigerate, then cook in the slow cooker on low for 45 minutes or until warmed.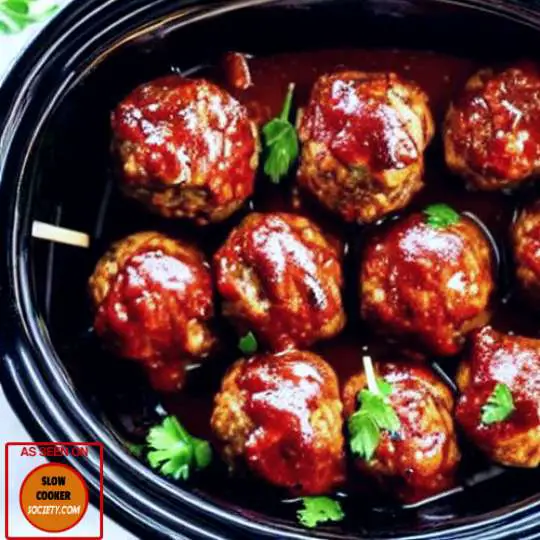 Freeze cooked meatballs in sauce for up to 2 months. Simply defrost and reheat at your convenience.
Hope you liked it. If so, don't forget to share!
An Additional Collection of Turkey Dishes: