The kitchen is Smelling Great. The Crockpot Cream Chicken is on the Way.
Think your slow cooker can't make anything other than stew? Think again. Indian cream chicken is the perfect entrée to serve to company.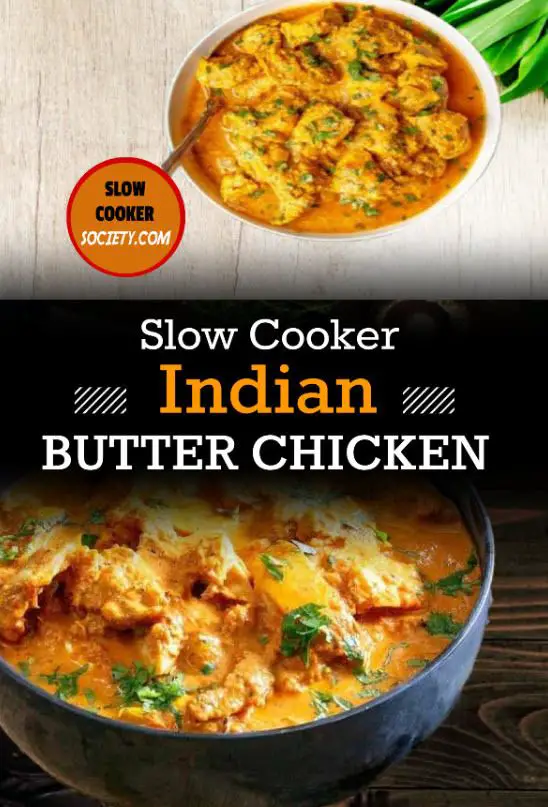 This delightful dish is perfect for the busy weekend cook, and the no-fuss delicious Indian chicken will have your guests digging in their plates to finish every last morsel.
The chicken is slowly simmered with complex spice flavors and a rich sauce that is well spiced but not overwhelming. The silky texture of the chicken is complimented by fresh flavors of coconut milk, lime, ginger, and masala. This quick-to-prepare dinner will add some bold flavor to your weeknight meal or your next party event.
Let's check out the ingredient and how to:

Slow Cooker Indian Butter Chicken
It's hard to resist the aroma of exotic spices and fragrant saffron in Indian cooking. This Slow Cooker Indian Chicken makes wonders.
Author:
Slow Cooker Society
Recipe type:
SlowCookerSociety
Ingredients
2 pounds boneless, skinless chicken breasts about 4 medium breasts
1 small yellow onion diced (about 1 cup)
1 tablespoon coconut oil
4 cloves minced garlic about 4 teaspoons
1½ tablespoons curry powder
1 tablespoon minced fresh ginger
1 tablespoon garam masala
½ cup plain nonfat Greek yogurt or non-dairy yogurt to make dairy free
¾ teaspoon kosher salt
1 (6-ounce) can no salt added tomato paste
1½ teaspoons chili powder
1 small cauliflower or ½ large head, cut into florets (about 4½ cups)
1 (14-ounce) can tomato sauce
2 tablespoons unsalted butter cut into small pieces (use coconut oil to make dairy free)
½ cup half-and-half or full-fat coconut milk do not use light coconut milk, as it will water down the sauce
Optionally add some lime, personally we love it.
Instructions
In a nonstick skillet, heat the coconut oil over medium-high. Once hot, add the onion and cook until beginning to soften, about 5 minutes. Add the ginger, garlic, curry, garam masala, chili powder, salt, and tomato paste. Cook until fragrant, about 30 seconds.
Transfer the onions to a 6-quart or larger slow cooker. Lay the chicken on top, then the cauliflower florets, and top with tomato sauce. Stir to combine the florets and sauce a bit, leaving the chicken pieces undisturbed underneath. The chicken pieces will seem significant and a bit in the way. Just use a spoon to prod the sauce and florets around a bit so things are more evenly coated. Scatter the butter pieces over the top.
Cover and cook on high for 1½ to 2½ hours or on low for 4 to 6 hours, until the chicken is cooked through and reaches 165 degrees F on an instant-read thermometer. The cooking time may vary based on your slow cooker, so check early to ensure the chicken does not dry out. When the chicken is done, remove it to a cutting board and let cool slightly.
At this point, the cauliflower is not likely to be tender. Give the contents of the slow cooker a big stir to coat the florets with the sauce. Place the slow cooker lid and cook on HIGH until the florets are completely tender, about 30 minutes to 1 hour more. (If your florets are already tender, you can skip this step.)
Once the chicken is cool enough to handle safely, cut it into bite-size pieces. Return to the slow cooker with the tender florets. Stir in the half-and-half (or coconut milk). Let cool a few minutes, then stir in the Greek yogurt. (Don't stir in the yogurt right away; if the butter chicken is too hot, it will curdle.) Enjoy warm over brown rice, quinoa, or naan, sprinkled with fresh cilantro.
Nutrition Information

Serving size: 

5 - 6 serves

Pair this Indian chicken with a simple side of white or brown rice and your dinner is done.
If you have leftovers, which I doubt, simply place them in the fridge and reheat later.
Optionally, you may freeze them as well.

It is such a simple and tasty dinner.
Now it's your turn! Make sure to like and share, and we'll make more recipes like this one.