Several Slow Cooker enthusiasts have asked for turkey crock pot recipes.
Right… there are so many good meatloaf recipes. Today, let's have a look at a popular one:
In a bowl, mix turkey, milk, bread crumbs, onion, and eggs by hand. Season with salt and pepper.
Fold the cheese cubes into the mixture.
Form mixture into a loaf, and transfer to a slow cooker, and top with ketchup.
Cover. Cook on Low for 6-8 hours or on High for 3-4 hours. Internal temperature of Meatloaf will be 180 degrees F (85 degrees C).
Optional: You can also make this with ground beef or ground pork!
NOTE: I have used shredded cheese in this recipe before as I had it leftover from another recipe, and although it was good, I prefer the cheese in cubes, hope this helps!
INGREDIENTS: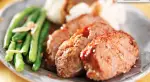 2 lb. ground turkey
1 c. milk
1 c. Italian seasoned bread crumbs
1/2 c. onion, chopped
2 eggs
1/2 tsp. salt
1/4 tsp. pepper
3/4 lb. cheese, Colby, cut into 1/2-inch cubes
1/2 c. ketchup (optional)
via Get Crocked slow cooker cheesy turkey meatloaf