Amazingly Simple and Delicious Crock Pot Loaded Potatoes Recipe
Mmmm…. What a delicious baby potatoes and bacon recipe… It doesn't have to be with little potatoes if you don't have any, it will work with the ones you have… Simply adjust cooking time if required…
Enough speaking… (reading…) Time for the ingredients…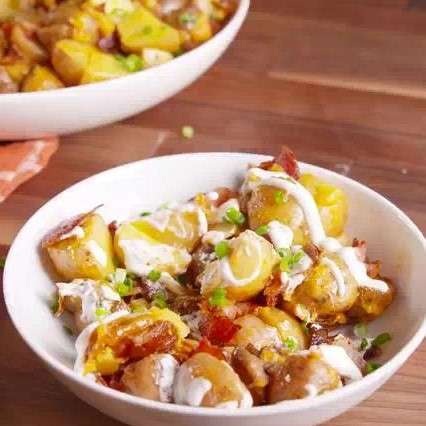 Slow Cooker Bacon & Cheese Loaded Potatoes!
Definitely one of the easiest slow cooker recipes around.... Adding cooked bacon will make all the difference... Time to start...!
Author:
Slow Cooker Society
Recipe type:
Main or Side
Ingredients
Cooking spray
2 lb. baby potatoes, halved and quartered if large
3 c. shredded Cheddar
2 cloves garlic, thinly sliced
8 slices bacon, cooked
¼ c. sliced green onions, plus more for garnish
1 tbsp. paprika
kosher salt
Freshly ground black pepper
Sour cream, drizzling
Instructions
Line a slow cooker with foil and spray with cooking spray.
Add half the potatoes, 1¼ cups cheese, half the garlic, ⅓ of the cooked bacon, half the green onions, and half the paprika.
Season with salt and pepper. Repeat.
Cover and cook on high until potatoes are tender, 5 to 6 hours. (The bigger your potatoes, the longer they'll need.)
About 20 to 30 minutes before serving, top with remaining cheese and bacon (this is your moment to make the potatoes look pretty!).
Garnish with more green onions, drizzle with sour cream, and serve.
Nutrition Information

Serving size: 

5 to 6 serves

Check out the Step by Step Video:

What makes these Slow Cooker Bacon & Cheese Loaded Potatoes great is that you get to control how much bacon you like. If you don't like as much bacon or want more cheese, just adjust it according to your preference.

After cooking in the crockpot for five hours, these potatoes are ready to serve. The potato slices get a comforting crunchiness. The melted cheese adds an amazing flavor to the whole dish.

These loaded potatoes are the perfect filling for your dinner table or make a quick and easy appetizer that will wow your guests.

Via Delish Loaded Slow Cooker Potatoes

 

Share and Like 🙂 Thanks!