Delicious Crock Pot Chicken Thighs in Mushroom Soup | Add Even More Mushrooms if You Love Them!
If you like mushroom soup and chicken thighs, you'll get delighted! They will simmer in a slow cooker and make a wonderful ready, warm and hearty dinner…

Slow Cooker Chicken Thighs and Cream in Mushroom Soup
Let's cook some boneless chicken thighs in cream of mushroom... Easy and Delicious. Wanna Try?
Author:
Slow Cooker Society
Ingredients
1 package of chicken thighs (boneless or bone-in)
family-sized can of cream of mushroom soup or 2 small cans
garlic powder
onion powder
1 pound of mushrooms. (Optional)
some carrots (optional)
Instructions
Rinse the chicken thighs and place them in the crock pot (optionally take the skin off for a less greasy outcome)
Add the cream of mushroom soup on top.
Season with garlic powder and onion powder to your taste.
If you are a mushroom lover, you can add your preferred mushrooms on the top (cut them into small pieces)
Cover and cook on HIGH for about 4 hours.
Stir a little bit, adjust the seasoning if needed, and it's ready!
Serve with rice and veggies!
This chicken recipe with cream of mushroom soup is low in carbohydrates. So the first thing you do is heat up some oil in a skillet. Put in your chicken breasts. All you are doing is grilling the chicken.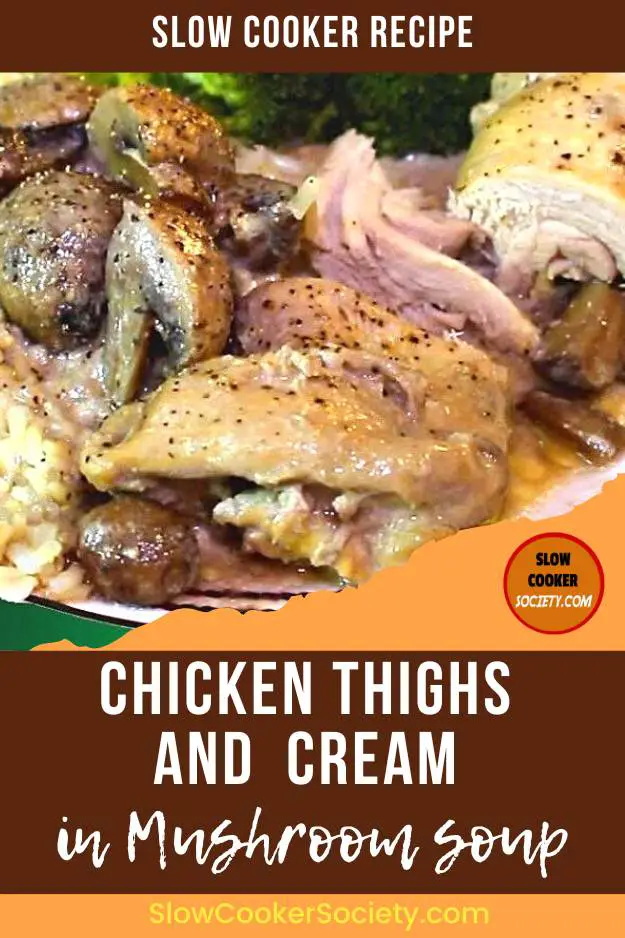 The original recipe called for three chicken breasts, but let's cook all the chicken in this package. So it will be more than double what the recipe usually needs. Season your chicken with pepper, garlic powder, and onion powder once it's in the pan. We want a little color on each side, and we must cook the chicken thoroughly.
Place the chicken in the crock pot as soon as it is browned. When you've finished all the chicken, grab one yellow onion and chop it into rings. Cook for around 4 or 5 minutes in the pan. You only need to soften the onions. Once softened, place them on top of the chicken in the slow cooker. After that, let's add 2 to 3 crushed garlic cloves.
If you like garlic, you may add as much as you like. After that, add 1 pound of your favorite sliced mushrooms, stirring in 1.5 cups of chicken broth. Season the mushrooms with black pepper and garlic powder to taste.
Cook on low for 4 hours in your slow cooker. Allow cooking, covered. After 4 hours, remove the chicken from the oven and place it in a basin. You can shred the chicken, but some people do love larger pieces.
Then add 6 to 8 ounces of cream cheese.
Here's something crucial I should have done. Allow the cream cheese to soften for a few minutes before whisking it. Add about a half cup of Parmesan cheese next.
Allow that to sit for a few minutes before whisking, as it will get stuck in your whisk. But everything will be alright. After that, return your chicken and combine everything. The finished result is seen below.
It would have looked better if we had shredded the chicken, but this is how some of us like to make this chicken recipe with cream of mushroom soup.
Enjoy, like, and share!
Similar recipe Videos: