Learn How To Make a Satisfying and Flavorful Crock Pot Beef and Noodles Dish Now!
You need a quick and tasty meal plan for your next family gathering, so prepare crock pot beef noodles; you can adapt the quantities easily.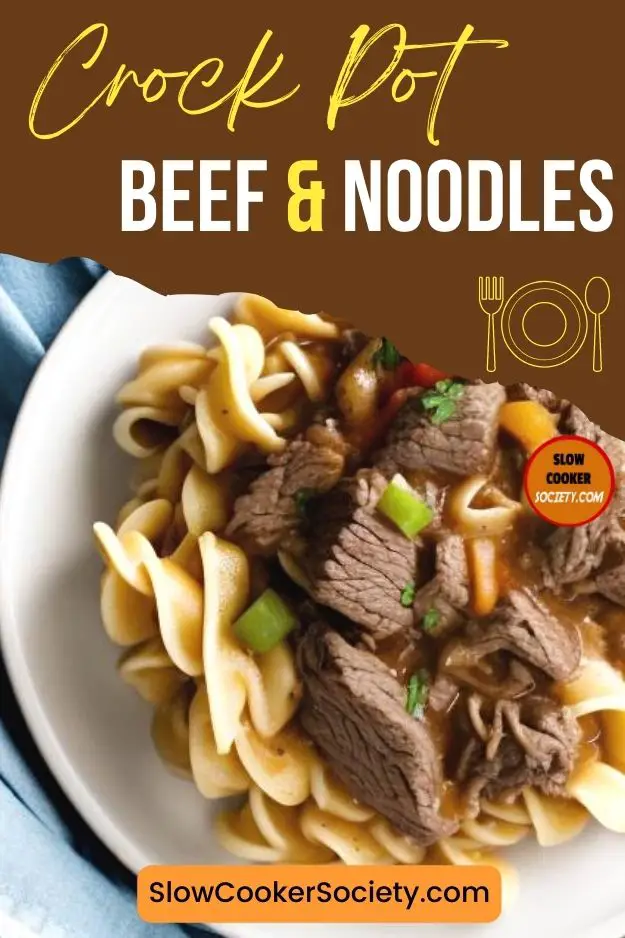 Learn how to create this warm and filling meal from the convenience of your own home with the help of this instructional video. Beef is slow-cooked until tender in a rich and creamy sauce; combine with egg noodles and vegetables of your choice for a hearty, comforting dish that's excellent for weeknights or meal planning. When the weather outside is frightful, and you need a warm and comfortable lunch, this dish is what you need. You can create this dish with complete confidence after seeing this article. Try it out for yourself and discover why it's a crowd-pleaser.

Crock Pot Beef Noodles - Simply Delicious!
The warm and comforting flavors of the beef and the creamy sauce, paired with the hearty egg noodles. Simply Fantastic.
Author:
Slow Cooker Society
Cuisine:
American - European
Ingredients
1 pound beef stew meat
1 onion, diced
2 cloves of garlic, minced
2 cups of beef stock
1 can of cream of mushroom soup
1 cup sour cream
1 teaspoon salt
¼ teaspoon black pepper
8 oz wide egg noodles
Instructions
In a large skillet, brown the beef stew meat over medium-high heat.
Sauté the diced onion and minced garlic for a few minutes or until softened.
Place the beef mixture in a slow cooker.
Whisk together the beef broth, cream of mushroom soup, sour cream, salt, and pepper in a medium mixing bowl.
Pour the sauce over the meat in the crock pot
Cook for 6-8 hours on low heat or 3-4 hours on high heat.
Cook the egg noodles as directed on the package.
Stir the cooked egg noodles into the beef mixture in the crock pot.
Serve and enjoy!
Crock Pot Beef and Noodles are perfect for those cold winter days when all you want is a warm and comforting meal, but it also makes the perfect dinner any time of the year. The beef is delicious and tender, and the egg noodles add a satisfying texture everyone loves.
The cream of mushroom soup and sour cream give this meal a luscious richness, making it irresistible.
You can also customize this recipe by adding other vegetables like carrots, celery, or mushrooms. This recipe is also perfect for meal prepping, as it can be easily reheated and enjoyed throughout the week.
Overall, crock pot beef noodles are a classic and comforting dish that will satisfy the whole family. It's easy to make, hearty and delicious, and perfect for a busy weeknight dinner. Give it a shot; you won't be sorry!
Here a few pictures of variations. You can always adapt the recipe to your liking. Shred the meat more or less, it' up to you.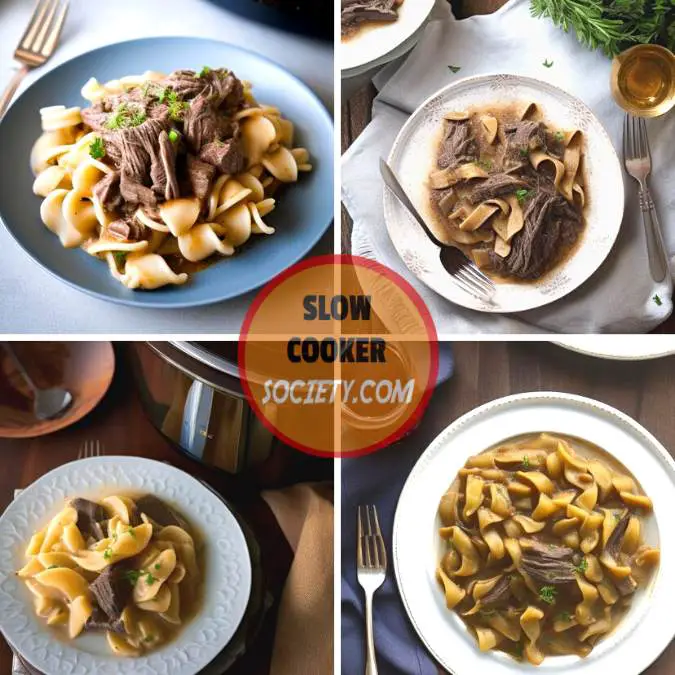 Now, some of you may ask: How could you customize this recipe for a student, a single retired person, or a retired couple?
Simply reduce the amount of beef stew meat used in the recipe to about ½ pound.
Cut the amount of egg noodles in half.
Use a smaller crockpot for cooking the recipe.
Cut the recipe in half and freeze half for a future meal; you will appreciate it later.
Additionally, you can also make other modifications to suit your dietary needs and preferences:
If you are concerned about your salt intake, you can reduce or eliminate the extra salt in the recipe.
If you prefer a vegetarian option, you can replace the beef stew meat with a plant-based protein source like tofu or tempeh.
You can use gluten-free egg noodles or a different type of gluten-free pasta if you prefer a gluten-free option.
Overall, this recipe can be easily adapted to suit the needs of a single retired person or a retired couple. With a few simple modifications, you can enjoy a comforting and delicious meal without having to worry about leftovers or wasting food.
This recipe is great when all you want is a warm and comforting meal, be sure that it makes the perfect dinner any time of the year, 100% guaranteed.
I hope you enjoyed it; if so, like and share it!