Crock Pot Chicken Tortilla Soup That You Won't Forget!
The perfect chicken tortilla soup recipe. An easy and flavorful chicken soup made in the slow cooker, topped off with shredded cheese and seasoned tortilla strips. You'll cook it through the day, in the last few minutes before serving, bake up some crispy tortilla strips and it's ready!
Few weeks ago many of you loved the Exotic Slow Cooker Fajitas recipe and asked for more Mexican recipes.
Here you are!
The chicken tortilla soup in the slow cooker, with an option to lighten it up with reduced-sodium tomatoes and chicken broth.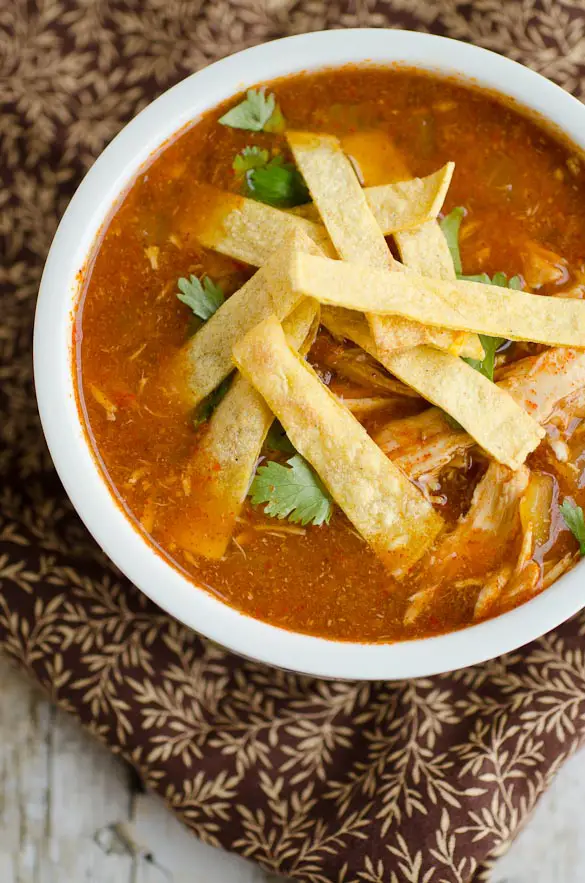 Combine all of the ingredients listed, through the bay leaf, in a large slow cooker.
Cover and cook on low for 7 to 9 hours, or on high for 3 to 4 hours.
When there is about 20 minutes left before serving, prepare the tortilla strips.
Preheat the oven to 400 degrees F. Spray each side of the tortillas with the oil spray, sprinkle with a small about of salt (optional).
Use a pizza cutter or sharp knife to slice each tortilla in half, then into 1/2-inch strips.
Layer on a baking sheet and bake in the preheated oven, turning frequently, for 5-8 minutes, or until crispy.
Remove from oven and let cool.
While the tortillas are baking, remove the cover from the slow cooker and discard the bay leaf.
Use two forks to shred the chicken.
Stir in the cilantro. Serve soup in individual bowls, topped with the tortilla strips and other optional toppings.
INGREDIENTS List:
1.25 to 1.75 lbs boneless, skinless chicken breasts
1 (15 oz.) can diced tomatoes
1 (10 oz.) can red enchilada sauce
1 medium yellow onion, peeled and chopped
1 (4 oz.) can diced green chiles
1 clove garlic, minced or pressed
1 1/2 cups water
1 (15 oz.) can chicken broth
1 to 2 chipotles in adobo sauce (from a can), minced
2 teaspoons ground cumin
1 teaspoon chili powder
1/4 teaspoon ground black pepper
1 whole bay leaf
6 corn tortillas
Oil spray
Handful of cilantro, chopped
Optional Toppings:
Avocado
Sour Cream
Shredded cheese
The diced tomatoes and chicken broth can be substituted for a lower-sodium version to create a healthier soup, at your discretion… 🙂
If your kids like less spicy soups, omit or use less of the green chiles and chipotle peppers.
I'm sure you'll like it, don't forget to share!
Source Seeded at the table Slow Cooker Chicken Tortilla Soup