Delicious Slow Cooker Ranch Chicken Tacos with Salsa, Tortillas & Onions
I love tacos and could eat them several times per week. This is an easy recipe, a ranch chicken wrapped in soft flour tortillas and topped with red onion and cabbage slaw, cilantro, and creamy ranch dressing! 
First some Tips:
For a creamier chicken filling, stir ¼ cup ranch dressing into slow cooker after shredding chicken.
For a spicier chicken filling, add ½-1 teaspoon cayenne pepper to chicken along with taco and ranch seasonings.
Look at those mouth watering pictures, don't you want to try it right away?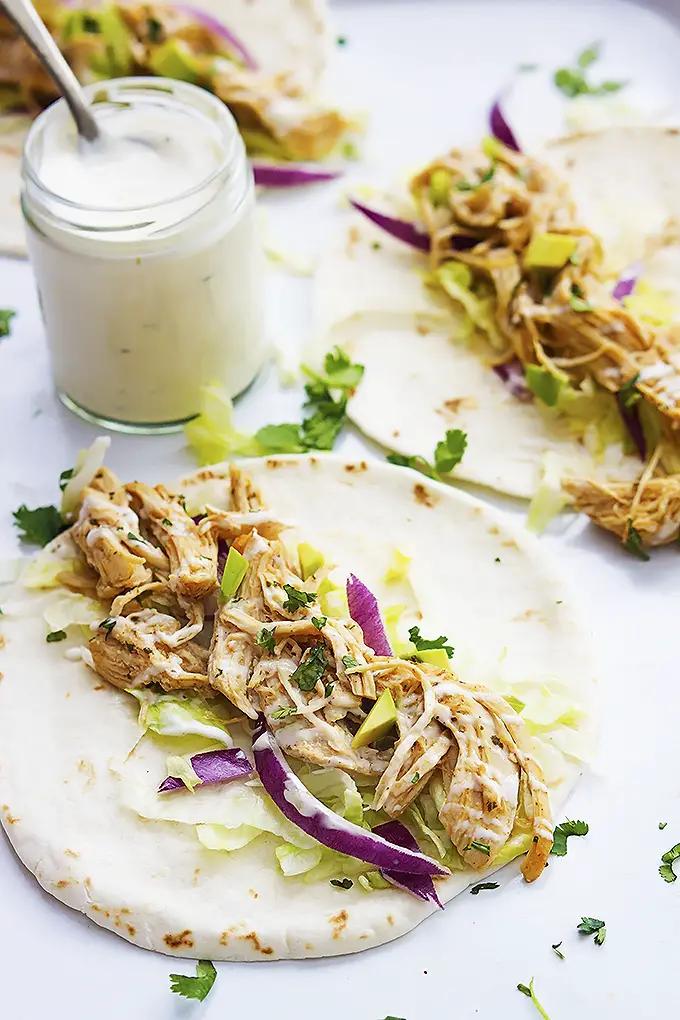 By the way, do you know what is the difference between a sandwich and the Taco?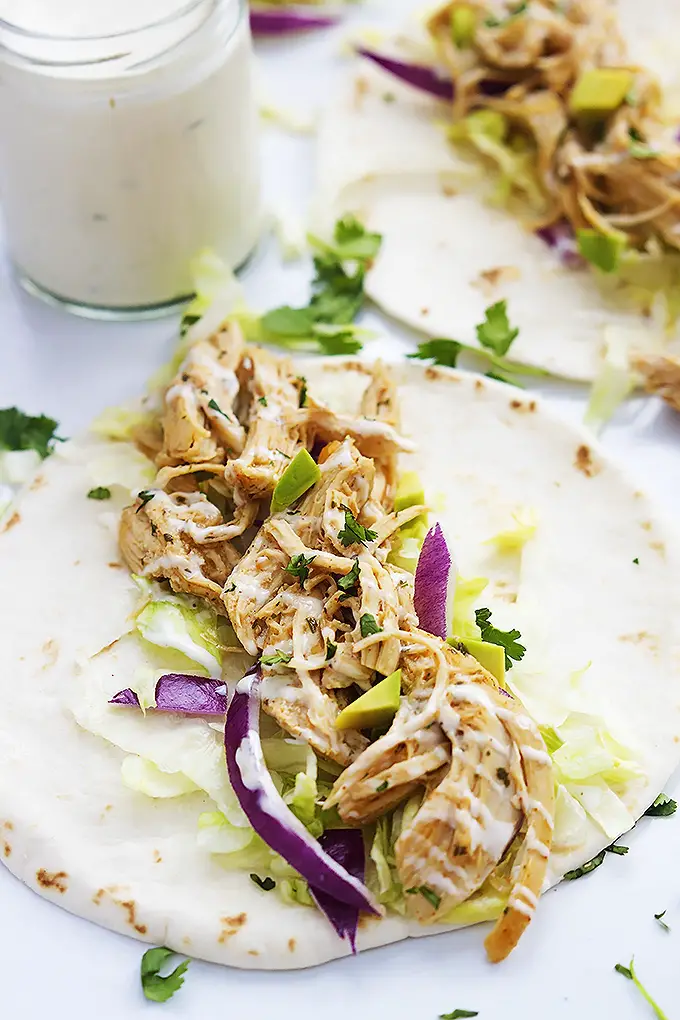 For one thing the meat usually comes thinly sliced in a sandwich and in a taco it is usually chunks or shredded. For the veggies, well, I suppose those can be the same whether it's on bread or in a tortilla. But the sauces! I think that's the real kicker. The sauces and flavor variety that goes into a taco is often a lot different than what you would have in a sandwich. And I suppose I favor the taco flavors.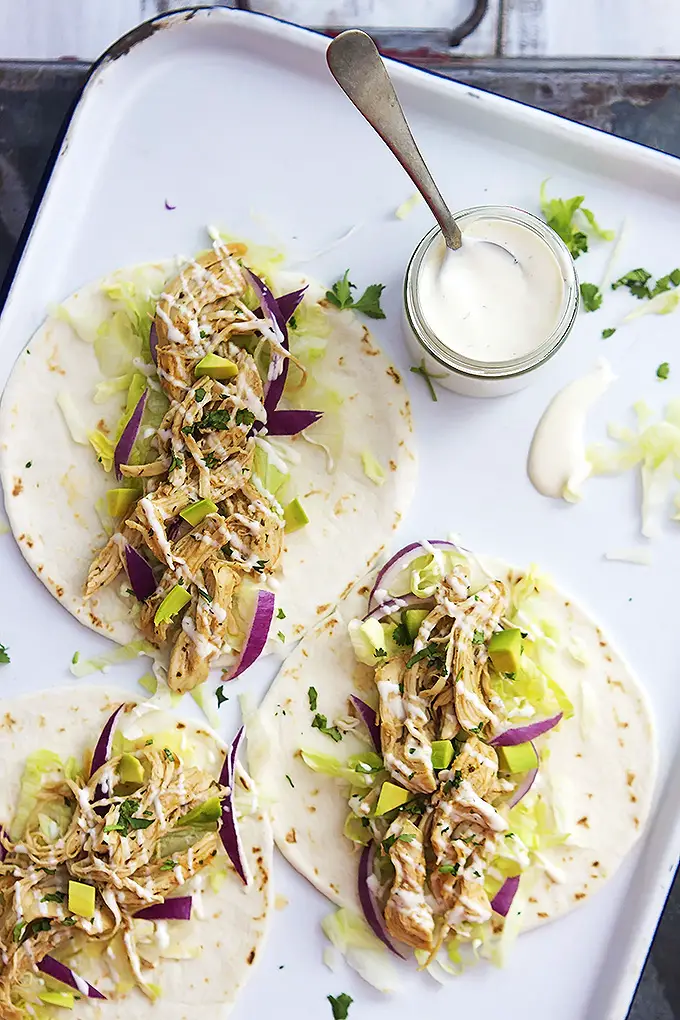 Today, I'm switching things up with our taco fillings and especially the sauce. I'm 100% on board with any kind of taco topped with salsa (I heart salsa forevah) but we're gonna set aside that jar of On the Border for a second and think creamy, white RANCH.
Sound crazy? It is. Crazy DELICIOUS.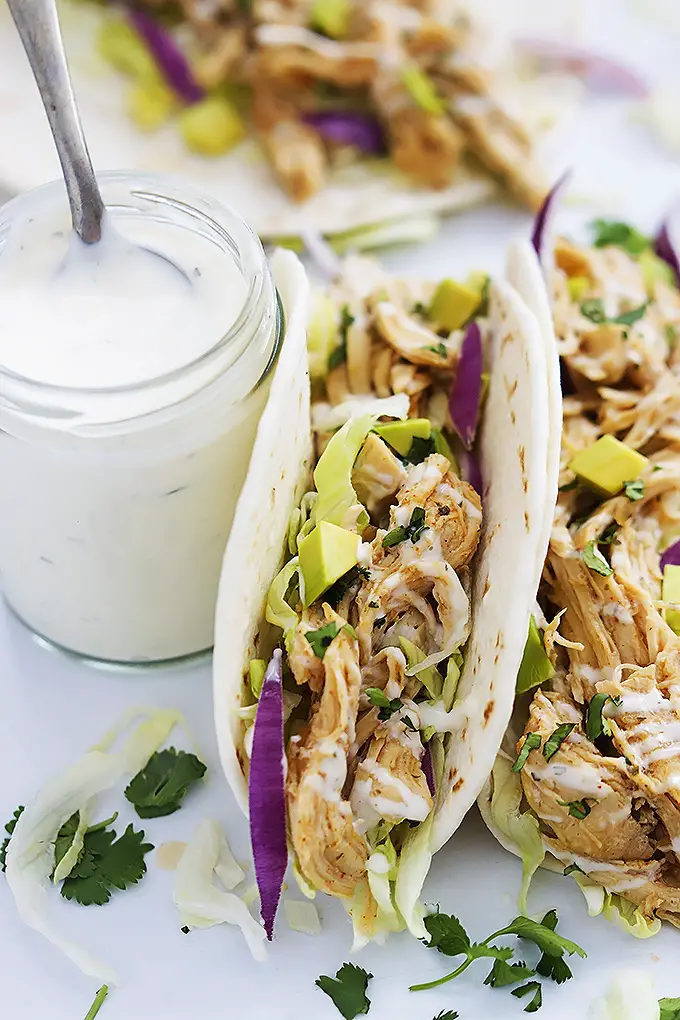 These ranch chicken tacos are the easiest and most delightful thing in the history of ever. All you do is slow cook some chicken breasts in your crockpot for a few hours with some water and ranch seasoning (yeah, from the packet!), then shred, stuff, and top with prepared ranch dressing, slaw, avocado, and cilantro. It's heaven I tell you, heaven!
Here, this one's for you…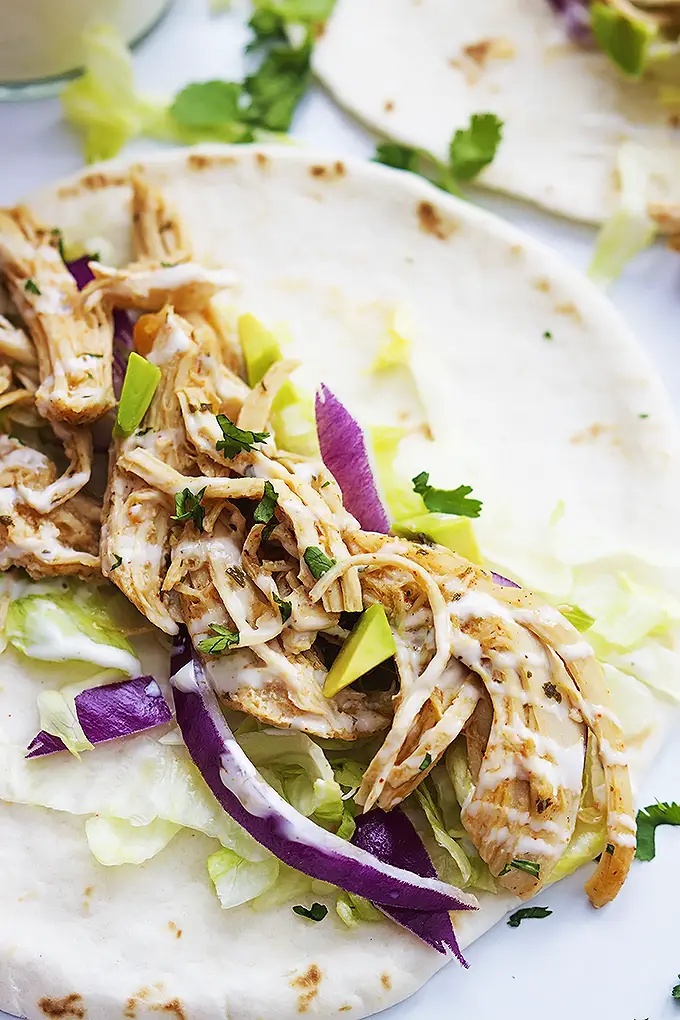 TOTAL TIME
4 hours 15 mins
INGREDIENTS
3-4 boneless skinless chicken breasts
½ cup water
2 tablespoons taco seasoning (or 1 packet of taco seasoning)
1 packet of ranch seasoning
8-10 small taco-sized flour tortillas
ranch dressing, to taste
2-3 cups of cole slaw, without sauce
½ red onion, thinly sliced
¼ cup cilantro leaves, roughly chopped
optional: shredded cheese, diced avocado, diced tomato
INSTRUCTIONS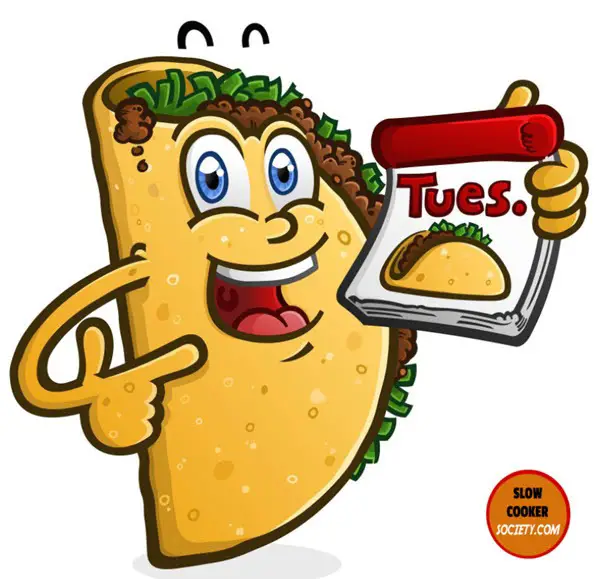 Place chicken breasts in slow cooker. Pour in water, then sprinkle chicken with taco seasoning and ranch seasoning. Cover and cook on high for 3-4 hours or on low for 6-7 hours.
About 20 minutes before serving, use a slotted spoon to transfer chicken to a bowl, shred with 2 forks, then return to slow cooker and stir.
When ready to serve, fill tortillas with shredded chicken, then drizzle with ranch dressing. Top with slaw, red onions, cilantro, and any additional desired toppings such as shredded cheese, avocado, or tomatoes. Serve immediately.As you can see this recipe is very easy and doesn't require to be a Master Chef. But follow us on a regular basic and you'll become one soon!
via lecremedelacrumb slow Cooker Ranch Chicken Tacos
Enjoy and share!
Related recipes in Video:
Enregistrer