Sweet and Sour Lovers, You Have to Taste This Slow Cooker Chicken!
Sweet and sour chicken is a dish frequently served in Chinese restaurants in various Western countries. When you think of Chinese food, chicken chow mein and sweet and sour often come to mind.
Sweet and Sour Chicken is definitely a classic Chinese takeout option most of us are too afraid to make at home. But you shouldn't be…
Today we're making a Sweet and Sour chicken in the slow cooker.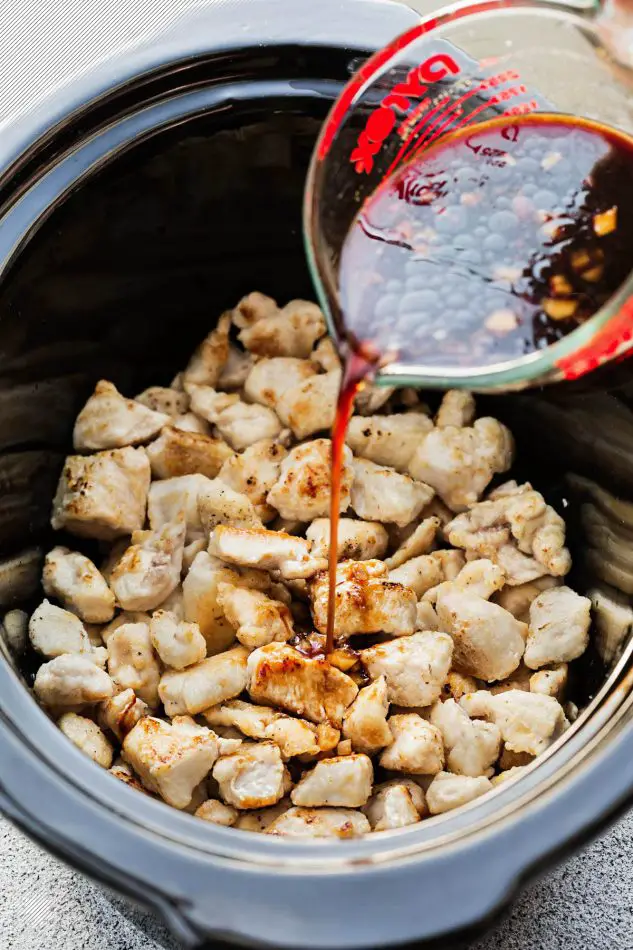 Simply whisk together the homemade sweet and sour sauce and pour it over the chicken in the Slow Cooker. Then sit back and relax, let the machine do all the cooking for you!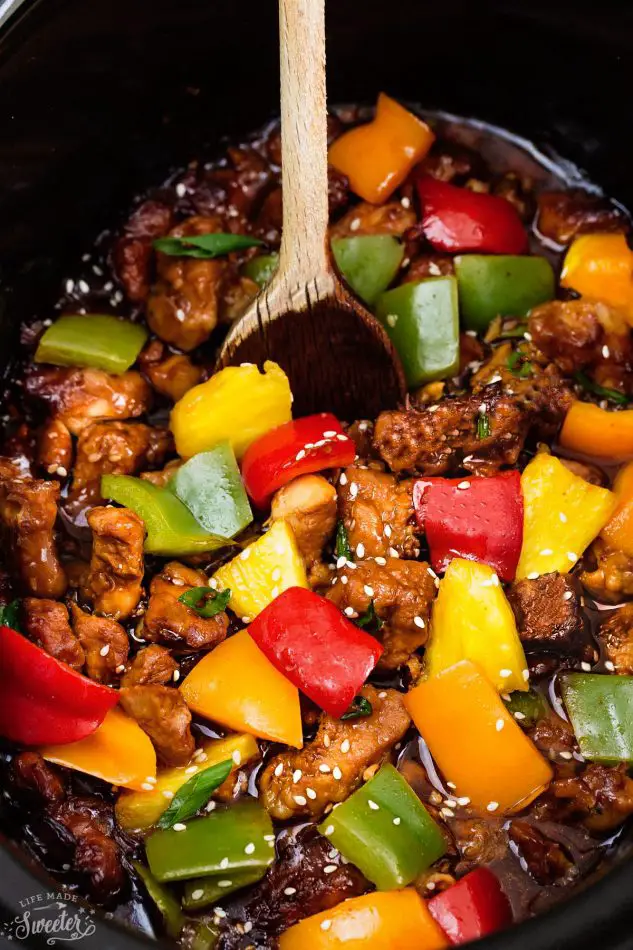 About 30 before the serving, drop the veggies in the pot…

Crock Pot Sweet & Sour Chicken Recipe
What an Easy and Delicious Sweet & Sour Chicken... The secret? It's made in the Slow Cooker...
Author:
Slow Cooker Society
Ingredients
1½ pounds boneless, skinless chicken thighs or breasts, cut into bite-sized 1" cubes
⅔ cup cornstarch (or arrowroot powder for Paleo friendly version)
¼ teaspoon black pepper
Cooking oil
1 cup pineapple chunks
2 sweet bell peppers (you can use different colors), deseeded and cut into 1" pieces
Sesame seeds, for garnish
Sauce
⅓ cup low sodium soy sauce (use gluten free Tamari or coconut aminos for paleo version)
¼ cup chicken broth
3 tablespoons tomato paste or ketchup
3 tablespoons of honey or brown sugar
1½ tablespoons rice vinegar
2 teaspoons oyster sauce
1 teaspoon of dark soy sauce
¼ teaspoon of sesame oil
2 garlic cloves, minced
½ teaspoon fresh ginger, minced
Corn starch slurry
2 tablespoons corn starch (or arrowroot powder) + 3 tablespoons cool water
For lunch bowls: cooked rice, quinoa or noodles, lunch containers
Instructions

In a large zip-top bag, toss in the chicken, cornstarch salt and black pepper. Shake until well-coated. Set aside.
Make the sauce In a small bowl, whisk together all the ingredients for the sauce, set aside.
Heat oil in a large skillet over medium-high heat. (You can skip this stove-top step if you prefer or are in a pinch. Just add chicken directly to slow cooker. Chicken will not have that crispy coating) Cook chicken about 2-3 minutes on each side, until lightly browned. Transfer chicken into the slow cooker and pour sauce over top.
Cover and cook on LOW for 2.5 - 4 hours or HIGH for 1.5 - 3 hours. (SEE NOTES)
About 30 minutes before serving, whisk together the cornstarch and water in a small bowl and stir into the slow cooker. Add the pineapples and bell peppers into the pot. Cover and cook on HIGH for another 20-30 minutes or until the sauce has thickened up and the vegetables are tender.
Sprinkle with sesame seeds, green onions and serve over rice, quinoa or zoodles, if desired.
Notes

Due to the lower heating element in older slow cookers, the sauce may not thicken in the slow cooker. If that is the case, spoon out all the sauce from the slow cooker into a small saucepan and bring to a boil on high heat until it thickens up. Pour sauce over chicken and stir to combine

Skip browning meat if desired and add directly to slow cooker. Meat will not have crispy coating.

You can use ketchup in place of the tomato paste. Just omit or reduce the apple cider vinegar as it may be too sour.

Now it's time for the quick step by step Video:


Hope you enjoyed this wonderful recipe, is so don't forget to share!
Via Life Made Sweeter Slow Cooker Sweet Sour Chicken