Delicious Crock Pot Roast Beef with Sour Cream Gravy You'll Save Forever!
That's a sure fact, a beef pot roast is great, but it becomes a masterpiece with the addition of an excellent gravy.
So that's what we're doing today: read carefully…
It isn't rocket science, but you will be pleased with the result.
Salt and pepper your beef roast. In a large frying pan or dutch oven melt 1 tablespoon of butter. Sear the roast on all sides. Remove the roast and place the sliced onions in the pan to saute until translucent.
Place the roast, sauteed onions and garlic in the crock pot, turn on low with the lid on and cook 7 hours or until the roast is tender.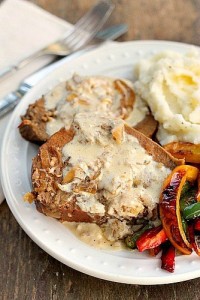 Remove the broth from the crock pot. Stir the flour into the sour cream, add 1/2 cup canned beef broth or white wine, stir until combined.
Add the broth from the crock pot. Heat the sour cream gravy in a sauce pan until it thickens slightly.
Add salt and pepper to taste. Spoon over sliced roast beef.
If your roast is small, you may doubling the sour cream gravy if using a larger roast.
Click the "Page 2" Button below for the Sour Cream Gravy Slow Cooker Beef Pot Roast INGREDIENTS