The Beef Melts in Your Mouth – The Gravy is Both Thick and Rich with Flavor.
Here's how to make a five star beef pot roast in the slow cooker the easy way, for the days you really don't have time to cook.
Simply drop a few packages of gravy mix, ranch dressing, and Italian dressing mix, and you're nearly done…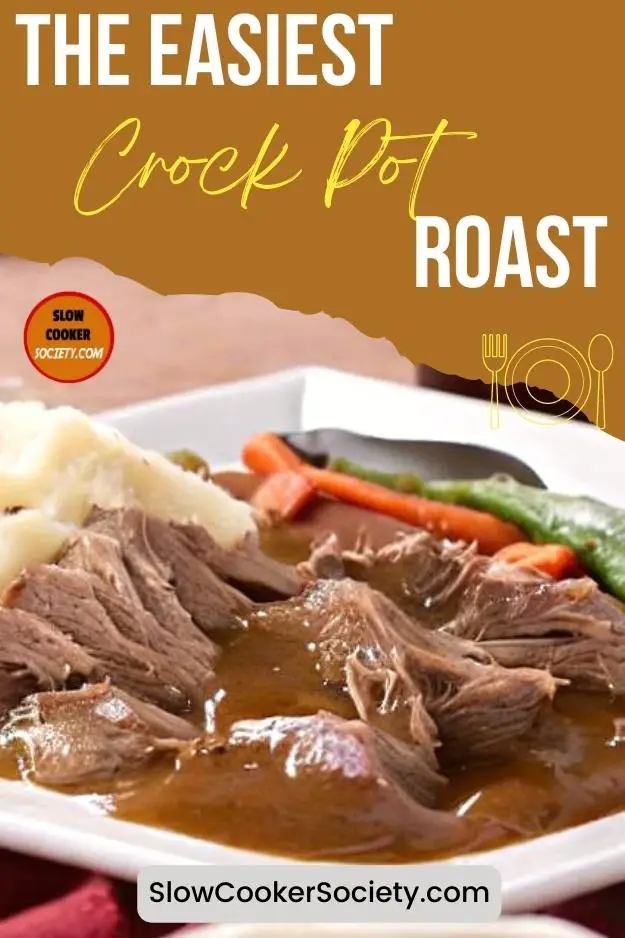 You'll come back home, a wonderful smell floating all around… in the crock-pot, a delicious roast with a rich, savory gravy, add carrots and potatoes for a complete meal.

Simply The EASIEST Beef Pot Roast You Can Make... Easy as 1, 2, 3.
Don't have much time to prepare your tonight's? This 5 star slow cooked beef pot roast will save your life... Simply drop everything in the pot in the morning and...
Author:
Slow Cooker Society
Ingredients
1 onion, sliced
¼ cup all-purpose flour
1 (2½ pound) boneless beef chuck roast
1 pinch salt and ground black pepper to taste
1 (1.2 ounce) package dry beef gravy mix
1 (1 ounce) package ranch dressing mix
1 (.7 ounce) package dry Italian-style salad dressing mix
½ cup water, or as needed 5 whole peeled carrots (optional)
Instructions
Spray the inside of a slow cooker with cooking spray.
Spread the onion slices out into the bottom of the cooker.
Spread the flour out onto a work surface.
Sprinkle the chuck roast with salt and black pepper, and roll the roast in the flour to coat all sides. Using the edge of a small, sturdy plate, pound the flour into the meat.
Place the floured roast into the cooker on top of the onions.
Whisk together beef gravy mix, ranch dressing mix, and Italian dressing mix in a bowl, and whisk the mixes with water until smooth.
Pour over the chuck roast.
Distribute carrots around the meat.
Cover the cooker, set to Low, and cook until the roast is tender and the gravy has thickened, about 8 hours.
Mmmm… and of course can always make a selection of your preferred veggies as side dishes or make a salad too…
Wanna see the video?
Click the "Page 2" Button Below for the Beef Pot Roast Step by Step Video: