Here is an easy Crock Pot Beef Stew Recipe. No Need to Be a Master Chef!
I know, you're busy! So let's have a look a this Crock Pot beef stew recipe. Everyone in the family will find it delicious, from the kids to Granny, who by the way will be pleased to eat such tender pieces of beef that have been cooked slowly in your beloved slow cooker.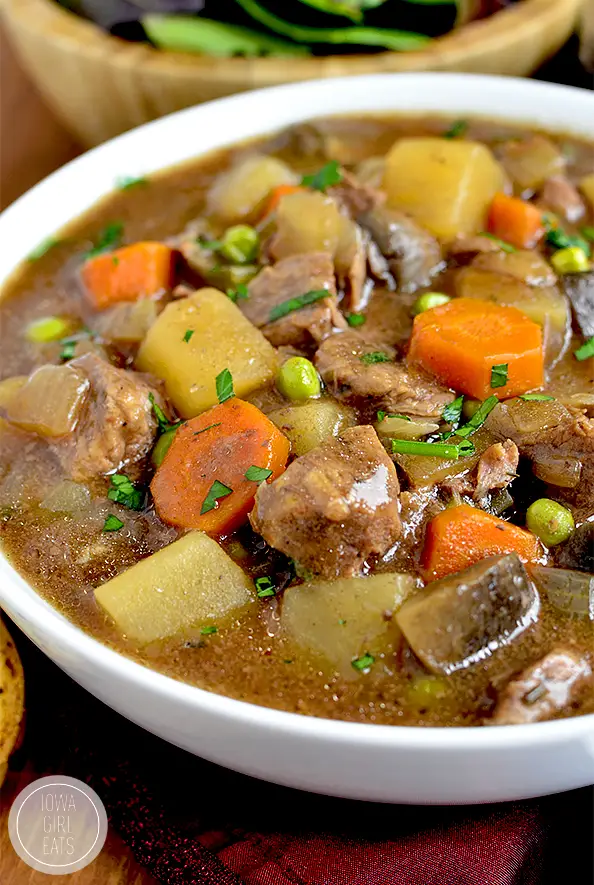 Chopped stew meat gets slow cooked in beef broth seasoned with pantry staples like dried thyme, rosemary, and bay leaves, and pumped up with tons of vegetables including potatoes, carrots, celery, mushrooms, and peas. A complete meal in one pot that requires no precooking. Just toss everything into the crock pot – which you could even do the night before. And… simply press that magic start button!
Simply drop the stew meat cut into bite-sized pieces in the pot, add the mushrooms and vegetable.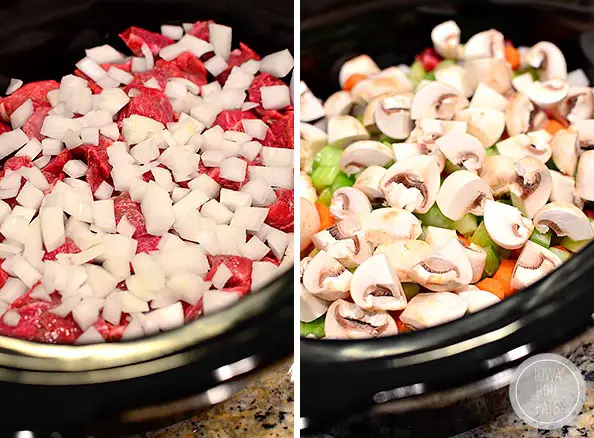 Rounding the stew out is 3 Tablespoons tomato paste, 1 Tablespoon gluten-free Worcestershire sauce (I like Lea & Perrins,) and a bevy of spice cupboard staples including salt, pepper, dried thyme, dried rosemary, and a bay leaf. Add 32oz gluten-free beef broth then cook on low for 6-8 hours (just depends on how small you cut your stew meat – mine took 6.) Again, I did all this the night before I made it then popped the crock pot into the base in the morning. Nothing too difficult, right?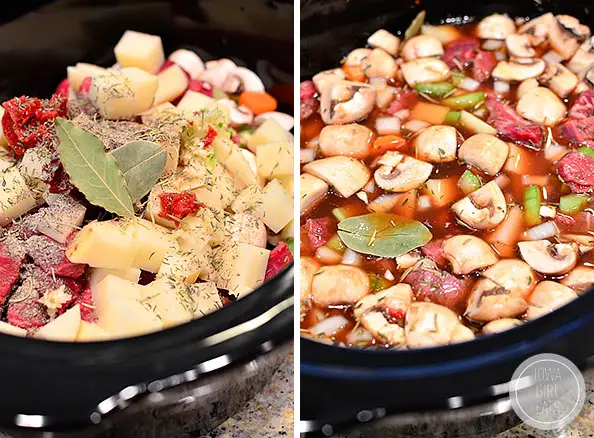 Once the meat and vegetables are tender, whisk together 1/4 cup gluten-free or all-purpose flour (dish will not be GF if using all-purpose flour) with a scoop of the cooking liquid then stream it in and give the stew a big stir.
Cook on high for 30-45 more minutes, or until the stew is slightly thickened, then stir in 1/2 cup frozen peas and let 'em warm through for about 5 minutes. Serve with a side salad or bread.
Click on the "Page 2" Button below for INGREDIENTS List & DIRECTIONS.