Ingredients
1-1/2lbs stew meat, cut into bite sized pieces
1lb white potatoes (about 1 large potato,) peeled then chopped
8oz whole mushrooms, cut into quarters or sixths if large
2 carrots, chopped
2 ribs celery, chopped
1 onion, chopped
3 cloves garlic, minced
3 Tablespoons tomato paste
1 Tablespoon gluten-free Worcestershire sauce (I like Lea & Perrins)
1 teaspoon salt
3/4 teaspoon dried thyme
1/2 teaspoon pepper
1/2 teaspoon dried rosemary
1 bay leaf
32oz gluten-free beef broth
1/4 cup gluten-free or all-purpose flour (dish will not be GF if using all-purpose flour)
1/2 cup frozen peas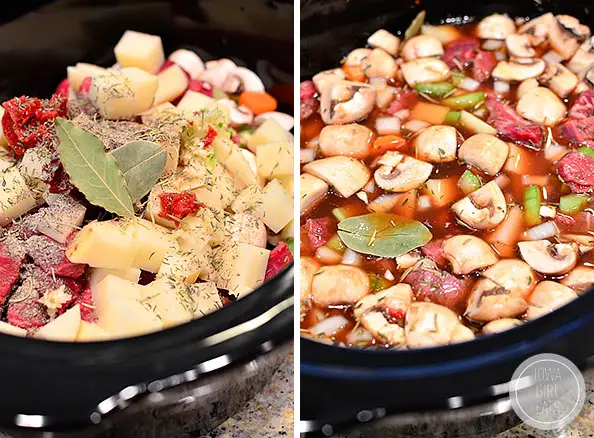 Directions
Add ingredients from stew meat to beef broth into your slow cooker. Then cover and cook on low for 6-8 hours, or until meat is tender (mine took 6 but it will depend on how big your stew meat is cut.) I added everything to the crock pot the night before then popped into the crock pot base in the morning and turned it on.
Add flour to a bowl then add some of cooking liquid and whisk until smooth. Pour back into crock pot then stir well to combine and cook on high for 30-45 more minutes, or until broth has thickened (Note: broth will continue to thicken while cooling.) Add peas then let sit until heated through, 5 minutes, before serving.
With courtesy of IowaGirlEats special thanks to Kirstin.