Crock Pot Chicken & Dumplings INGREDIENTS List
Now that we know what to expect… Let's see what's really inside it…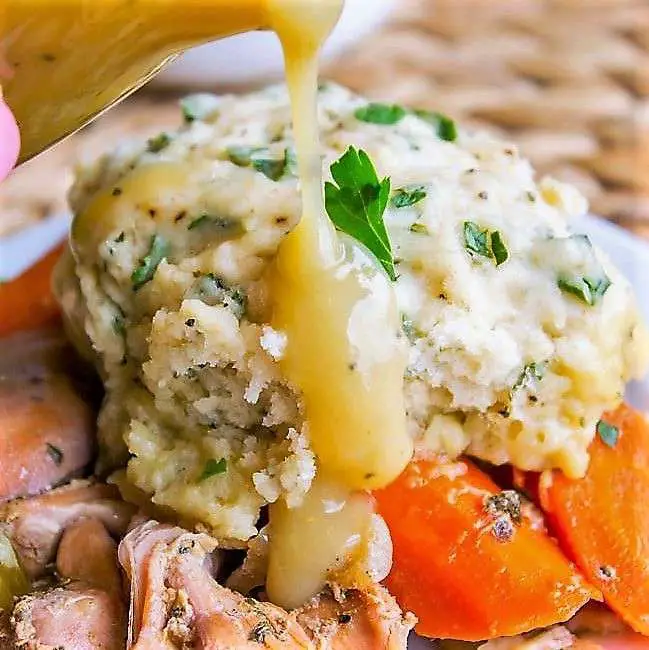 Easy & Delicious Slow Cooker Chicken Dumplings
A wonderful Chicken and Dumplings Slow Cooker recipe that will bring you back to Granny's kitchen... Mmmmm...
Author:
Slow Cooker Society
Ingredients
FOR THE CHICKEN[

3 pounds boneless skinless chicken thighs
4 cups water*
4 teaspoons Better Than Bouillon Chicken Base*
5-10 carrots, peeled and cut into large chunks
2 cups celery, chopped into ½ inch chunks
1 large onion, chopped
2 bay leaves
1 teaspoon poultry seasoning
1 and ½ teaspoons dried parsley
1 teaspoon sage
1 teaspoon salt
½ teaspoon pepper


FOR THE DUMPLINGS


3 cups flour, spooned and leveled
1 and ½ teaspoons salt
1 tablespoon baking powder
2 teaspoons dried parsley OR 2 tablespoons fresh parsley
½ teaspoon pepper
3 tablespoons cold butter**
3 tablespoons shortening**
1 and ½ cups buttermilk (cheat version is ok)***


FOR THE GRAVY


2 cups cooking liquid
¾ cup COLD water
⅓ cup flour
1 teaspoon Better Than Bouillon Chicken Base
salt and pepper

Instructions
Add chicken, water, and chicken base to a large crock pot.
Peel and chop the carrots, a LOT of carrots, so just take a look and see how many looks good to you. Remember they will shrink when they cook. let's cut them into pretty big 3-4 inch chunks.
Coarsely chop the celery, and chop the onion. Add all the vegetables to the crock pot.
Add the bay leaves, poultry seasoning, 1 and ½ teaspoons parsley, sage, 1 teaspoon salt, and ½ teaspoon pepper.
Stir together, then cover and cook on high for 4-5 hours or on low for about 7 hours. Don't go too much longer than this or your chicken will start to lose flavor.


Make the dumplings:

In a medium bowl, whisk together 3 cups flour, 1 and ½ teaspoons salt, baking powder, 2 teaspoons parsley, ½ teaspoon pepper.
Use a fork or pastry cutter to cut the butter and shortening into the dry ingredients. Leave pea-size chunks of butter.
Use a spatula to stir in the buttermilk until just moistened. Don't over mix!
Turn the crock pot to high. Working quickly, remove the lid and remove 2 cups of cooking liquid (set aside). Arrange the chicken on top of the vegetables.
Use a spoon or your hands to scoop up a golf ball size piece of batter. Drop the dumpling on top of the chicken. Try not to dump it straight into the liquid (sure, kind of impossible, but do your best.) Continue until the batter is all in the crock pot.
Immediately cover with the lid. Set a timer for 25 minutes.


Make the gravy:

Separate the fat from the 2 cups of cooking liquid you took from the crock pot, and discard the fat. (use a fat separator.)
Add the cooking liquid to a small pot and turn to high.
Meanwhile, add ¾ cup COLD water (OR cold chicken broth) to a small bowl or glass measuring cup. Whisk in ⅓ cup flour until no lumps remain.
When the cooking liquid has come to a boil, gradually whisk in the flour mixture. Add the teaspoon of chicken base. Lower the heat to medium and continue stirring until the gravy thickens, about 5-10 minutes.
Season with salt and pepper.


To assemble:

When the dumplings have cooked for about 25 minutes, check the center of one with a toothpick. If it comes out clean, then the dumplings are done.
Spoon the dumplings onto a serving platter. Use a slotted spoon to transfer the chicken and vegetables to the serving platter.
Serve with the gravy to pass at the table.
Save the remaining chicken broth to make soup or anything else that calls for chicken broth!

Notes

*The water and Better Than Bouillon Chicken Base can be replaced with 4 cups high quality chicken stock.

**You can use all butter or all shortening if you want! Or any ratio. You need 6 tablespoons total fat.

***Cheat buttermilk: add 1 tablespoon lemon juice or vinegar to a glass measuring cup. Fill it to the 1 and ½ cup mark with milk, the higher fat content the better. Stir and let sit 5 minutes, then use like regular buttermilk.

Nice… Don't forget to share if you like it ?
Via The Food Charlatan Slow Cooker Chicken Dumplings