Delicious Slow Cooker Sirloin Recipe with Gravy. Yummy!
The magic of effortless cooking with this tantalizing recipe that asks for minimal prep before the slow cooker takes over. Imagine coming home to a delectable meal simmering away, ready to be savored in just 6-8 hours.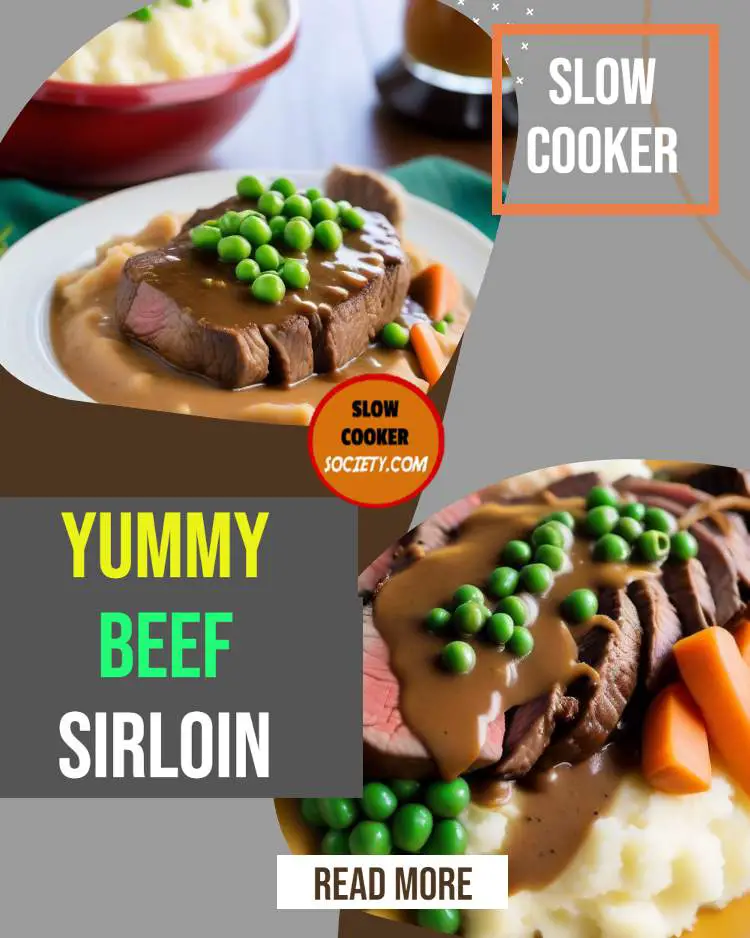 Pair it with classic mashed potatoes or crispy french fries, or let your culinary creativity run wild with a side dish of your choice. Dive in and discover the recipe that's about to revolutionize your kitchen experience! This recipe is simple, and anyone can become a CHEF!

Crock Pot Sirloin Recipe Over Mashed Potatoes
Delicious Slow Cooker Sirloin Recipe with Gravy. Yummy! So easy...
Author:
Slow Cooker Society
Ingredients
2 lb. beef sirloin, cut into 1 inch cubes, and patted dry
1½ c. flour
1½ tsp. onion powder
1½ tsp. garlic powder
3 TBS vegetable oil
1 (10¾ oz.) can cream of mushroom soup
1 (15 oz.) can beef broth
1 envelope onion soup mix
1 c. water
1 beef bouillon cube
1 TBS Worcestershire sauce
Salt and Pepper to taste
Dried Parsley for garnish
Instructions
In a large bowl combine flour, onion powder, garlic powder, salt and pepper.
Dredge sirloin pieces lightly in flour mixture.
In a large skillet heat oil over medium-high heat.
Brown beef in batches, until browned on all sides.
Remove to a paper towel lined plate.
When all beef is browned, add to Crock Pot.
In a small bowl combine soup, onion soup mix, beef broth and Worcestershire.
Mix well. Pour over beef.
Add water, bouillon cube, salt and pepper to taste.
Stir well.
Cook on LOW 6-8 hours until gravy has thickened a bit and beef is cooked through.
Serve over cooked egg noodles, rice or mashed potatoes.
Garnish with parsley if desired.

Tips:
You may also want to try different side dishes.
Rice is very healthy and tastes so good when mixed with a good sauce 🙂
Other suggestions, of course mashed potatoes, french fries, healthy salads, egg noodles, or whatever your heart desires.
Related searches:
slow cooker sirloin steak tips recipe
slow cooker sirloin steak stew
slow cooker sirloin steak and potatoes
slow cooker steak and gravy
how to cook steak in a slow cooker
slow cooker steak and potatoes
slow cooker sirloin steak fajitas
slow cooked sirloin steak in the oven
via: Alotofrecipes Slow Cooker Sirloin Tips and Gravy