A Slow Cooker Mashed Potatoes Recipe that will ease your life for sure!
Oh yes, this recipe is so easy, you're going to get creamy and super tasty mashed potatoes that you will never want to go back to the standard boiled and smashed ones.
It only requires, 7 minutes of preparation, seriously!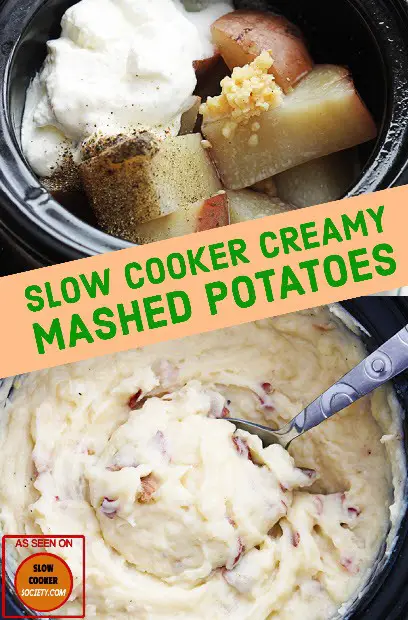 Let's start…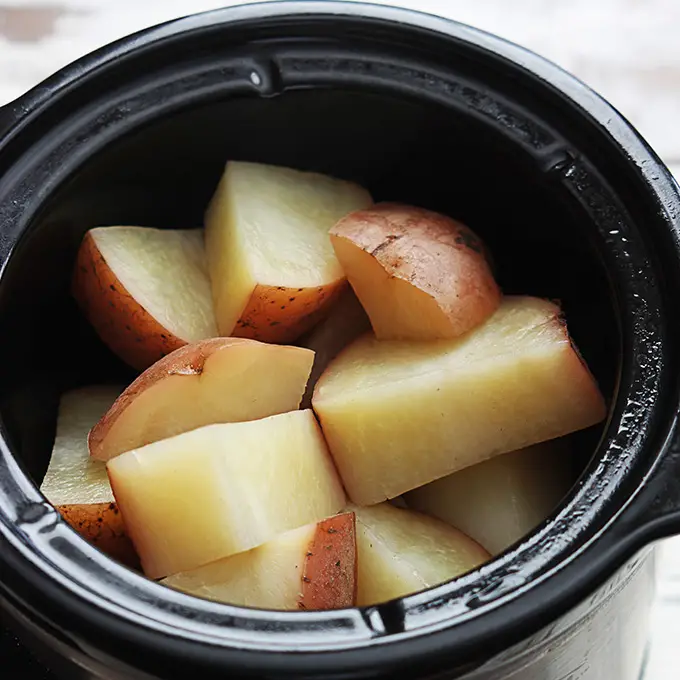 All you have to do is cut up your potatoes – you don't even have to peel them if you don't want to – and then let them cook for a few hours.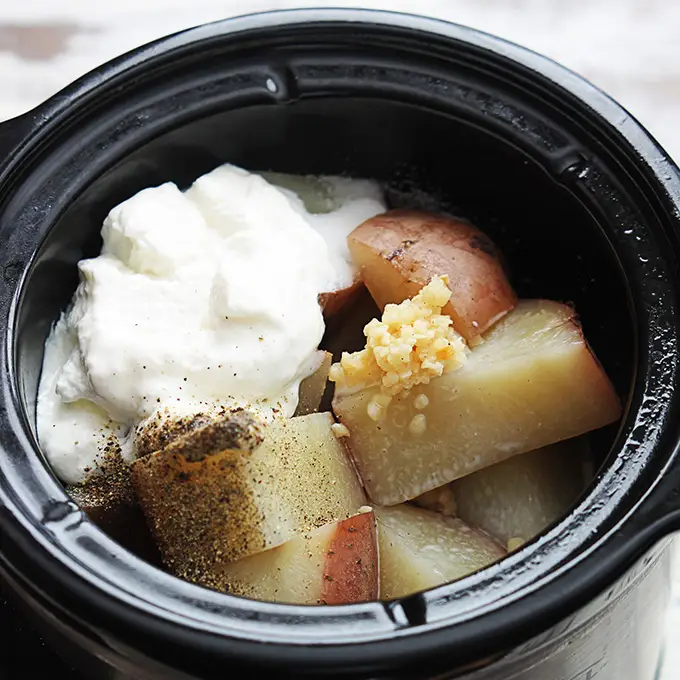 When they're done, you come back, dump the last few ingredients in, and whip those babies up in a matter of about 1 minute. The end. Perfect mashed potatoes every single time. No peeling, no boiling, no mashing. Just a whole lot of amazing mashed potato eating going on.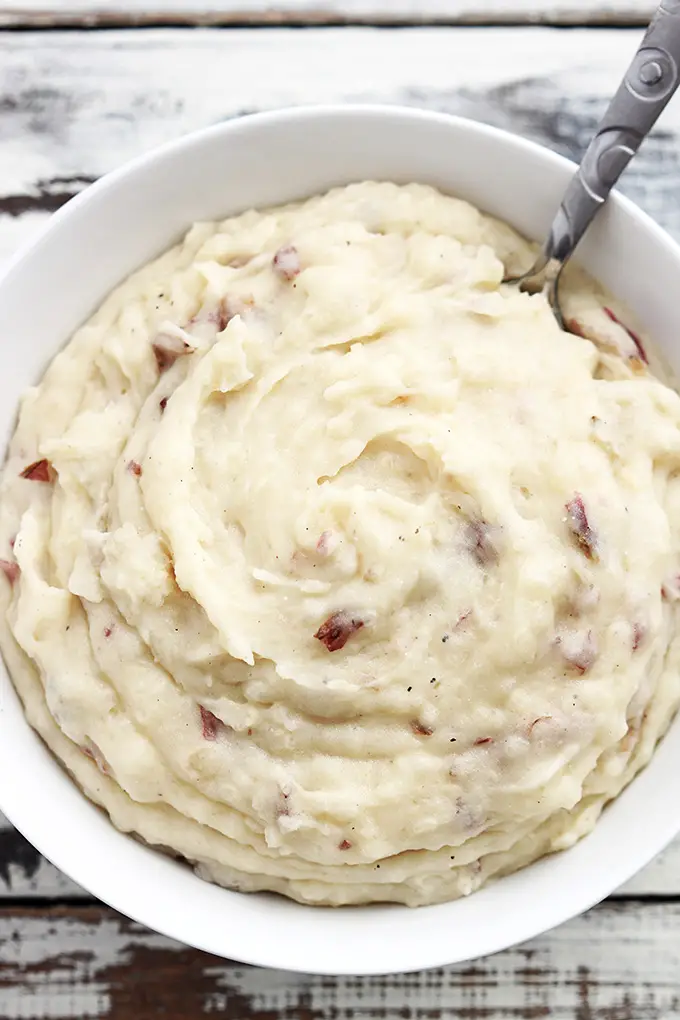 Ingredients:
2 pounds red potatoes, cut into 2 inch pieces (you can peel them but I never do – I love red potato skins in my mashed potatoes!)
½ cup sour cream (or plain greek yogurt)
¼ cup milk
2 teaspoons minced garlic
2 teaspoons salt
1 teaspoon black pepper
Directions:
Spray the inside of a slow cooker with cooking spray. Add chopped potatoes. Cover and cook 2-3 hours on high or 5-6 hours on low.
Add sour cream, milk, garlic, salt, and pepper to potatoes. Use a hand mixer to blend together all ingredients. (Please see note below recipe!) Give them a taste and add more salt if desired. Serve plain, or with any favorite toppings such as gravy, or cheese and bacon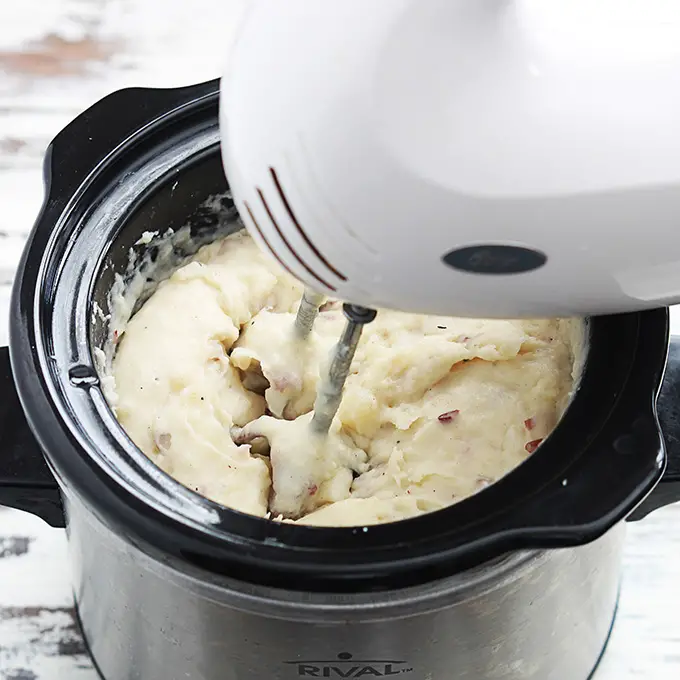 Notes:
This recipe can easily be doubled for large groups – just increase the cooking time by 1-2 hours.
You can also smash the potatoes if you prefer, I like to use the hand mixer because it is so FAST and easy and I can make them as smooth or as textured as I want to be mixing them for a longer or shorter time!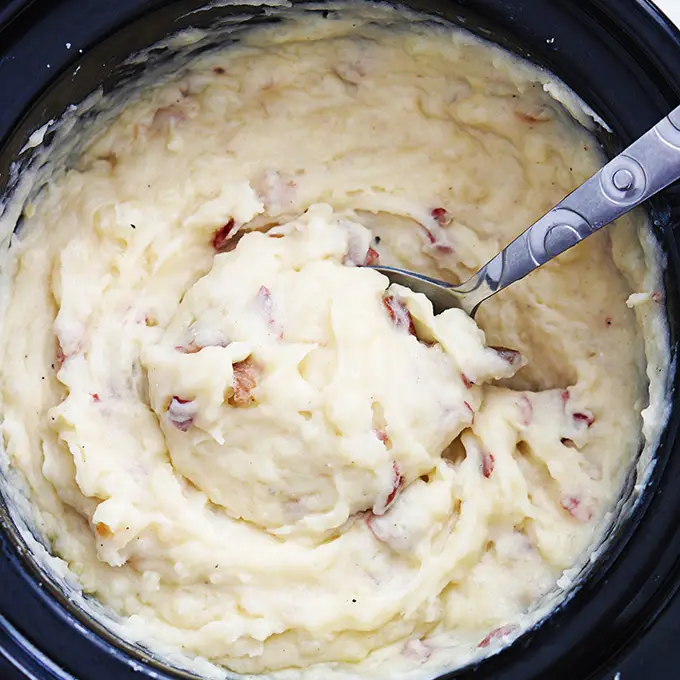 Click the "Page 2" Button Below for #Tips for avoiding Rubbery, Gluey Mashed Potatoes: