What's Better Than a Delicious Crock Pot Enchilada Soup?
How about a Slow Cooker Chicken Enchilada Soup that is flavorful and easy to make, making it a meal that the whole family will enjoy?
This lovely recipe was discovered on Like Mother, Like Daughter.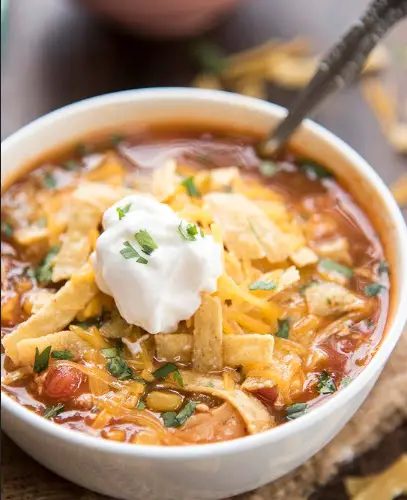 When the temperature is starting to fall… it's time to get a big bowl of soup for dinner. Soup recipes, especially easy and delicious ones like this slow cooker chicken enchilada soup!
It's a simple soup that only requires a few simple ingredients to be thrown into a pot and cooked for a few hours.

Canned goods are excellent for the days we're overwhelmed by tons of other things than preparing food…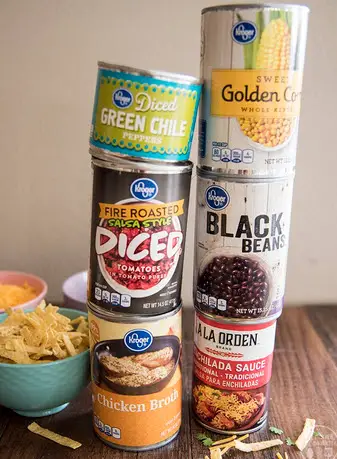 There is no washing, chopping, or preparation required.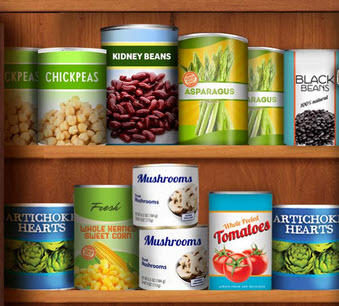 This is the ideal easy weeknight meal because you can throw everything in your slow cooker in the morning (or afternoon) and have a delicious dish ready to eat in the evening!
This soup is delicious, topped with shredded cheese, sour cream, and tortilla strips.
Tip: serve a handful of tortilla chips on the side to dip into the soup; the rest of the family will love it.
A Very Tasty Slow Cooker Chicken Enchilada Soup
This enchilada soup is my kind of recipe; I've made it in the slow cooker and on the stovetop. Basically, you throw a few simple ingredients in the pot and let it cook for a few hours.
Author:
Slow Cooker Society
Ingredients
2 large chicken breasts, raw and thawed
1 10oz can red enchilada sauce
1 14oz can of black beans, rinsed and drained
1 14oz can corn, drained
1 4-7oz can diced green chiles
1 14oz can diced tomatoes, with juice
1 14oz can of chicken stock
1 TBS minced garlic
1 tsp salt
chopped cilantro
tortilla strips
sour cream
shredded cheese
avocado
Instructions
Add all the ingredients to the slow cooker and stir to combine.
Cook on HIGH for 3-4 hours or on LOW for 6-7 hours (or until chicken is cooked through)
Use two forks to shred the chicken.
Serve hot with toppings, if desired.
Nutrition Information

Serving size: 

3 - 4 persons

Wasn't it easy? Please share if you enjoyed it:-)
via Like Mother, Like Daughter Slow Cooker Chicken Enchilada Soup