Chili Cook-off Fundraisers | Award Winning Chili Recipe
Feeling lazy today and don't wanna spend time cooking? This Slow Cooker chili is definitely the answer.
See how Jason prepares it with his 2 young boys watching carefully 🙂
This Chili Recipe is truly an award winning chili recipe because it has won the 1st place two years in a row in chili cook off competitions at Jason's work.
This chili recipe beat out 12 people in the cook off, back 2011. Jason used the exact same recipe in 2012 and beat out 8 other peoples chili recipes in that chili cook off.
Don't wait any further, here's the step by step video.
Here's the best slow cooker chili recipe winner Ingredients List: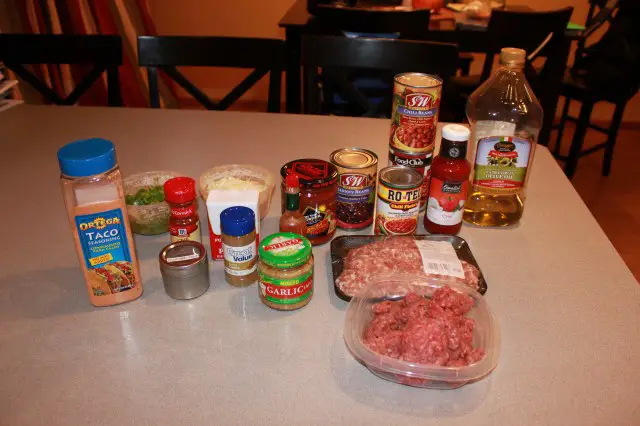 Easy Family Meals Award Winning Slow Cooker Chili
Award winning slow cooker Chili recipe 2 years in a row. Very easy and delicious 🙂
Author:
Slow Cooker Society
Ingredients
1 lb pork sausage
1 lb ground beef
2 cans of chili beans
1 can of kidney beans
1 15 ounce jar of salsa (mild, medium, or hot- your choice!)
1 12 ounce jar of chili sauce
1 can of Rotel diced tomatoes with chilis
1 medium onion, diced small
1 green pepper, diced small
1 tbsp minced fresh garlic
2 tbsp olive oil
3 tbsp chili powder
2 tbsp cumin
1 tbsp seasoned salt
1 tbsp freshly ground black pepper
1 tbsp tabasco sauce
1 package of your favorite brand of taco seasoning
⅛ cup chopped fresh jalapenos (optional)
Instructions
Saute diced onions and green pepper in olive oil over medium heat until soft. Add minced garlic and saute for another 30 seconds. Add to crock pot or large dutch oven on stove top.

Brown pork and ground beef separately. Adding too much meat to the pan at once will cause the meat to steam, rather than brown. Season with salt and pepper to taste. Add all meat to the crock pot or dutch oven.

Add remainder of ingredients to the crock pot or dutch oven. Adjust seasonings to taste. Chopped jalapenos can be added for more heat (but be careful, this is spicy as is!)

Cook in a crock pot for a minimum of 2 hours on high, or simmer in a dutch oven on the stove top for 1 hour.

Serve with your favorite toppings. Here are some suggestions: shredded cheddar cheese, chopped scallions, sour cream, crumbled bacon, Frito's corn chips, fresh parsley, chopped fresh tomatoes, and more chopped fresh jalapenos.
Notes

You might also consider adding a dollop of sour cream on top when you serve it to cool things down.

This recipe is easy to make on the stove top or in a crock pot, it's your choice depending on how much time you have.

Hope you like this easy recipe, if so, don't forget to share!

Via Easy Family Meals Award Winning Chili Recipe