Yummy Vegan Crock Pot Stew with Spinach and Chickpeas.
This hearty vegan stew is just another perfect example of how easy a healthy homemade meal can be!
It is full of vegetables that contribute to our healthy eating habits.
This colorful recipe smells so good… The spices are one of the most important components.
Simmering the vegetable stew in a slow cooker with garlic, ginger, and spices allows all ingredients to meld together for hours. The result is a fragrant, flavorful broth that takes very little work to achieve. Simply sauté the onions, pepper and garlic; then toss everything into a crock pot and let it do its thing.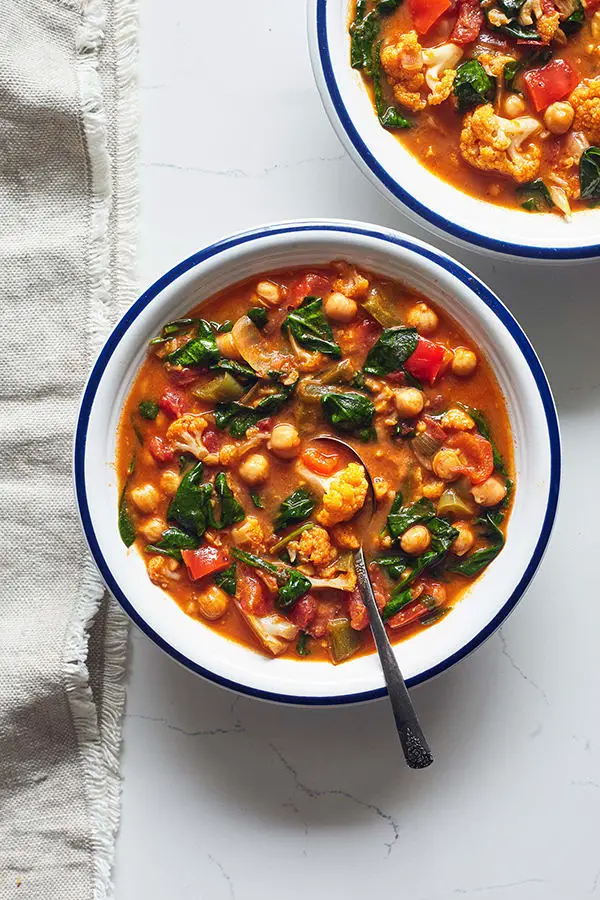 You'll need curry powder, fresh ginger, salt and pepper, and cayenne. The combination is absolutely amazing. Coconut milk gives a creamy texture and balances out the mild heat from the cayenne powder. And because this soup is meat-free, chickpeas boost the protein in this healthy plant-based dish. We recommend stirring the spinach in right before serving – it literally takes seconds to wilt.

Slow Cooker Vegan Stew with Chickpeas & Spinach
A wonderful Slow Cooker Vegan Stew full of taste and colors. Perfect any time of the year.
Author:
Slow Cooker Society
Ingredients
olive oil
1 medium onion , chopped
1 medium green bell pepper , chopped
1 medium red bell pepper , chopped
2 cloves garlic , coarsely chopped
2 cups low-sodium organic vegetable broth
1 (14.5-oz.) can diced tomatoes, no added salt
2 cans (15-oz. each) chickpeas (garbanzo beans), drained, rinsed
1 Tbsp . curry powder
1 Tbsp . pure maple syrup
1 Tbsp . finely chopped fresh ginger
½ tsp . sea salt (or Himalayan salt)
½ tsp . ground black pepper
1 dash ground cayenne pepper (optional)
1 medium head cauliflower , cut into florets
1 (10-oz.) bag raw baby spinach
1 cup lite coconut milk
Instructions
Heat oil in medium nonstick skillet over high heat.

Add onion and bell peppers; cook, stirring frequently, for 4 to 5 minutes, or until onion is translucent.
Add garlic; cook, stirring frequently, for 1 minute.
Place onion mixture in 3-quart slow cooker.
Add broth, tomatoes (with juice), chickpeas, curry powder, maple syrup, ginger, salt, black pepper, and cayenne pepper. Mix well; cover. Cook on high for 3 hours.
Add cauliflower. Mix well; cover. Cook on high for 1 hour.
Add spinach and coconut milk. Mix well; cover. Cook on high for 10 minutes, or until spinach wilts.
Hope you like this recipe, if so don't forget to share!
Via Beachbody On Demand Vegan Slow Cooker Stew with Chickpeas and Spinach