Excellent Crockpot BBQ Pork & Beans
We've got some leftover pork. We've got some beans, so today, we will show you how to make our super easy, slow cooker, barbecue pork, and beans. We are using the slow cooker today because this is the perfect way to make barbecue beans with leftover pork; the pork we will be using today is some leftover smoked. Rib meat just had a ton of rib meat leftover froze it. This is the perfect thing for it.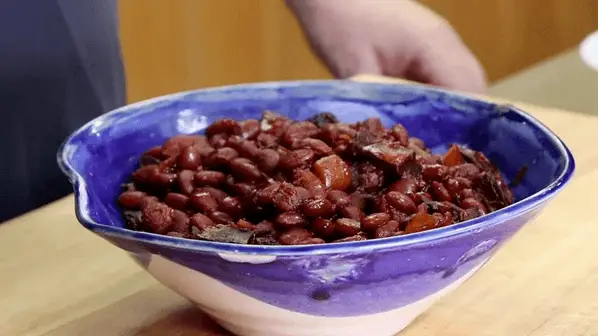 We are going to be starting with two pounds of pinto beans. These beans are soaked overnight.
In some water that covers them by about an inch, rinse them off drained them. We will get them in the slow cooker, that overnight soak helps soften them a bit and get some ready for this slow cooking process.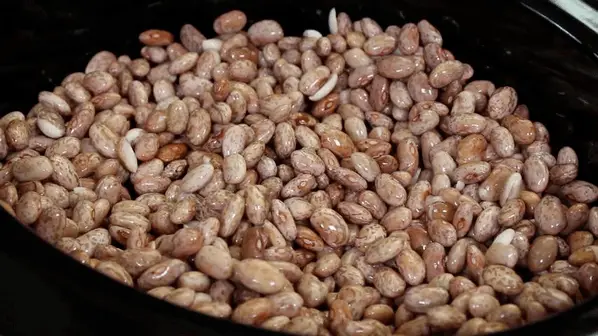 Now, we will add about three cups of pork, and this is, as said, chopped-up rib meat. You can use any sort of pork. You want pulled pork, you could use pork loin, but that's a little bit drier less fat.
So we find that that doesn't work quite as well. In this, we are going to add a cup of low-sodium chicken stock. You can use any sort of broth you want here and stick to vegetables or chicken, and some wouldn't use beef, but you certainly can.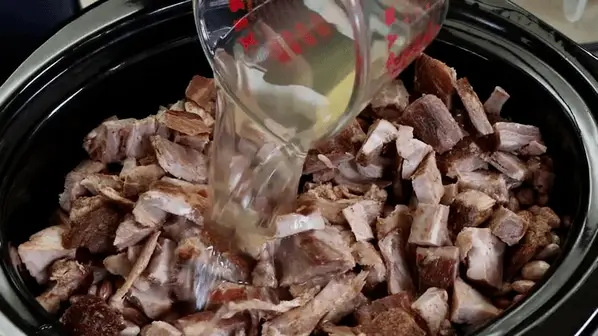 If we wish to now, we can add three and a half cups of barbecue sauce.
It may be any sort of barbecue sauce you want, let's get a sweet sauce, which is a great thing to use. If you have a bunch of bottles of barbecue sauce in your refrigerator that are kind of half-full mix, mix them together and use them for this, We are going to add half a teaspoon of cayenne here. We are adding this just for a tiny little bit of heat because there's a lot of sweetness in this.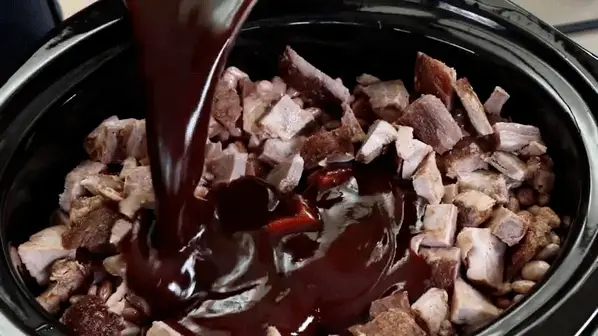 We are also going to add one teaspoon of some granulated garlic. Finally, one medium onion that's been chopped up. Simply use a white or a yellow. Personally, we wouldn't use a red in this. We want to give this a gentle mix here to start getting stuff to know each others.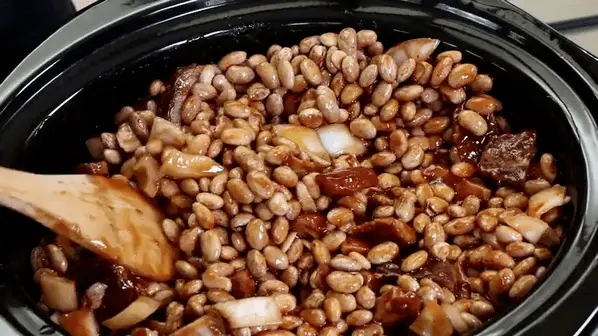 We don't add a lot of liquid upfront because you can always add more liquid later.
You want to see how much liquid the beans are going to release. They've been soaking overnight. Remember, this is also one of those great dishes that, if you like something else in it, put it in there. You want some bell peppers, chop it up, put it in, and some jalapeno, too. Now, let's get our lid on and start cooking.
We are going to set the slow cooker for seven hours on low.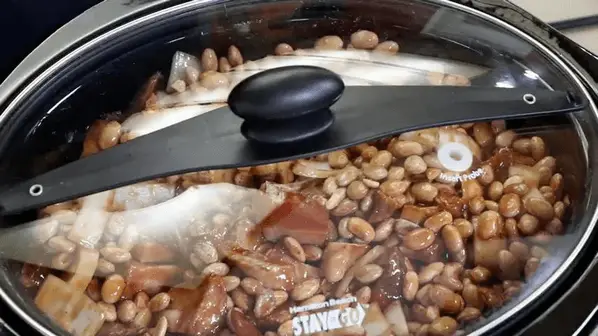 After about three hours, check it and give our BBQ pork and beans stir, see if we need to add any additional liquid other than what's already in. We don't need to add any more liquid. The beans release a lot of that juice they absorbed when they soaked overnight. These are looking good smelling great too. Alright, nothing left to do but get the lid on.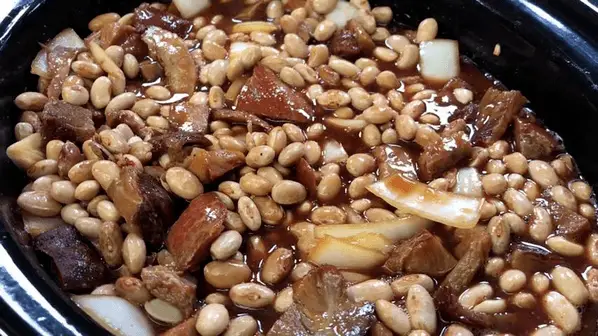 Let's keep going; there's nothing to worry about it until the 7-hour mark. Except for maybe every hour so, have a look stir it if needed (note that in a slow cooker, it isn't recommended to open the lid too often while cooking)
After 7 hours, let's give the beans a check, see if they're tender enough.
These usually take somewhere between 7 to 10 hours, depending on the beans' conditions. If you want to cut that shorter, you can run it at a higher temperature and your slow cooker instead of a low setting. Also, different beans will behave differently, and we used pinto beans.
You could use great northern lots of different choices, but the color, the smell, everything about this turned out exactly the way you want. You know how they taste, so it's time to taste. Alright, here we go, let's get in here, get some beans and some rib meat and onions.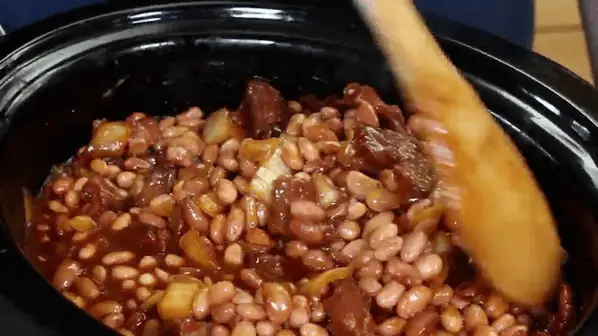 The beans are tender without being mushy. That's one of the things you have to watch for when you're going for an extended period, the beans can get very tender, but they can dissolve now. Some people like that. Others prefer the beans that still have that little bit of structure but still collapse right when you bite into them. Very tender on the inside, using the leftover rib meat in beans like this is perfect. You have all that great flavor from smoked ribs.
We already had rub on them, injecting all that flavor into these beans, in addition to the barbecue sauce and other spices we put in there – and you know what? We always like to sprinkle a few scallions on here. So, let's put some scallions on there, nothing wrong with a little bit of green color here there, and the taste of scallions goes great with beans.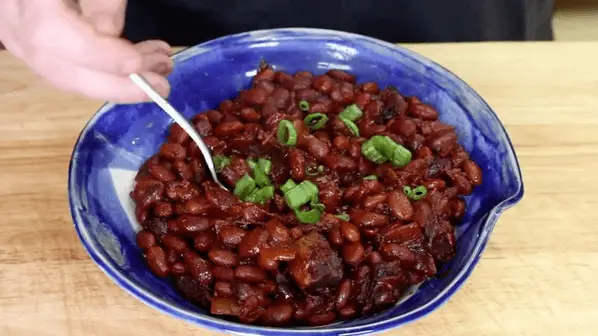 Let's dig directly into the Ingredients list:

These typically take 7 to 10 hours on LOW, depending on the condition of the beans.
Simple BBQ Pork & Beans in a slow cooker. Excellent use for any leftover pork, as well as any half-empty bottles of BBQ sauce lurking in the fridge.
Author:
Slow Cooker Society
Ingredients
2 lbs Pinto Beans Soaked & Rinsed
1 cup Chicken or Vegetable Stock
3 cups Leftover Pork Meat Cut Up
3 ½ cups BBQ Sauce
1 tsp Granulated Garlic
1 Onion Chopped
½ tsp Cayenne Pepper
Instructions
Simply follow the long description in the blog post and in the video.
It typically takes 7 to 10 hours on LOW, depending on the condition of the beans.
This is the kind of dish that, if you have a slow cooker that will automatically switch to warm, you could put these in, like at eleven o'clock, ten o'clock the night before they're going to be done.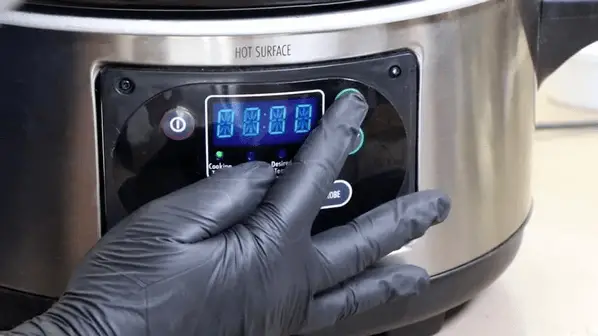 You know, eight, nine, ten o'clock the next day and they're going to stay warm until the afternoon, maybe you're throwing a party in the afternoon, or you want some beans for lunch or dinner—the perfect way to make them. So, if you've never made barbecued pork and beans before, give it a try. Try making the beans yourself by soaking them overnight, instead of using pre-made. It gives you absolute control over the texture, the flavor, how much spice you put into it. Get good leftovers, pork, and a great sauce.
Check out the step by step video:
Via Youtube Cooking With Ry Easy BBQ Pork & Beans Made in the Slow Cooker