Crock Pot Hot Dogs INGREDIENTS
Now see how easy it is… That's something you can prepare with your kids or grandchildren; they will love it…  It's time to throw the old crock pot together with a few ingredients, the prep. will be done in minutes. Crock Pot Bratwurst Hot Dogs are filling and flavorful when you're craving something hearty but easy on the whole thing.
These sausages have all the spicy and smoky flavor of a classic German bratwurst, complemented by onions and bell peppers that give them a depth of flavor like nothing else. Yummy!
Ingredients and How To:
Crock Pot Bratwurst Hot Dog with Peppers & Onions
What an easy snack, ideal for parties too 🙂
Author:
Slow Cooker Society
Ingredients
1 tablespoon vegetable oil
4 bratwurst sausage
2 medium sweet onions, sliced
2 bell peppers, sliced
1 tablespoon unsalted butter
12 ounces beer
¼ teaspoon salt
¼ teaspoon ground black pepper
Instructions
Brown the bratwurst in a skillet, add oil over medium heat and brown them on all sides.
Add to the slow cooker.
Top the brats with the onions and peppers, salt, pepper and butter.
Pour over the beer and mix.
Cover and cook on high for 4 hours or low 7-8 hours.
Serve on a bun with your favorite condiments
Notes

Simply multiply the ingredients if you have many guests.
Bratwurst are usually made of Pork, Veal or Beef.

Whether you have friends over for a friendly game or you're hosting a large buffet dinner, nothing will make your guests happier than these delicious sausages, which are browned in a skillet before cooking.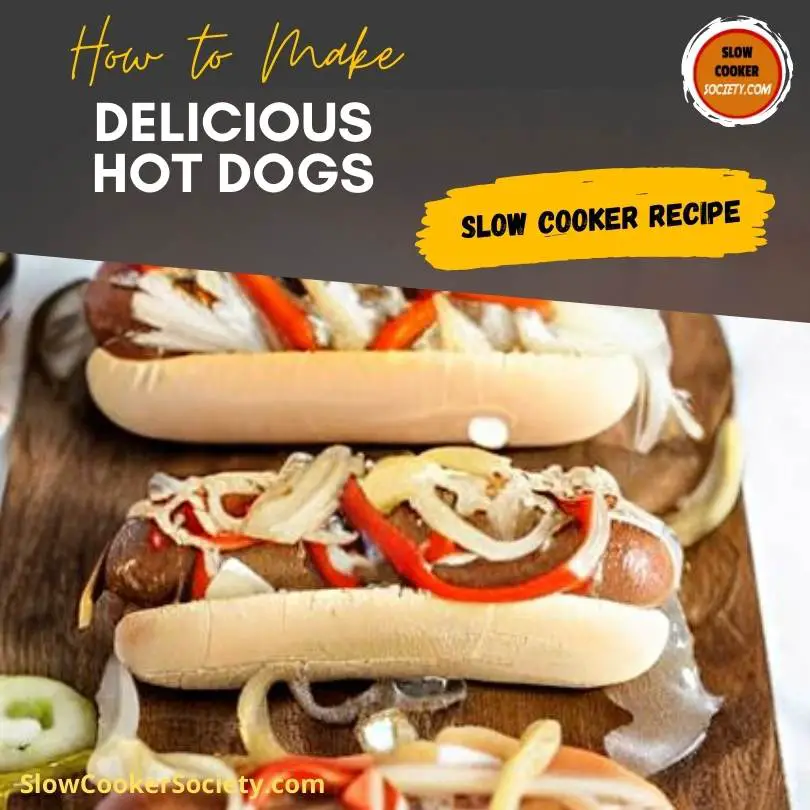 They're perfect for any party and should be the main course at any buffet. The slow cooker cooks them low and slow to achieve a great depth of flavor. A variation on this recipe could be a slow cooker bratwurst with bacon, black peppercorns, jalapeños, and green bell peppers. The mix of heat and sweet is sure to please all your guests!
Via Culinary Ginger Slow Cooker Beer Bratwurst with Onions and Peppers
Don't forget to share 🙂
Related Recipe Videos: