Cream Cheese takes this Buffalo Chicken Dip to another level.
The hot and spicy buffalo chicken dip with a creamy cheddar base is an absolute joy. Firstly, we'll start mixing up things in a skillet and then transfer everything into your slow cooker.
You have the perfectly creamy dips with so much texture and, at the same time, the hot sauce that gives the dip a real kick. Also, you can also change the ingredients to your liking.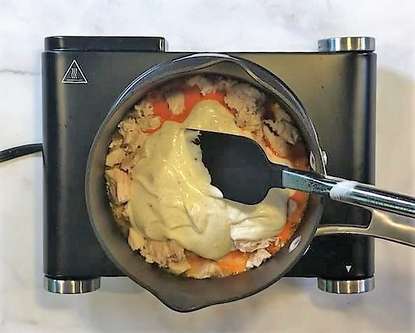 We've got a pan here, and we're going to put some cooked chicken in it. You can use either precooked chicken or canned chicken, and we're going to use canned chicken because my skillet is already warmed, and we're going to add some buffalo sauce, simply your favorite hot wing sauce to it.
If you want to make your own from scratch, feel free,
though you can also use it from a jar if you wish to, and this recipe is fantastic since you can make it spicy or mild. You could make garlic chicken wings, or you could make barbecue chicken wings.
We're also going to add some ranch dressing.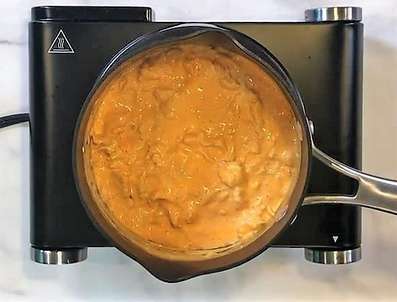 Stir until everything is incorporated, breaking up any significant bits of chicken.
Is everything combined? We'll add some cream cheese to the mixture. It's already softened, and we've broken it up into bits, and it makes incorporation easy.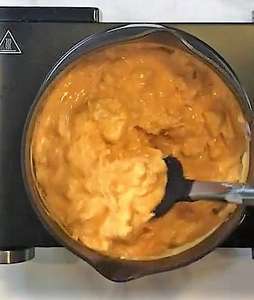 Stir until thoroughly blended; the cream cheese thickens it and provides a lovely texture and taste to the dip.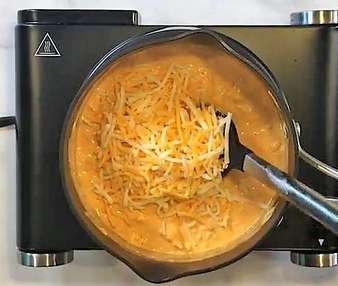 The final item we'll add to our mixture is some shredded cheese.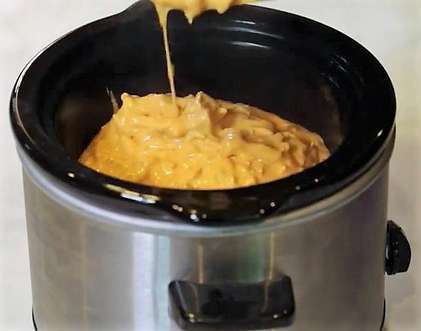 We'll stir it in, and I'll bring the heat down on this. It's extremely hot, and we're simply going to mix everything together since it'll be sitting in the slow cooker for a while, melting and cooking through.
Now transfer everything into a small size slow cooker. (you can find it here)
We'll top it with some extra cheese before we finish this. We're going to add that stringy layer right on top. It will give it an extra taste.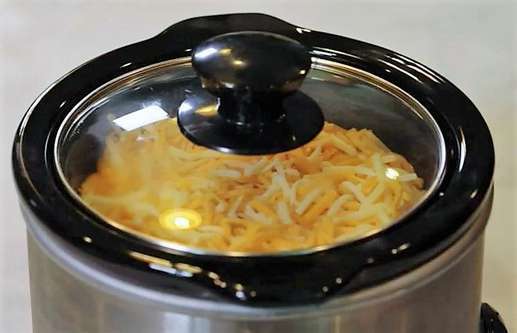 Cover the slow cooker, turn it to LOW setting, and leave it alone until the cheese melts.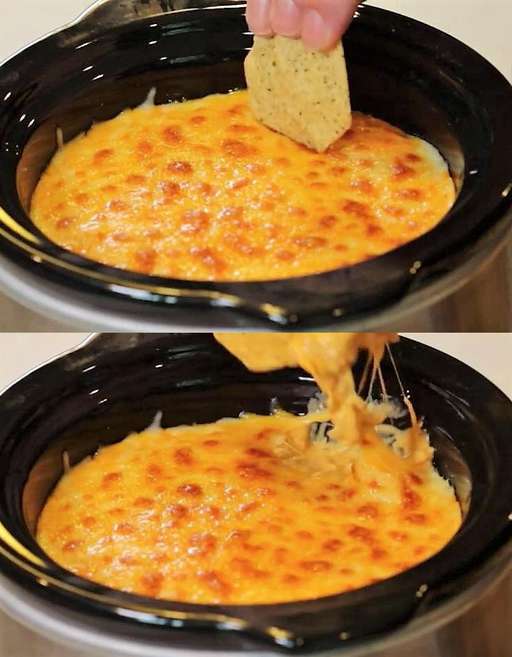 Serve this up hot with chips crackers or a sliced baguette and veggies sticks… Mmmmm
Make sure to check those slow cooker dip recipes too.
Try topping with Bleu Cheese Crumbles. Make many variations of this dip, including one that is hot, one that is mild, and one that is barbecue.
Now, check out the step by step video:
Ingredients list:
Slow Cooker Buffalo Chicken Dip with Cream Cheese
Cream Cheese takes this Buffalo Chicken Dip to another level. This buffalo chicken dip with a creamy cheddar base is an absolute joy.
Author:
Slow Cooker Society
Ingredients
20 ounces canned chunk chicken drained
16 ounces cream cheese cubed
¾ cup prepared hot wing sauce
1½ cups shredded Cheddar Jack cheese blend divided
1 cup Ranch dressing
Instructions
In a pan over medium-high heat, combine the chicken and spicy sauce.
Cook until well heated.
Stir in the cream cheese and ranch dressing until well mixed.
Add half of the cheese and mix well.
Set aside in a small crock pot on low heat.
Serve when hot and bubbling, topped with the remaining cheese.
We hope you liked it, don't forget to share!
Via It is a Keeper Easy Crockpot Buffalo Chicken Dip

Similar recipes in Video: