Easy Slow Cooker Taco Bake That Will Please Everyone.
Taco Casserole is a perfect dish that has this festive flavor. With taco seasoning, beans, and cheese, you will have something that can be served at a taco festival. The ground meat becomes tender with the slow cooking process, and the spicy flavor complements the mild cheese and the flour tortillas. With a bit of green lettuce, sliced tomatoes, and Mexican sour cream, you will have an easy-to-serve appetizer, main or side dish at any party or dinner.
Let's watch the video in which Sarah prepares this delicious Slow Cooker Taco Casserole:
Here's a quick summary of the mains preparation steps, the full list of ingredients and directions is right at the end of the post.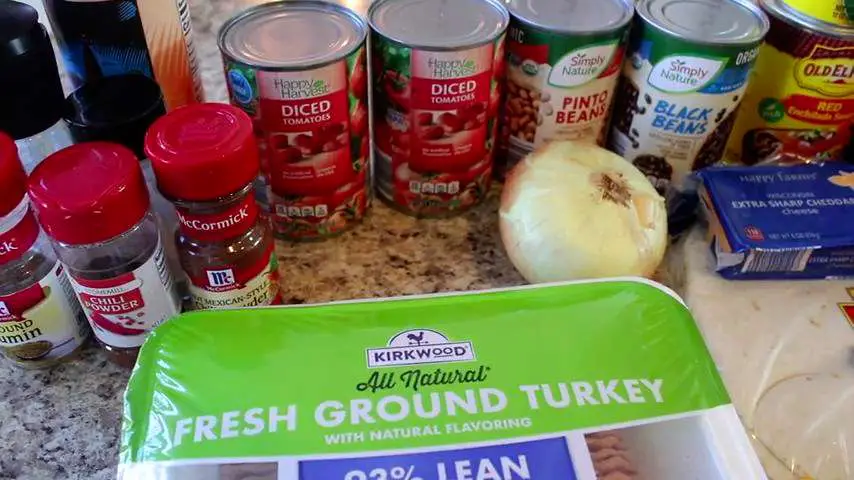 Let's start to combine and pre-cook the ingredients in a skillet.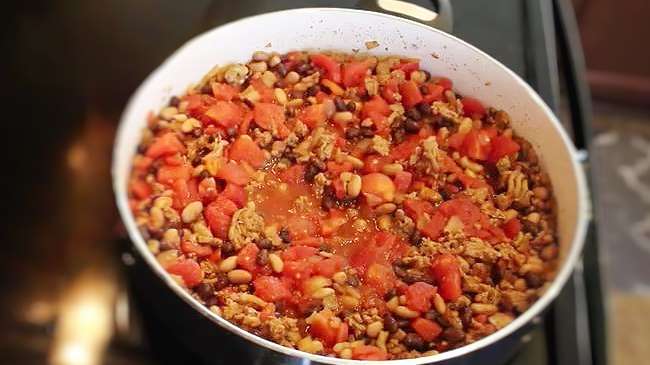 This Slow Cooker Taco Bake is made like a lasagna. Let's layer our mixture with tortillas.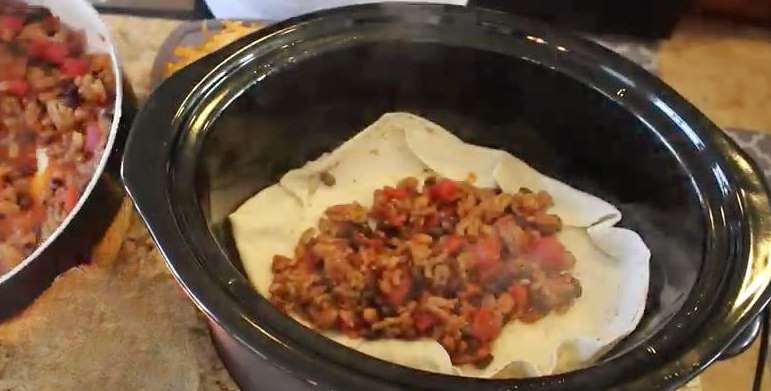 There will be several layers.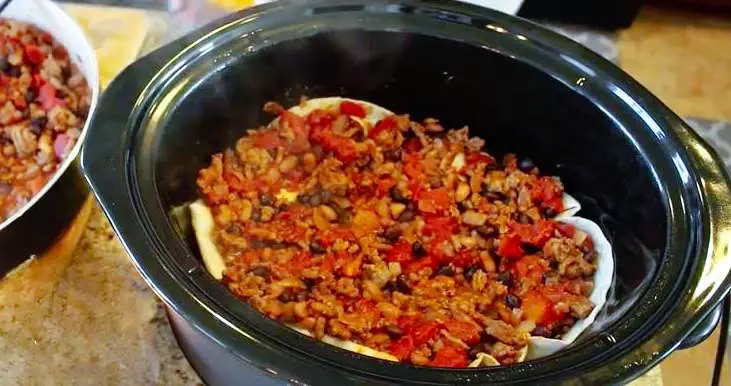 The best part for the end… Top with cheese. Keep some of it aside; we'll add more once cooked.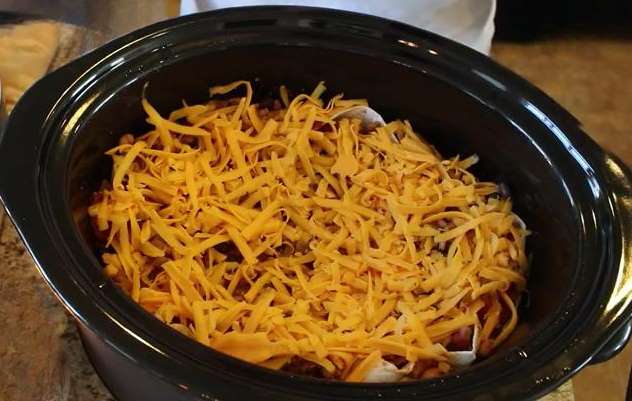 Cover and cook for four to five hours on LOW or 2 to 3 hours on HIGH.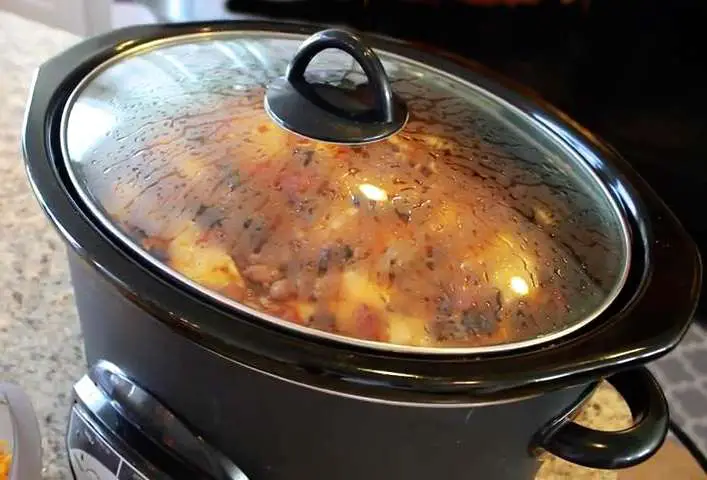 Finally, spread the remaining cheese on the top and cook for 10 more minutes once ready.
Mmmm… It's ready to serve… Look at this!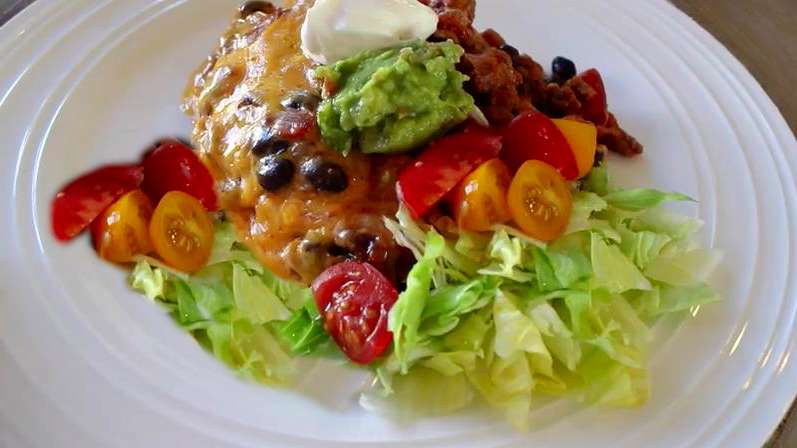 This Taco Casserole recipe transforms the essentials of any classic taco plate beans, tortillas, cheese, and juicy ground turkey.
Obviously, a balanced substitute for beef; chicken would also work well.
With a tasty assortment of toppings, it becomes an easy-to-make, even easier-to-eat layered taco bake.
Slow Cooker Taco Casserole Ingredients List and Directions:
Slow Cooker Taco Casserole
Excuse the pun, but if you're facing a gang of hungry carnivores, you've gotta make a taco bake.
Author:
Slow Cooker Society
Ingredients
1 pound ground turkey or chicken, 93 percent lean
2 tsp extra virgin olive oil
1 large diced green bell pepper
1 medium diced yellow onion
1½ tsp. kosher salt
two tbsp chili powder
½ teaspoon ground black pepper
1 teaspoon cumin
1 can (15 ounces) rinsed and drained reduced-sodium black beans
⅛ teaspoon to ¼ teaspoon cayenne pepper. Use ¼ for more heat, or omit entirely if you are sensitive to spicy foods.
1 can (15 ounces) of reduced-sodium pinto beans or kidney beans (I used pinto), rinsed and drained
6 medium taco-sized whole wheat flour tortillas
1 cup carrots, grated
2 cans diced tomatoes in juice, no salt added (15-ounce cans)
2 cups shredded reduced-fat cheese, such as cheddar, pepper jack, or Monterey jack
Instructions
In a large skillet over medium-high heat, heat the olive oil. Add the turkey, onion, bell pepper, salt, and pepper once the oil is hot and shimmering. Cook, breaking up the meat, for about 8 minutes, or until the turkey is cooked through and most of the excess liquid has evaporated. Cook until the chili powder, cumin, and cayenne are fragrant about 30 seconds.
Combine the black beans, pinto beans, diced tomatoes in their juices, and carrots in a mixing bowl. Cook, occasionally stirring, for about 5 minutes, or until the tomatoes have broken down and most of the liquid has evaporated. Turn off the heat. Season with salt and pepper to taste.
Coat a 5-quart or larger slow cooker lightly with nonstick spray. 1½ cups of the turkey-bean mixture, spread evenly on the bottom. Top with 2 tortillas, spreading them out to cover the beans and overlapping them in the center as needed. Sprinkle with ½ cup shredded cheese. Layer as follows: 1½ cup beans, ½ cup cheese, 2 tortillas, 1½ cup beans, 2 tortillas, ½ cup cheese, and remaining beans. Save the remaining ½ cup cheese for sprinkling on top.
Cook for 4 to 5 hours on low or 2 to 3 hours on high, until heated
Source: Youtube Taco Casserole / Easy Crockpot Recipes
More Slow Cooker Taco Recipes:
Slow Cooker Chicken Taco Chili Recipe
Slow Cooker Beef Taco Beans Soup