Crock Pot Chicken Tostadas INGREDIENTS
Who doesn't like a tostada? Add a variety of ingredients for the topping like shredded cheese, salsa, sour cream, lettuce, tomatoes, and green onion, and you've got a tasty treat that's perfect for parties or get-togethers. With its creamy filling, golden crisp corn tortilla, and homemade sauce, the chicken tostada offers something for everyone. With an inviting taste and hearty look that will quickly become a household favorite, you can't go wrong with this.
Alright, now let's discover what are the Slow Cooker Tostadas by looking at the ingredients:

Slow Cooker Appetizer Chicken Tostadas Recipe
Delicious and Easy Appetizer - Slow Cooker Chicken Tostada's will be one of your favorites soon...
Author:
Slow Cooker Society
Ingredients
2 boneless skinless chicken breasts
2 boneless skinless chicken thighs
1 8 oz bottle beer
1 tbsp brown sugar
1 Tbsp fresh lime juice
3 large cloves fresh garlic, chopped
1 tbsp diced jalapeno pepper
1 cup fresh chopped cilantro
1 Tbsp chili powder
1 tsp onion powder
1 tsp paprika
1 tsp cumin
1 tsp salt
½ tsp freshly ground black pepper
1 tin niblets corn, drained
1 tin re-fried beans
Your favorite toppings... shredded cheese, sour cream, salsa, lettuce, tomatoes, green onion, avocado etc...
Instructions
Begin by placing the chicken in a crockpot that's been treated with cooking spray or olive oil.
In a medium bowl, combine the beer, brown sugar, spices, and herbs and pour over the chicken.
Cook on the LOW setting for 6 - 8 hours.
When the chicken can be easily shredded with a fork, shred in the broth and add the niblets corn.
Remove to a bowl using a slotted spoon or colander, discard the extra broth or use as a soup base.
Brush 8 flour or corn tortilla shells on both sides with vegetable oil.
Place on baking sheets, and bake in a 400 degree oven for 3-5 minutes on one side until crispy, and 2-3 minutes on the other side.
To build the tostadas spread with a layer of re-fried beans and then top with generous amounts of the shredded chicken followed by shredded cheese, salsa, sour cream, lettuce, tomatoes, more cilantro, avocado - really the skies the limit - whatever you like - and then there's nothing to do but enjoy.
Now, let's watch the step by step video below.

 

 

Hope you like this easy and delicious appetizer, be sure that once you tried it, you will do it often… If so don't forget to Share 🙂
Source Youtube.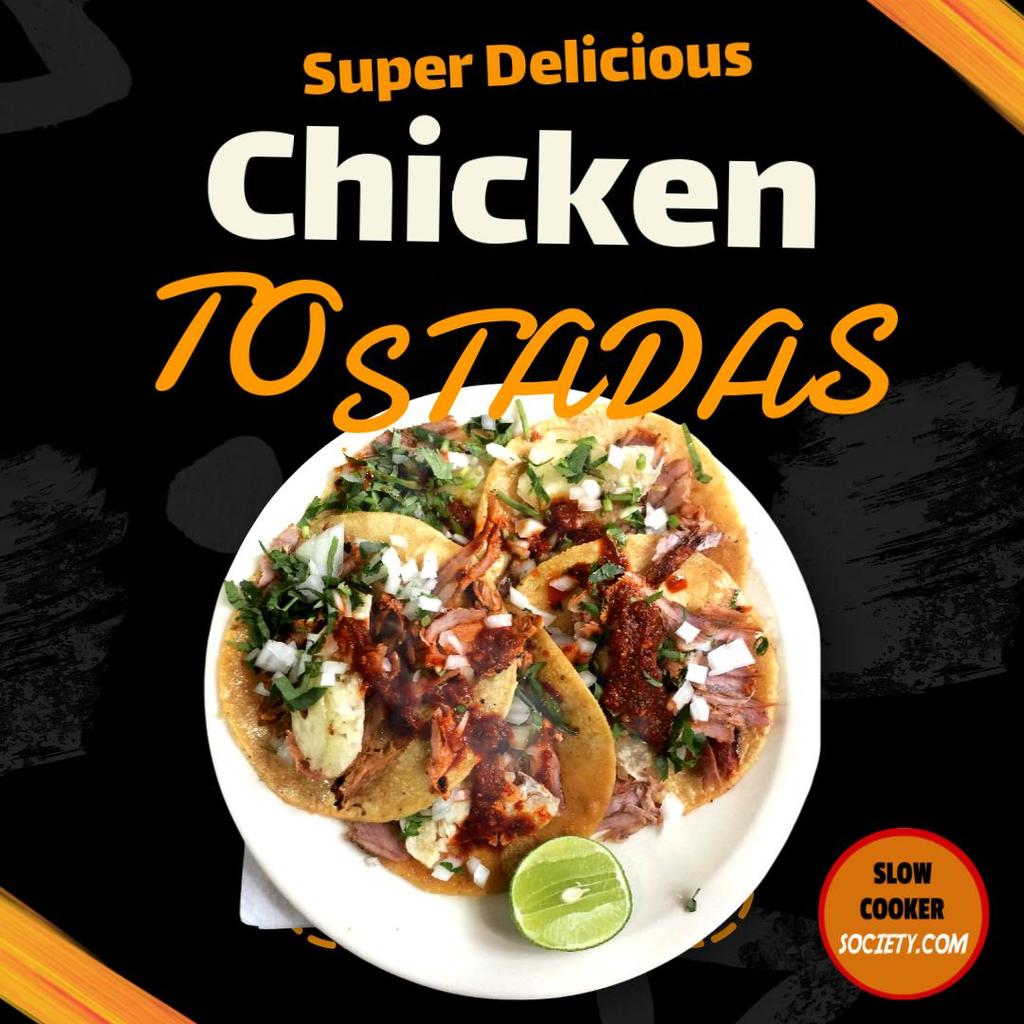 Similar recipes: