Those 8 Slow Cookers (Crock Pot) Were Tested and Dismantled…
This incredible test conducted by "Americas Test Kitchen" will not only show you slow cookers cooking capabilities, but also how they are built and how they heat the ceramic pot.  You will discover what are the differences between those models, there are so many slow cookers on the market to choose from that you may wonder which one is the best… You'll discover all in the video below…
Eight 6- to 7-quart slow cookers from 40 to 150 dollars were tested:
KitchenAid 6-Quart Slow Cooker With Solid Glass Lid
Cuisinart 6-Quart 3-in-1 Cook Central
Ninja 3-in-1 Cooking System
Crock-Pot 6-Quart Slow Cooker with Stovetop-Safe Cooking Pot
Hamilton Beach Stay or Go 6-Quart Programmable Slow Cooker
Crock-Pot Smart Wifi-Enabled WeMo 6-Quart Slow Cooker
Gourmia SlowSmart Express 7 Qt Digital Programmable Slow Cooker
Black + Decker 7-Quart Slow Cooker—Teal
Can machines designed for the same simple purpose—cooking food slowly enough that you can walk away—be all that different? You'd be surprised.
Watch the video:
What are the WINNING TRAITS OF A GOOD SLOW COOKER?
– At least 6- to 7-quart stated capacity and nearly the same in actual, usable capacity
– Oval shape that can accommodate roasts
– Digital and programmable; automatically switches to warming mode when cooking is done
– Glass lid and countdown timer to let you check progress
– Easy, intuitive display and controls that give unambiguous feedback to user
– Internal temperature sensor that automatically maintains temperature control to prevent boiling
– Internal insulation that prevents hot spots and maximizes cooking efficiency
– Handles that are large and easy to grip and that stay cool
The WINNER?
One model stood out…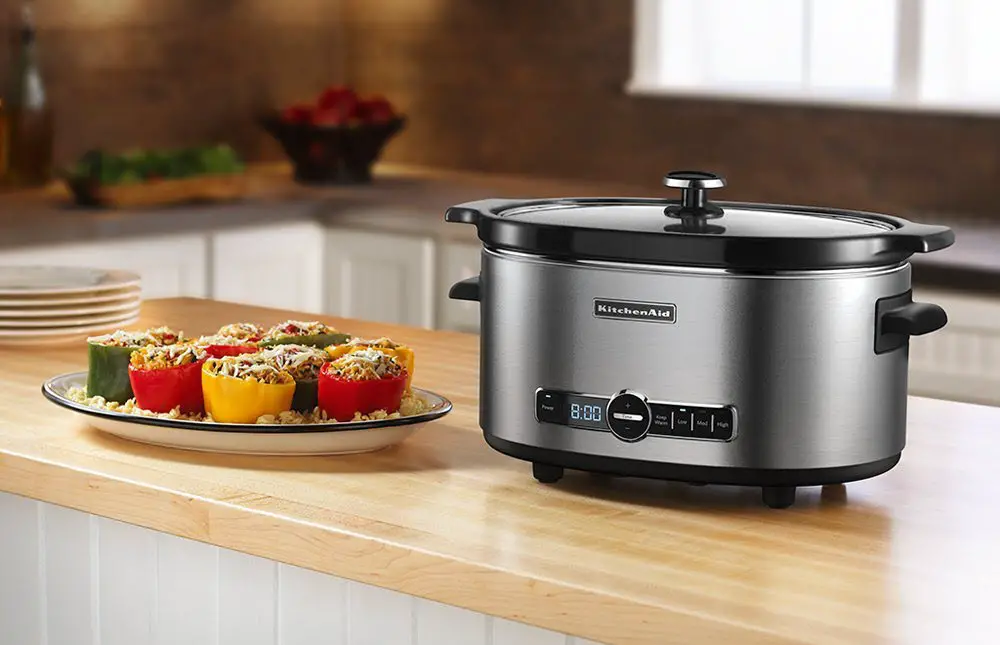 The KitchenAid 6-Quart Slow Cooker With Solid Glass Lid can be purchased at discounted price $69.99 (list price 129.99). Its controls were unambiguous, every button clicked satisfyingly. They lit up when you pressed it and within a few seconds the clock began counting down so you knew it was running everyone loved it.
Plus, it's protruding handles never got too hot to grab and it gave a nice secure grip unlike some of these other cookers. Best of all, the KitchenAid also consistently produced excellent food in every test. It has a temperature sensor that kept food gently cooking not boiling to death and it has an unusual addition of extra insulation inside the housing which helped it cook more evenly without hot spots and more efficiently using less power than the other cookers. It their favorite slow cooker and will be yours too…
WHAT THEY EXAMINED
They tested eight 6- to 7-quart slow cookers, preparing a variety of recipes using both low and high temperature settings and varied cooking times. They used temperature probes to map heating patterns, and a panel of testers evaluated how easy the cookers were to use and clean. They also dismantled a set of the cookers to understand the placement and type of heating elements they contained. All slow cookers were purchased online.
COOKING
They prepared boneless, skinless chicken breasts; whole bone-in turkey breast; and pot roast. They evaluated the texture and flavor of the food and rated the cookers on the uniformity of cooking. They did a final round to test the built-in browning function, when available. They gave highest marks to cookers that produced evenly cooked, juicy, and tender foods every time.
EASE OF USE
They evaluated how easy the cookers were to fill, set, and maneuver, including the intuitiveness of controls, displays to monitor cooking, weight of the crock, size and shape of handles, and whether the handles became hot.
CLEANUP
They washed each model six times by hand and 10 times in the dishwasher (unless the manual instructed not to do so). They gave high marks to models that were easy to clean, with few nooks and crannies to trap food or water. They also gave preference to pots and lids that were dishwasher-safe and emerged from 10 dishwasher cycles good as new.
HEATING PATTERNS
To map heating patterns, They used temperature probes to track the temperature of each cooker's contents as it heated 4 quarts of room-temperature water over a period of 6 hours on high and 12 hours on low.
America's Test Kitchen is a real 2,500 square foot test kitchen located just outside of Boston that is home to more than three dozen full-time cooks and product testers. Their mission is simple: to develop the absolute best recipes for all of your favorite foods. To do this, they test each recipe 30, 40, sometimes as many as 70 times, until they arrive at the combination of ingredients, technique, temperature, cooking time, and equipment that yields the best, most-foolproof recipe.
Hope you like this very informative test, if so don't forget to share…
Source: Youtube