INGREDIENTS
1 kg of chicken
3 stalks of celery, cut in half
1/4 bag of baby carrots
For the Rub:
1/2 tsp paprika
olive oil
2 tsp of salt and 1/2 tsp of black pepper
For the Stuffing:
1 fresh lemon sliced in half
1 small onion sliced in half
2 whole cloves of garlic
1 rosemary sprig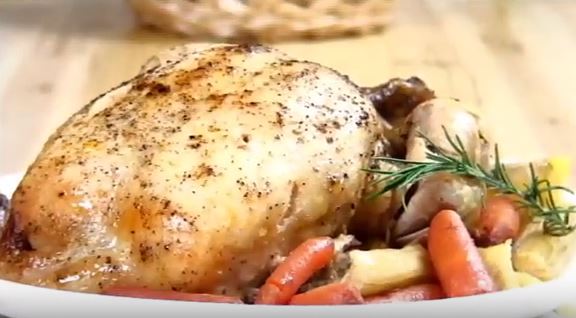 DIRECTIONS:
Wash and pat the chicken dry. Place it into a container, and drizzle the olive oil over the top and all sides. Sprinkle the paprika, salt, and pepper over the top. Rub the spices into all sides.
Stuff the chicken cavity with the lemon, onion, garlic, and rosemary sprig. Tie the legs shut using a string.
Place the celery and carrots in the bottom of the crockpot. Place the chicken over the top. Put the lid on, set it on high, and allow it to cook for 6 hours on high or 8 hours on slow.
After 6 hours (8 on slow), remove the chicken, slice, and serve.
Click on the "Next" Button below for the Slow Cooker Whole Roast Chicken Step by Step Video