Slow Cooker Chicken Noodle Soup Recipe - Easy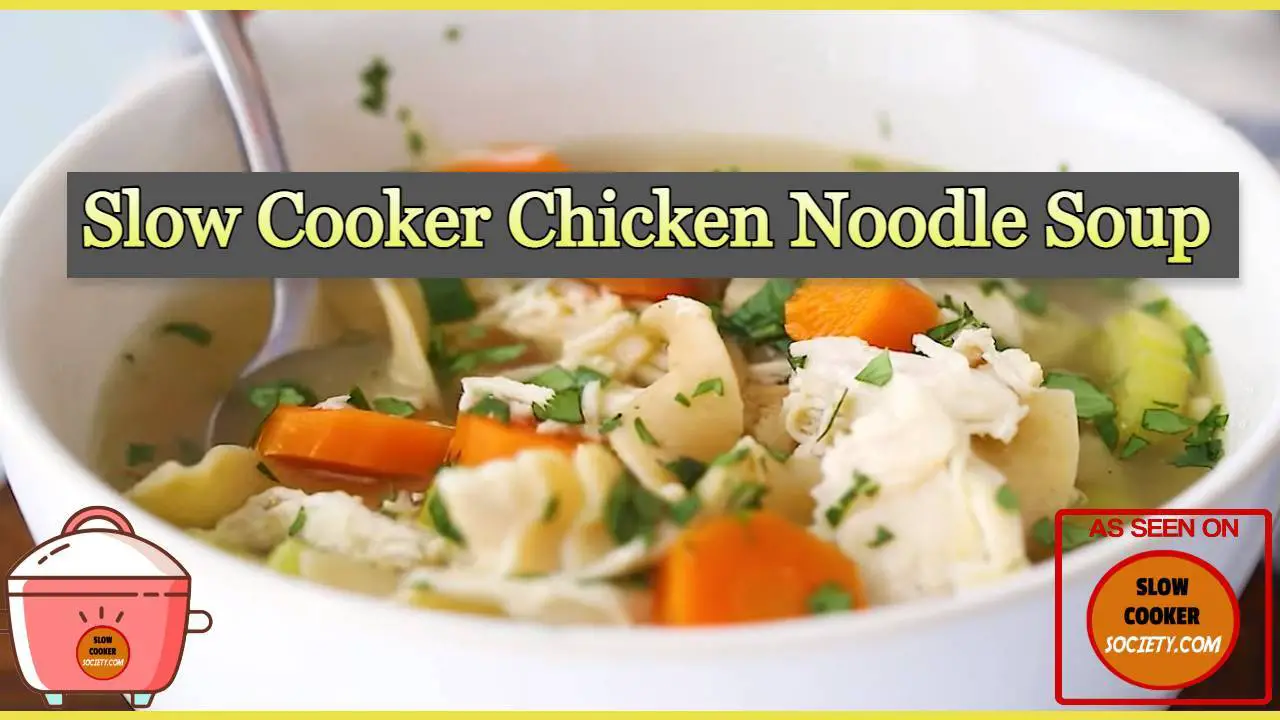 Author:
Slow Cooker Society
1½ pounds boneless, skinless chicken breasts trimmed of excess fat
¼ teaspoon black pepper plus additional to taste
1 teaspoon kosher salt plus additional to taste
3 medium carrots, peeled and cut into ¼-inch coins (about ½ pound)
1 small yellow onion, peeled and left whole
3 stalks fresh rosemary tied into a bundle for easy removal
1 bay leaf
2 large celery stalks, thinly sliced
2 large garlic cloves minced
6 ounces whole wheat wide egg noodles about 4 heaping cups
7–8 cups low-sodium chicken stock divided
Add the chicken breasts to the bottom of a 6-quart or larger slow cooker. Season with salt and pepper to taste. Combine the whole onion, carrots, celery, garlic, rosemary bundle, and bay leaf in a mixing bowl. 6 cups chicken stock should be poured over the top. Cook for 4 to 6 hours on LOW or 2 to 3 hours on HIGH, or until the chicken is cooked through and reaches an internal temperature of 165 degrees F. The cooking time will vary widely depending on the brand of your slow cooker, so check the thickest portion of the chicken for doneness early to avoid overcooking.
Remove the chicken from the slow cooker and place it in a large mixing bowl or plate. Remove and discard the entire onion, bay leaf, and rosemary springs (don't worry if some rosemary leaves remain in the soup). Shred the chicken with a hand mixer, two forks, or your fingers (if the chicken is cool enough). Set aside the shredded chicken.
To cook the noodles on the stove (the best choice because you won't have to worry about them overcooking or undercooking and the noodles will be more intact): Cook the egg noodles until al dente according to package guidelines near the end of the soup's cooking time. When the soup is completed cooking, drain it and add it to the soup. Reintroduce the shredded chicken. Stir and simmer for 5 minutes on LOW to absorb some of the flavor.
To cook noodles straight in the slow cooker (the ideal way if you don't mind having less-than-perfect noodles in exchange for not having to wash a separate pasta pot): To the soup, add the uncooked egg noodles. Cook for 10 minutes on LOW, or until the pasta is al dente. Add the shredded chicken and mix well.
To achieve the correct consistency, add as much of the remaining 1 cup chicken stock as you like.
If you cooked your noodles in the slow cooker, you may need to add slightly more stock because the noodles absorb the stock as they simmer.) Serve immediately with a sprinkling of fresh parsley.
Recipe by
Slow Cooker Society
at https://slowcookersociety.com/slow-cooker-chicken-noodle-soup/